The Caminhos Language Centre
The Caminhos Language Centre is the largest and most popular Portuguese language school in Rio de Janeiro. We offer high quality Portuguese courses whilst maintaining a friendly, relaxed and fun environment. Our Brazilian teachers are carefully selected university graduates. Our methodology is based on the communicative approach and we pride ourselves on having unique course material. Our Ipanema language school is also famous for its support of underprivileged children in Brazil, and having our own on-site social programme, 'Mais Caminhos'.
Our Mission
We help to develop people by connecting them in an international environment. We offer educational, cultural and fun activities to our clients - our language students - and to underprivileged Brazilian children and teenagers.
The Complete Brazil Experience
Students love studying with us because - besides learning Portuguese - they receive a complete Brazilian experience. It doesn't matter what age, culture or taste you have. With Caminhos there is something for everyone: sports, volunteer opportunities, music, dance, parties, food, drinks, art and nature. With all of our free activities and social projects Caminhos is the place to be to learn Portuguese, meet new people and experience Brazilian culture.
Supporting Children
Caminhos was founded in 2009 with the objective of supporting underprivileged children in Brazil. The Ipanema language school has offered a wide range of support services and activities ever since. For six years the Casa do Caminho orphanage was financially supported by the language school, which also paid for cultural and vocational education. Since 2014 the language school has its own on-site social programme called 'Mais Caminhos'. A former resident of the orphanage is now employed by Caminhos as a tour guide.
Read more about our social programme.
The Caminhos Pillars
In the recent years, Caminhos has grown into a three-pillar organisation in which we offer the following services: 1) education; 2) social work; and 3) environmental preservation and eco-tourism.
Services:
Ipanema language school offering Portuguese courses
Accommodation services for students
Free activities for students
Visa services for students
Consultancy for students
Location: Farme de Amoedo 135, Ipanema, Rio de Janeiro, RJ, Brazil.
Number of staff: 20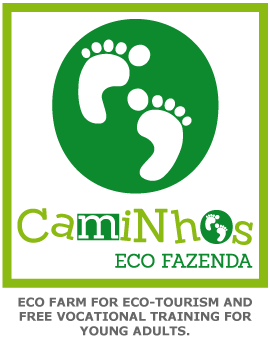 Services:
Bioconstruction projects
Vocational training for teenagers and young adults
Organic food production and restaurant
Accommodation for tourists (future)
Renewable energy production (future)
Location: Estrada Ernesto Souza Cardinot s/n, Cardinot, Nova Friburgo, RJ, Brazil.
Number of staff: 6
Services:
Mais Caminhos Complementary for children
Mais Caminhos Exchange and Scholarships for teenagers
Mais Caminhos Family for families
Location: Farme de Amoedo 135, Ipanema, Rio de Janeiro, RJ, Brazil.
Number of staff: 4