The Best Brazilian Beers to Try on Your Trip
Wednesday May 5th, 2021

Posted by:

Amanda Ennes

Category:

Brazil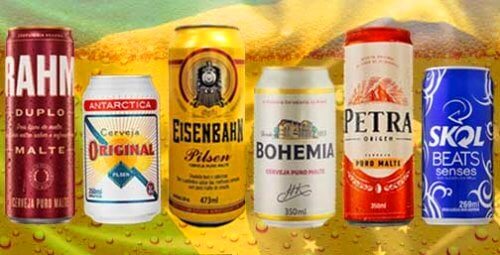 Brazilians absolutely love to drink a cold beer whenever they can. Along with samba and football, beer is considered one of the national passions of Brazil, and the most consumed alcoholic beverage in the country. Moreover, Brazil is also the third-largest beer producer in the world. The country produces around 13 billion liters of the beverage each year. That might get you wondering about the best Brazilian beers to try on your next trip to Brazil.
Watch Caminhos' video on All About Botecos, and learn about the bar culture in Brazil.
Beers in Brazil
98 percent of the production in Brazil is devoted to light beers between 3% to 5% alcohol by volume. Pilsner is the most common type of this beverage consumed around the country. However, a recent change in the market shows growth in the preference of Brazilians for pure malt beer as well.
The most popular brands of beer in Brazil are Skol, Brahma, Antarctica, Nova Schin, and Itaipava, respectively. They are affordable and easy to find in any bar and supermarket. 
It is important to notice: Brazilians like their beer ice cold. Putting the beer in the fridge beforehand is one of the most important things in preparation for parties and social gatherings. So, be aware! If you get an invitation to someone's home in Brazil, do not bring warm beer with you. It just takes too long to reach the right temperature for Brazilians' taste. 
In this list, we show you the best Brazilian beers that are easy to find either in bars, restaurants, or supermarkets. We are not considering special craft beers. 
Antarctica

Antarctica is one of the most affordable among the best Brazilian beers on this list. Also known as Boa, you can find Antarctica beer anywhere in Brazil. 
Original Beer, a branch of Antarctica is a favorite among bar regulars. As a standard American lager, Original is produced with high carbonation volumes, guaranteeing its freshness. Antarctica Original has a mild flavor, with a slight bitterness and hop aroma.
600 ml bottles are the most popular way to drink Antarctica in bars, sharing it with friends.
Bohemia

The Bohemia company was the first brewery in Brazil. Bohemia proudly states that they are the first beer of Brazil on their labels. Founded in 1853, Bohemia currently offers different types of beer, such as Vienna lager, Weiss, and barley wine.
In Petrópolis, the founding city of Bohemia, there is an awesome beer museum to visit. Their tour offers a complete experience, telling the history of the beverage, visiting the production process, and an exclusive beer tasting.
Brahma 

Brahma is the second most consumed beer brand in Brazil, and the ninth most consumed in the world. It is also very popular for its draft beer, widely consumed in Brazil. 
This brand is not only famous for its product, but also for its advertising. Brahma has won several awards at Cannes Lions International Festival of Creativity.
Brahma is probably the most cherished Brazilian beer. Everyone loves it. 
Eisenbahn

Eisenbahn is a brewery from Santa Catarina state that produces premium beer. A relatively young brand, it was established in 2002 following German rules of beer production. Eisenbahn became very popular lately, an easy choice for Brazilians throwing small parties for their friends at home. 
Even though you might not find Eisenbahn beers in your local bar, it is pretty easy to find the brand in local supermarkets.
Eisenbahn produces 15 different types of beer, such as Kölsch, Amber Lager, Dunkel, Pale Ale, and Rauchbier. Eisenbahn also produces a special beer liquor with 30% alcohol by volume, with hints of chocolate, coffee, and vanilla.
The Eisenbahn family has won a few awards in beer competitions, such as first place in the 2009 Australia International Beer Awards and 2009 European Beer Star, competing for the dark lager category.
Petra

Just like Eisenbahn, Petra is a premium beer. You might not find it in every bar you go to. Nevertheless, it is very easy to find this beer in major supermarkets in town.
Petra exclusively uses water from the Petrópolis mountains and imported malt and hops. Even though pure malt is the most popular type of beer in this brand, Weissbier, Stout, and Bock versions of Petra are also available.
Skol Beats

Skol Beats has become very popular since its creation in 2002. Designed to reach party-goers, Skol Beats won the heart of younger consumers all over Brazil. The concept of this drink was to offer a lighter taste, mixing beer with different flavors. 
Today, AMBEV, its manufacturer, does not consider Skol Beats a beer per se, rather a distillate mixed beverage. Skol Beats has around 8% alcohol by volume. It is also sold in different flavors, such as green apple, lime, and cranberry.
For further reading, check our blog post: The Best Brazilian Wines and Great Wineries to Visit in Brazil.
Learn Brazilian Portuguese in Rio de Janeiro. Visit Camimhos Language Centre.