Brazilian movies you should watch
Thursday January 16th, 2020

Posted by:

Amanda Ennes

Category:

Brazil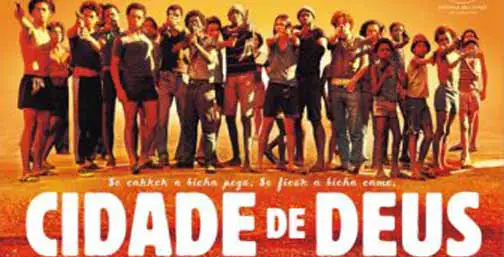 Brazil is maybe known worldwide for its samba, football and beautiful cities, but cinema is definitely not on this list. Even though the Brazilian film industry is not so big, as the years go by, the country is producing more and more quality content. A few Brazilian movies are even well known in other countries – movies like Central do Brasil and Cidade de Deus are highly acclaimed by the critics.
In the list below we recommend you some of the greatest Brazilian movies you should watch.
Caminhos Language Centre has its own movie library with a few titles on DVD. Feel free to ask reception to borrow them to watch on a rainy day so you can practice your Portuguese by watching a few Brazilian movies with Portuguese subtitles. This is a great way to improve your language learning and listening skills.
1. Central do Brasil (Central Station)

Dora, played by Fernanda Montenegro, works at Central do Brasil, a train station in Rio de Janeiro, helping illiterates write letters to their relatives.  At one point, she witnesses the death of one of her clients, a single mom. She's unwilling to help the woman's child at first, but start to develop some kind of friendship with the boy, helping him find his real father in the Northeast of Brazil. Central do Brasil was nominated for the 1999 Academy Awards for Best Actress and Best Foreign Language Film, making it one of the well-known Brazilian movies in history.
2. Cidade de Deus (City of God)

Buscapé is a poor kid growing up in a violent environment. He lives in a favela in Rio de Janeiro called Cidade de Deus, known for being one of the most violent places in the city. Buscapé doesn't want to be an outlaw in his adulthood, but he needs to deal with this possibility every day of his life. The movie also introduces us to Zé Pequeno – a sociopathic drug dealer who loves killing people ever since he is a kid.
3. Ônibus 174 (Bus 174)

This is a documentary film that shows us the true story of one of the most tragic hijackings in Brazil. Sandro do Nascimento was a poor homeless guy with a difficult and sad background. In October 2002, while trying to mug people on a bus, he ends up taking 10 hostages. The whole situation was broadcasted live and went very badly. This documentary also shows us what life is like in the slums of Brazil and how criminal justice works in the country, especially when dealing with the lower classes. We also get to learn a little bit about Sandro's childhood past from a social worker's perspective. 
4. O Homem Que Copiava (The Man Who Copied)

This movie tells us the story of André, a guy who lives an ordinary life with his mom until he falls in love with the girl next door. Having no money, but wanting to impress the girl at all costs, he starts to print fake money at his work.
5. Tropa de Elite (Elite Squad)

Tropa de Elite introduces us to the daily life of BOPE's (Special Police Operations Battalion of the Rio de Janeiro Military Police) group of police officers and their captain, Roberto Nascimento. We're also shown the stories of two childhood friends becoming policemen and fighting corruption in the precinct they work. There's also a sequel, called Elite Squad: The Enemy Within. 
6. Meu Nome Não é Jhonny (My Name Ain't Johnny)

João Guilherme Estrella is an upper-middle-class man that would become the head of the drug traffic in Rio de Janeiro during the '80s and '90s. The movie tells us the story of how he started using drugs in the first place, his growing addiction, and how he started selling drugs in Rio de Janeiro before becoming an international drug dealer. This is a true story that shows us João's glamorous lifestyle, cocaine addiction, and subsequent arrest.
7. Que Horas Ela Volta? (The Second Mother)

Val is a woman from the Northeast of Brazil who decides to move to São Paulo looking for a better job so she can raise her daughter Jéssica. She leaves the girl in her hometown with a caretaker as she finds a job as the housemaid of a wealthy family. When Jéssica is eighteen, she calls her mom asking for a place to stay as she needs to go to São Paulo for a university admission exam. The movie deals with the conflicts between Val, her upper-middle-class bosses, her abandoned daughter, and the inequalities of Brazilian society. The movie has a 96% approval rating on Rotten Tomatoes and was acclaimed by critics worldwide. 
8. O Auto da Compadecida (A Dog's Will)

This is one of many Brazilian movies based on a play. The play was written by Ariano Suassuna, a prestigious author in Brazil. The plot concerns the adventures of poor northeastern men João Grilo and Chicó. They both fight daily against poverty and spend their lives deceiving everyone from the small village where they live. Both of them now need to face Our Lady of Aparecida, Jesus, and the Devil if they want salvation. The film is a social satire of religion in Brazil, Brazilian society, and human sins.
9. Hoje Eu Quero Voltar Sozinho (The Way He Looks)

This coming-of-age romantic drama tells us the story of Leonardo, a blind high school student who struggles with his independence, opposing his over-protective mom. When a new student, Gabriel, comes to his school, Leonardo starts to deal with new feelings, making him experience lots of new things about himself and his sexuality.
10. O Ano Em Que Meus Pais Saíram de Férias (The Year My Parents Went on Vacation)

In 1970 Mauro is a twelve-year-old boy who loves football. Suddenly, Mauro's life changes completely when his parents, political activists, go on vacation unexpectedly and for no apparent reason. Mauro's parents leave him in the care of a Jewish neighbor, old Shlomo. The film shows the marks of the Brazilian dictatorship in families from the perspective of a child in the 70s.
11. Ilha das Flores (Isle of Flowers)

Ilha das Flores is a Brazilian short documentary that tracks the life of a tomato, from when it's planted, harvested, transported, and sold in a supermarket to when it rots and ends up in the trash. The trash is taken to Ilha das Flores, a landfill in the south of Brazil. There, organic material considered adequate is selected as nutriment for pigs. The rest become food for poor women and children to eat.
12. Se Eu Fosse Você (If I Were You)

This comedy movie follows the story of the couple Cláudio, a successful publicist, and Helena, a music teacher. Just like any other couple used to the routine of a marriage routine, they occasionally fight. After one of those fights, something inexplicable happens: they switch bodies. Terrified, Claudio and Helena try to act normal until they can reverse this mess. The situation makes them fill each other's shoes and makes them understand a bit more about the other sex. 
13. 2 Filhos de Francisco (Two Sons of Francisco)

This biopic film tells the story of famous country duo Zezé di Camargo & Luciano, from a poor and suffered childhood until they reach fame and success. Zezé di Camargo and Luciano are two of the most famous musicians in Brazil. Their story is filled up with ups and downs, battles, and struggles. 
Learn Portuguese in Brazil at Caminhos Language Centre. Portuguese lessons for foreigners with a good price and fun environment. Learn Portuguese while helping a great cause. Caminhos can also help you with a homestay in Rio de Janeiro.