Smaller Cities to Visit Near Rio de Janeiro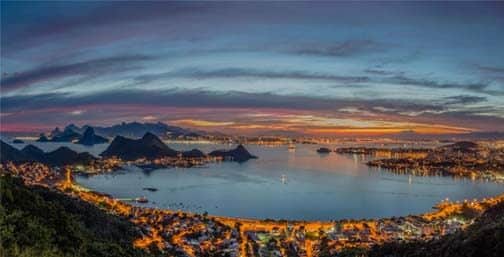 How amazing it was when we could just get on a plane and travel around the world? Obviously, traveling to Brazil is off the table at the moment. However, when everything is back to normal, Caminhos has some great tips on smaller cities to visit near Rio de Janeiro. We know you are thinking about where you are going next when we are allowed to travel again. We all are!
 While we wait, how about learning more about stunning small towns close to Rio de Janeiro to visit after the coronavirus lockdown?
 But before we get to the list, check this post on Things You Need To Know Before Going To Rio de Janeiro and make your future trip even better.
Metropolitan Area – Cities to Visit Near Rio de Janeiro
1. Niterói

A 13 km-bridge connects Niterói and Rio de Janeiro, just across the Guanabara Bay. Even though the city is much smaller than Rio, it is still a big city, with an estimated population of over 500,000. 
If you want to experience crossing the Rio-Niterói Bridge, you can take the bus, taxi, or Uber. However, you can also take the ferry boat in Praça XV in Centro. The ferry boat trip is 15 minutes long and a good option during rush hours, when there's too much traffic at the bridge. 
If you are visiting Rio de Janeiro, Niterói is a great option for a day-trip. Check out a few tourist sights in Niterói:
MAC: The Modern Art Museum designed by famous Brazilian architect Oscar Niemeyer and the city's main landmark.
Parque da Cidade: A public park surrounded by nature. It is a plateau, where people do paragliding and hang gliding. It has the most beautiful view of Rio. You can see most of Rio's landmarks from the top of the park.
Itacoatiara: The most beautiful beach! This neighborhood in Niterói is protected by the governments, so there are no tall buildings and not much traffic there. The nature rules and the beach is surrounded by mountains and trees. The main mountain, Costão de Itacoatiara, is a great spot for hiking. 
Mountains – Cities to Visit Near Rio de Janeiro
2. Nova Friburgo

Nova Friburgo is a small city in the mountains, home to Swiss and German descendants. It is the best option for eco-tourism and also culinary tourism.
There are public gardens, lots of hiking options, and waterfalls to visit while in Nova Friburgo.
It is a perfect trip for a colder weekend, as the city is known for its much cooler weather. Nova Friburgo is 138 km away from Rio. It takes about 2 hours to get there.
If you ever visit Nova Friburgo, don't forget to stop by our eco-farm, Eco Caminhos.
Eco Caminhos is an ecovillage in the middle of the beautiful mountains. We intend to become a self-sustaining community producing our own food, energy, and building materials, creating a healthy and active living environment.
3. Petrópolis

Petrópolis is a city 1,800 meters above sea level and 70 km away from Rio de Janeiro. It is the Imperial city of Brazil, where Brazilian Emperors Dom Pedro I and Dom Pedro II used to spend their summer during the 19th century.
The city is strong in tourism because of its landscaping, rivers, and landmarks. The city is also known for its underwear industry. 
Just like Nova Friburgo, Petrópolis is a great option for eco-tourism, with great eco-resorts, state parks, rafting, and canoeing activities. 
Check out a few tourist sights in Petrópolis:
The Crystal Palace: One of the main landmarks of Petrópolis. Opened in 1884, the palace now houses exhibitions and events, such as the Bauernfest every June. 
The Imperial Museum: Home to the largest collection of the Brazilian Empire, the Imperial Museum in Petrópolis is an imposing neoclassical palace. It served as a summer palace for Emperor Dom Pedro II during summers in Brazil and converted into a museum in 1940. The museum holds about 300,000 historical items including furniture, clothes, documents, paintings, sculptures, and photographs that portray the 49 years of the Brazilian Empire.
Museu Casa de Santos Dumont: Home of Alberto Santos-Dumont, the famous inventor, and aviation pioneer. The museum now showcases some of his inventions, such as the right-feet-only staircase, alcohol-fueled heated shower, and much more.
Bohemia Brewery: Visit the oldest beverage factory in Brazil, opened in 1853. Cervejaria Bohemia offers visitors a fun tour where you can learn about the story of the factory and its brand.
4. Teresópolis

Teresópolis is a cute colonial city in the mountains. It is known for its ecotourism, especially because of Serra dos Órgãos National Park and its great waterfalls. The city is also famous among Cariocas for its clothes market, a huge open fair that sells good quality cheap clothes. 
Teresópolis is 97 km away from Rio de Janeiro.
Lakes Region – Cities to Visit Near Rio de Janeiro
5. Búzios

Búzios is 200 km away from Rio de Janeiro and has more than 20 different paradisiac beaches around its coast. Even though some companies offer day trips to Búzios, the best thing is to spend two or three days there to enjoy all the different beaches. There are great boat tours to join, and the nightlife is also very popular.
Búzios is a small glamourous city, with everything there running around tourism. It is known as the Brazilian Saint Tropez, with luxurious restaurants and hotels. The most popular beaches are Geribá, João Fernandes, Ferradura, Ferradurinha, Praia da Tartaruga, and Praia dos Ossos.
6. Cabo Frio

Cabo Frio is one of the biggest cities in the Lakes Region (also called the Sun Coast), with a population of over 200,000. Still, the major economic activities in the city are tourism and fishing.
Cabo Frio is 155 km away from Rio de Janeiro and is the only city outside Rio with its own Internation Airport. 
The beaches in Cabo Frio are known for its clear blue water and sand dunes. You should visit all the main beaches in Cabo Frio, they are all amazing: Praia do Forte, Praia Brava, Peró, Ilha do Japonês, Praia das Dunas, São Bento, Praia do Foguete, Praia do Siqueira, and Praia das Conchas.
7. Arraial do Cabo

People love to visit Arraial do Cabo to do scuba diving — the small town is famous for being the best diving spot in the state and one of the best in the country. Turquoise beaches and fine white sands are characteristics of the area.
Arraial do Cabo is a small city, so don't expect to find a great shopping area or amazing nightlife. Most people tend to stay in Búzios or Cabo Frio and visit Arraial do Cabo for a day trip.
Best places to visit in Arraial are Pontal do Atalaia, Praia do Forno, Praia do Farol, Praia Brava and Prainha.
Green Coast – Cities to Visit Near Rio de Janeiro
8. Angra dos Reis

Angra dos Reis has more than two thousand beaches and over 300 small islands on its coast. However, the best thing in Angra is definitely Ilha Grande. 
Ilha Grande is two hours away from Rio de Janeiro. Little more than 3,000 people live there. It is a paradisiac island where cars are not welcome and the main commercial area is just a few streets in a calm village. Ilha Grande is a protected area — nature and vegetation there are breathtaking.
There are amazing boat tours for you to choose from and you will enjoy a few of the best beaches in the world, including Lopes Mendes.
9. Paraty

Paraty is a small colonial town with well-preserved buildings and cobblestone-paved pedestrian-only streets located 236 km away from Rio de Janeiro. Horses and carts are very common sights in Paraty and are frequently used all around the city. Much of the original architecture of Paraty has not changed for more than 250 years.
The city is also known for its beaches and mountains. Rising behind the town are tropical forests and waterfalls. More than 80% of its territory is protected by conservation units.
Around 1700, Paraty became an export port for gold from Minas Gerais to Rio de Janeiro. That led to the construction of the Gold Trail (Caminho do Ouro), a 1,200 km stone road, which connected Paraty to Diamantina via Ouro Preto and Tiradentes. Two sections of the Gold Trail are now tourist destinations for hiking in Paraty.
The main event in Paraty is the International Literary Festival of Paraty (FLIP), held yearly in July.
Another characteristic of Paraty is the flooded streets when the ocean tide is high. That's so common in the city that the houses were built about 30 cm above street level to prevent flooding. That makes Paraty known as the Brazilian Venice.
Study Portuguese in Rio de Janeiro with Caminhos Language Centre. Portuguese group classes, private lessons, and Brazilian Portuguese online classes.