Best ways to learn a new language online
Tuesday February 26th, 2019

Posted by:

Amanda Ennes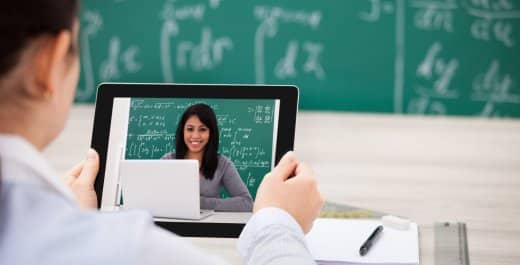 With people's rush lives nowadays, it can be difficult to find time to go to school and learn a new language. At the same time, knowing a second language is increasingly important, not only for traveling and meeting new people but also for better jobs and better placement in the job market.
Learn languages on the internet can be very easy; there are lots of content online, as well as apps and technology that help a lot.
Learn 5 ways to learn a new language online:
Apps
You can learn grammar, vocabulary, and improve your listening and speaking skills through different great apps. Vidalingua, for example, is a company focused on creating apps for people to learn different languages. You can download apps to learn French, Spanish, Portuguese, German, Italian, and Japanese. Besides that, they also have translations apps that can help you daily. The apps are free and offer tons of exercises, lessons, and games to help you with your learning.
Another option is Duolingo, which is one of the most used language-learning apps worldwide. Duolingo gives you points when getting the exercises right, has specific lessons for listening, speaking, and reading skills. It makes you learn while having fun!
Skype Lessons
If you do not have time to go to school and have a certain difficulty in learning languages by yourself, you may need an instructor anyway. The best way to have access to a professional teacher in this case is through Skype lessons. Technology nowadays can make everything easier. You can not only see and listen to your teacher but also share your screen, write on the chat board, and share files. 
Caminhos Language Centre teaches Portuguese to foreigners and offers private Skype lessons with college graduate Brazilian teachers. Your teacher will customize the classes specifically for your needs, including topics of things you want to talk and learn about. They will give you homework, listening, and writing exercises, as well as showing you videos.
Just like Caminhos, there are lots of schools around the world that can teach you languages online, with a private teacher via Skype. For instance, if you want to learn English, LOI English is a good choice; Scuola Leonardo da Vinci is for those looking for Italian lessons; and Voilà to learn French.
Music and Movies
If you already have a basic knowledge of a foreign language, try listening to music and watching films in that language. Start watching movies with the original audio and subtitles of your choice. After you feel more comfortable, try subtitles in the languages you are learning. Moreover, after you become more fluent, ditch the subtitles at all. This will help you train your ears and build your vocabulary.
The same goes for music. Look out for famous singers that speak the language you are learning. Search for the lyrics online and try to get the correct pronunciation of the words. Look for the meaning of words you do not know and start to learn while having fun!
Online Chats
Make friends with people all over the world and practice your new language with them. Many people still use online chats and this is a great opportunity to improve your writing skills. You can even help other people learn your native language — you can share tips and help with each other's questions. Just search for online chats on Google and you will find many options, just look for the one that better suits your needs and interests.
YouTube
YouTube is a great tool for everything you can think of. There are a lot of great channels focused on teaching languages to people, as well as random videos with exercises, tips, common questions and mistakes, and much more. On YouTube, you can also find channels of people who are also learning new languages and probably struggle as much as you do. It is good not only to learn new content but also to find friends that share the same interest in learning a specific language.
Now that you know it is possible to learn a new language at home using your phone or computer, go for it! Spare a couple of hours in your day to study, be focused, organized, and don't give up. Make the best of the technology and use it in your favor. You can do it!