What will post-pandemic tourism in Brazil be like?
Thursday October 15th, 2020

Posted by:

Amanda Ennes

Category:

Brazil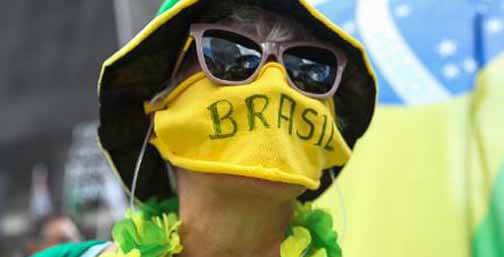 The numbers of COVID-19 cases in Brazil are still high. According to the Worldometer website, as of today, Brazil has the third-largest amount of Coronavirus cases in the entire world. With over 5 million confirmed cases and over 150,000 deaths, Brazil is still preaching social distancing, the usage of face masks when going out in public, and other sanitary measures. 
Nonetheless, depending on tourism to boost the economy, even with the current situation, the Brazilian government decided to reopen the borders for foreigners. So, before planning your trip, here are some things you must know about post-pandemic tourism in Brazil:
Restaurants and bars
Restaurants and bars may open with 50% of capacity until a certain time of the evening. In Rio de Janeiro and São Paulo, a temporary policy allows bars and restaurants to work until 11 pm. In Salvador, restaurants are open until midnight and, in Belo Horizonte, until 10 pm. Chairs and tables must follow a distancing rule and workers must follow sanitary measures, such as special sanitization of objects, use of mask and/or face shields, and hand sanitizer available for clients.
Hotels
Following the same rule as bars and restaurants, hotels and other accommodations are also working with 50% capacity. 
In Jericoacoara, Ceará, a municipal act established a gradual resumption of hotel activities. Hotels could operate at 50% of local capacity. However, according to the city hall, in September, the occupancy rate was 100% of its capacity.
Each municipality is responsible for the local safety measures and regulations during the pandemic in Brazil. Nevertheless, in some places, these measures are more reinforced than in others. 
Beaches

As mentioned before, every city was able to dictate their own rules during the pandemic. In Fortaleza, for example, beach stands were already allowed and people can already use the beach regularly. In Rio de Janeiro, Mayor Marcello Crivella announced the beaches will remain closed to sunbathers until there is a COVID-19 vaccine available. However, people may still practice sports at the beach. Moreover, beach vendors can sell beverages, but not alcoholic ones.
That is how the post-pandemic tourism in Brazil is looking like right now.
Tourist attractions
Most tourist attractions are already open to the public. In Rio, tourists are already allowed to visit the Christ the Redeemer Statue, the Sugarloaf Mountain, the natural parks, the Ferris wheel, and other tourist sights. Other attractions in Brazil, such as the São Paulo Museum of Art, the Amazonas Theatre, and the Curitiba Botanical Garden, are also open following the recommended safety measures.
Face masks
Face masks are mandatory in all public places in most cities in Brazil. Even in the outdoors. In Rio de Janeiro and São Paulo, you should wear a mask even if you are just going for a walk in the neighborhood. Even though very few people are fined for not wearing masks, the police can fine you as a last resort if initial attempts to encourage compliance with the new regulations have not been successful.
You must also sanitize your hands with rubbing alcohol before entering commercial buildings and stores. In most commercial establishments, employees might also ask to check your temperature.
Social distancing

Even though that is a difficult measure to be reinforced due to the number of citizens in Brazil, social distancing is still being encouraged. People should try to keep a safe space between them and other people outside their household. The World Health Organization recommends that people stay three feet apart, but governments around the world are recommending a 6-feet physical distancing. This measure is being reinforced in commercial buildings, stores, restaurants, and other public spaces in Brazil.
Travel insurance 
Since July 29th, foreigners can enter Brazil for tourism by air. However, you must have health insurance covering COVID-19 to enter the country. It is important that the health insurance mention they cover COVID-19 within Brazil in their document. Airport employees might disapprove of your entrance into the country if the document does not mention Brazil specifically.
What will post-pandemic tourism in Brazil be like?
You can still visit Brazil for tourism during the pandemic. You can still have fun and visit famous attractions around the country. Just make sure to follow local measures and sanitary laws. Bring your face mask wherever you go. Moreover, pay attention to local news for more information on the pandemic in Brazil.
If you are planning your visit to Brazil, check out the main health care when traveling to Brazil.
Caminhos Language Centre remains closed, but you can continue with your Portuguese studies by having online Portuguese classes with us. Our qualified teachers are working hard to provide you with the best online classes possible. Our virtual classroom gives you access to a whiteboard, video and file sharing, online exercises, and much more. All our workbooks and grammar books are also available at your convenience.