A six-week FLAS adventure with Caminhos Language Centre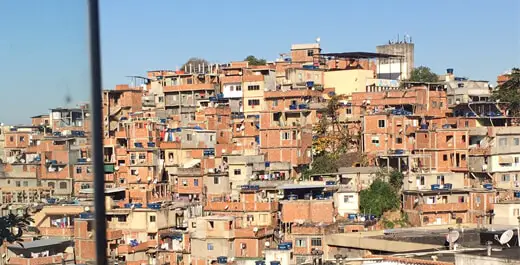 I am not a seasoned traveler and, truth be told, I was apprehensive about

coming to Rio de Janeiro with the U.S. media highlighting its negative aspects, like rampant petty crime and the Zika virus. However, a Foreign Language Area Studies (FLAS) Fellowship opened the opportunity to travel to Brazil and study Portuguese for six weeks. Rio, with its beautiful beaches and the venue for the 2016 Olympic Games, was the natural choice. I found Caminhos Language Centre by searching the Internet for FLAS-approved programs. Its location was ideal, situated a few blocks from Ipanema Beach in one direction and the Lagoa in the other. I was excited to tailor a program that would fulfill a 140-hour in-classroom requirement in a six-week time frame. Also, the school would arrange a homestay that would strike a healthy balance between my needs for both independence and a local support system as well as a convenient location to the school. Finally, the school offered a wide array of extracurricular group activities, like beach volleyball, samba classes, Capoeira, and city tours. My apprehension remained, but my confidence and excitement peaked. I could do this. And I did. In June and August I enjoyed six weeks of intense language training and participated in most of the activities at Caminhos Language Centre. My Portuguese improved tremendously because of the sound instruction and individual attention provided by Caminhos's great teachers. I basked in some of Rio's most beautiful spots because of the school's scheduled activities or my teachers' recommendations, like Pedra do Telegrafo, Sugarloaf Mountain, Dois Irmãos, Parque Lage, Santa Teresa, and Jardim Botânico. Caminhos facilitated a learning curriculum that extended well-beyond the Portuguese language through cooking classes, samba lessons, educational tours of Favelas Cantagalo and Pavao Pavaozinho, as well as a field trip to the Boulevard Olímpico and the Casa do Brasil. I never felt lonely during my six weeks abroad. My host and her family and friends, conveniently located a short metro ride away in Copacabana Beach, quickly became my "Brazilian Family." They were warm and welcoming. My host included me in her weekend activities and dinners out and patiently practiced Portuguese with me. Even when I was sick in bed with a stomach bug for twenty-four hours, she cooked for me and showed genuine concern. Her hospitality and support felt like an extension of the school as I daily moved between its jovial and competent staff and teachers, and my caring and companionable host. Each day felt more comfortable than the last until by my sixth week in Brazil, Rio began to feel like a second home. I had too many wonderful experiences to recount each in enough detail to do them justice, but my cooking class and visit with Tia Maria was particularly special.

A short elevator ride up to the Cantagalo Favela revealed expansive views of the densely stacked red brick and mud-caked make-shift houses. A smattering of blue dots were the plastic tubs for storing water perched on each roof. The favela blanketed the thick forests of the nearby mountains, like a concrete ribbon wrapped around the middle of each green peak. From the elevator, I walked across a stark open-space filled with light but crumbling in spots. This room was likely meant to be the lobby of this unfinished hotel, long abandoned and converted to the school for Cantagalo. Around a corner and down a short flight of stairs, I walked into a heady aroma of onions, garlic, lime, and fish cooking on Tia Maria's stove. I struggled to understand her rapid Portuguese but readily perceived her warm and generous spirit. She spoke of the twenty-six children that she raised in Cantagalo; children that needed care because their parents were absent or incompetent. Beaming with pride and love for her children, she showed us a faded newspaper clipping that pictured her surrounded by her children. She began to tell us about each of their lives—one is a teacher, another is an engineer. Even though her children are grown, she continues to run the Cantagalo community kitchen and cook for its residents and its children. As a testament to her words, children peeked around the door behind her and scampered between the kitchen and her cooking space while she spoke to us. I was overcome by her generosity. She seamlessly transitioned into a cooking lesson as she invited one of the students to help her stir the Moqueca de Peixe or fish stew simmering on the stove. She listed off its ingredients and explained each step of the recipe while we savored the s

mells and took in the humble space. Brightly-painted concrete walls enclosed the aluminum range and counters on one end of the room with peek-a-boo views of the kitchen as children peered at us behind a cracked door and a few wooden picnic tables on the other. Over-sized windows commanded expansive views of the high-rise buildings of Ipanema far below and the turquoise ocean beyond. One table had a plastic red and white checkered table cloth and she invited us to sit down for lunch. We were served sealed containers of Guardanapo juice and the steaming pan of Moqueca de Peixe. In addition, we had rice, black beans, salad, and farina as well as a thick bolo or cake for dessert. It was a delicious and hearty meal; an extension of the warmth and generosity of Tia Maria. I left with lifted spirits and the desire to pass on Tia Maria's love to someone else.
by Susanna Southworth, PhD Student, University of Utah
If you want to know more about Caminhos Language Centre, visit caminhoslanguages.com.