What does a typical Brazilian breakfast look like?
Thursday July 1st, 2021

Posted by:

Amanda Ennes

Category:

Brazil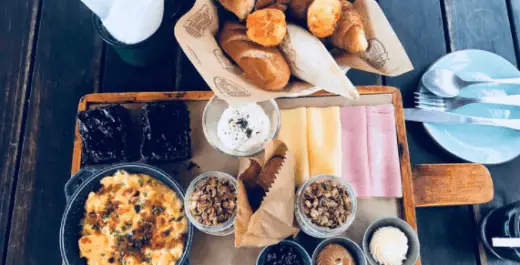 Some might say breakfast is the most important meal of the day. Let's say this is kind of true in Brazil. Even though Brazilians cherish their morning bread and coffee with all their hearts, they seem to think lunch is actually the most important meal of the day. So, a typical Brazilian breakfast might look just like a quick bite if you consider how important lunch is for Brazilians.
Breakfast vs. Lunch
Different from other countries, Brazilians tend to have a light snack for breakfast and a more fulfilling meal for lunch. For instance, having just a sandwich for lunch is a no-go in Brazil. A proper lunch must include a hot meal complete with carbohydrates, protein, and vegetables.
On the other hand, a typical Brazilian breakfast usually includes a crusty bread and either plain black coffee or a latte. That is the most common type of breakfast to have all around Brazil.
Check our blog posts Brazilian Food: Main Traditional Brazilian Dishes and Brazilian foods you must try while in Brazil.
Even though it is pretty common for most people to eat this every morning, there are other types of food that may also represent well a typical breakfast meal in Brazil. Check it out!

A typical Brazilian breakfast
Bread
Bread is the most important item in a typical Brazilian breakfast. The most consumed type of bread in Brazil is the bread roll. This hard-crusted bread may be called Pão Francês, Pão de Sal, or Cacetinho, depending on the region you are in. Sliced bread is also common in Brazilian breakfasts. People use it to make grilled cheese or Misto Quente (grilled ham-and-cheese sandwich) all around the country.
Butter or margarine
Butter or margarine are often spread on the everyday bread Brazilians eat. 
Cheese and ham
Cheese, ham, and turkey slices are frequently found in a typical Brazilian breakfast. It is used as a filling for all kinds of bread.
Pão de queijo
Even though Pão de Queijo is a popular snack all around Brazil, it is mostly consumed in the state of Minas Gerais. Over there, Pão de Queijo is a cheap and ordinary bread sold in every bakery in town. In other places in Brazil, Pão de Queijo is also easily found, but it is not as common or affordable as the everyday Pão Francês.
Cornmeal
Cuscuz de milho is a dish made of cornmeal. It is a very popular meal in the Northeast of Brazil, but rarely found in the South and Southeast regions. Cuscuz may be served plain, or with cheese, butter, sausages, etc.
Scrambled eggs
Scrambled eggs are not as popular as a breakfast dish in Brazil as in other parts of the world. Nevertheless, some people still eat it in the morning. 
Tapioca
Tapioca is a flatbread made of cassava starch. It may be eaten plain with butter or topped with meat, cheese, eggs, condensed milk, or any other filling. Tapioca is a dish from the Northeast region of Brazil, however, it became popular all around the country. 
Fresh fruits
Fruit is a big deal in Brazil, as the country has a wide variety of native fruits. Easy to find in any supermarket and street fairs, fresh fruits are an important part of a Brazilian breakfast. The most common fruits eaten by Brazilians in the mornings are bananas and papayas.
Cakes
Homemade cakes are also popular among Brazilians. The most traditional ones to eat in the mornings are cornmeal cake, ordinary vanilla cake, and orange cake.
Manioc
Some people from the North and Northeast regions of Brazil often eat steamed manioc as a breakfast dish.
Cereal
Corn flakes are popular among kids in Brazil, however, they are expensive and not a regular item in most households around the country.
Coffee or coffee with milk
Another must-have in a Brazilian breakfast is the black coffee. People drink it plain, with sugar, or with milk. Foreigners sometimes think it is weird that Brazilians drink coffee in such a small cup. That is mostly because the coffee in Brazil is very strong and a small quantity is enough to get you ready for the day.
Milk
Some Brazilians drink plain milk for breakfast, but others prefer to add sugar to their morning milk.
Chocolate milk 
Chocolate powder is very common among children in Brazil, mixed with milk for a delicious drink.
Freshly squeezed juice
As we have mentioned before, fruits are abundant in Brazil. Freshly squeezed juice is an ordinary drink in every household. Brazilians drink orange, mango, pineapple, cashew, and many other juices every day. For breakfast, it is also common to drink something called Vitamina. Vitaminas are fruit smoothies blended with milk and sugar or honey.
Yogurt
Fruit yogurts are popular in Brazil. Brazilians might drink it plain or eat it with granola for breakfast.
Experience the Brazilian culture while studying Portuguese in Rio de Janeiro, Brazil, with Caminhos Language Centre.