Orientation Mondays – Welcoming New Students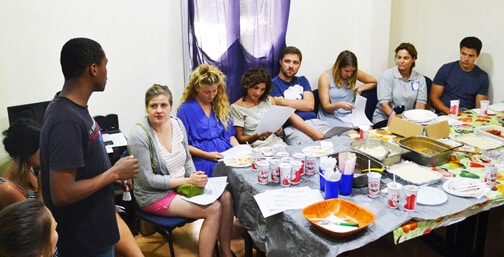 New group classes start every other week at Caminhos Language Centre, always on the Monday of that week. We like to celebrate the start of these classes and the welcome of dozens of new students choosing to study with us. For that reason, every time a group class starts, Caminhos offers an orientation lunch with lots of Brazilian food and 'guaraná' to welcome these new students.
The lady who cooks for us is Tia Maria, a brave woman from Pavão-Pavãzinho favela, which is very close to our school. She has helped hundreds of kids from the community for years. Tia Maria's cooking is very famous at Caminhos, she's the one who cooks for every event at the school and always provide us with delicious options for lunch. Among the favorites are rice and beans (of course!), stewed chicken, stroganoff, roasted beef, spaghetti and lots of 'farofa'. Brazilians would eat farofa every single day of their lives if they could!

After the lunch, after chatting and interacting with other colleagues, our new students at tend an orientation meeting, where Caminhos' staff explains how our school works, talks a little bit about our free activities for the week and the scheduled city tours. We also talk about our social project, Mais Caminhos, and encourage students to be part of it. Furthermore, we answer most frequent questions and students can ask the staff anything about daily activities in Rio and learn how to buy a sim card and how to get a CPF (Brazilian social security number).
We love these orientation Mondays! Meeting the new students and

seeing those excited faces ready to learn Portuguese is very encouraging and exhilarating for Caminhos. Take a look at Caminhos Language Centre group courses over here and be a part of our family. We will be happy to have you around!