Brave Kids 2017 – Seis crianças do Mais Caminhos vão à Polônia
22 de junho de 2017

Posted by:

Autor Convidado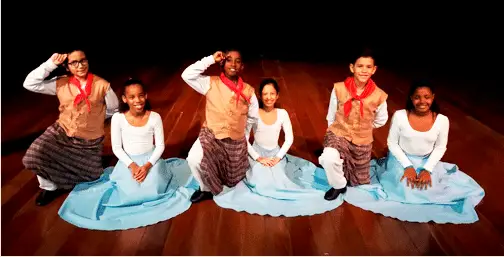 Last June 17, 2017, Mais Caminhos in a partnership with Solar Meninos de Luz and EduMais sent six kids from the favela of Cantagalo and Pavão-Pavãozinho to attend the annual Brave Kids Festival. Brave Kids is under the patronage of UNESCO and the Polish Ministry of Culture and Heritage. Its mission is to unite children from all over the world in an atmosphere of friendship and respect for each other's culture.
The six kids selected for the Brave Kids will take part in a memorable and life-changing experience during their one month of stay in Kosice, Slovakia and Oborniki Slaskie in Poland. Along with other kids from all parts of the globe, especially the ones which are mostly affected by humanitarian issues such as natural disasters, political conflicts, and poverty, they have a chance to do a cultural immersion, artistic activities, exchanging of ideas that would help cultivate their social development and help them make steps to create a positive transformation in their lives and communities.
This year, the selected kids from Brazil are the following: Victória Augusta, Maria Vitoria, Victoria Lorrayne, Marcos Paulo, Cristian Matheus e Vitor Hugo. They will be accompanied by their teacher Flavia Bittencourt throughout their whole trip in Europe.
Upon hearing the news that they were chose to go to Brave Kids, the six kids could

not contain their excitement and were very happy to take part in the once-in-a-lifetime event.
They became busy with preparing their cultural presentation that they are performing in Europe and that help to showcase their talents and the beauty of the Brazilian culture. For their performance, they are performing Samba and Carreirinha (dance from the south of Brazil). They've been practicing for many weeks prior to departure to ensure they perfect the moves and put on a good show on Brave Kids.
As their send-off, they even performed their cultural presentation last June 14 in the auditorium of Solar Meninos de Luz in front of their schoolmates, family, friends, and even the staff of Mais Caminhos as well as other organizations helping them. Their performance was amazing and it showed such joy and excitement

beaming from their kids with their upcoming overseas trip. They also donned their intricate costumes which showed traditional Brazilian culture and it will surely be great to see alongside other costumes all over the world in Poland. Thanks to Daniela Pacheco, Flavia Bittencourt, Cheila Oliveira and some others special helps – like Daniela's aunt –, all these costumes and clothing have been made perfectly and on time for the kids' departure.
After flying from the airport here in Rio, they did a quick layover in Madrid and Prague before finally going to the Slovakia. Our kids definitely had a great time in the airports as they played around a giant chessboard and went on to explore the various facilities in it. Upon arriving in Kosice, there was an informal orientation picnic that was done in Nad Jazerom, which is a beach near a lake, where children had great activities and a cultural programme was also done.
Currently, our kids are having the taste of the local life as they have

been placed with a local family to have a first-hand of experience of how it feels like to live in a Slovak and Polish home. They are so happy as they get to interact with kids from those family and they also get to practiced their English! They have toured around some parts of the town! Furthermore, in the coming days, they will also go to various artistic workshops, cinemas, and even a welcome disco! Such activities will surely make the experience of our six kids very memorable and fun!
They will be coming back to Rio de Janeiro on July 11, 2017. We are very optimistic that this trip will really help the kids so that they may have a positive and hopeful perspective in life. We are also excited for them to make lifelong friendships with kids from other countries!
If you want to help projects like this one, learn more about Mais Caminhos and volunteer with us. Mais Caminhos is Caminhos Language Centre's own social programme in Rio de Janeiro that offers educational and cultural activities for underprivileged local Brazilian children and teenagers. When you study Portuguese in Brazil with our school, your fee helps keep those projects alive.