Here is an overview of all the Brazilian Portuguese courses we offer at Caminhos Language Centre in Brazil:
Group Courses

Name

Description

Hours per week

Duration (weeks)

Caminhos Intensive

Our students' most popular option. Intensive 5 days per week (Monday to Friday), 4 hours per day in a small group.
Beginner (A1), High Beginner (A1+), Elementary (A2), High Elementary (A2+) Pre-Intermediate (B1), Intermediate (B1+), High Intermediate (B2) and Advanced (C)

20
4


(per level)

Read More
Caminhos Talk

A stand-alone or complementary Portuguese course to improve your conversation skills.
3 days per week, 2,5 hours per day in a small group.

7,5


Read More
Caminhos Latin Group
Special short beginner group course (L) for students with advanced level Spanish or Italian.
5 days per week (Monday to Friday), 4 hours per day in a small group.
20

2

Read More
Caminhos' Course Levels: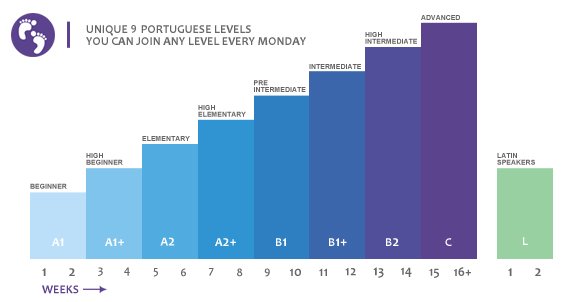 See our current prices for group courses
Private Classes

Name
Description
Hours per Week
Caminhos Private

Tailored courses

Customised
Read More
Celpe-Bras

Preparation for officially certified Brazilian Portuguese exam

Customised
Read More
Rio Immersion

Learn Portuguese while exploring Rio de Janeiro with a private teacher-guide

Customised
Read More
See our current prices for private classes
---
This is how your week could look at Caminhos:
What's included
Caminhos workbooks
100% free activities five days a week
Caminhos student card for discounts in Rio de Janeiro
Certificate confirming your attained level
Your fee supports Mais Caminhos, our on-site social programme
Free WiFi, coffee and filtered water
Invitations for Caminhos events
Friendly team
Still not sure which Brazilian Portuguese course to pick?
Here are some hints:
If you are looking for a high quality, competitively-priced Portuguese Group course our "Caminhos Intensive" course is the best option for you. It is also the right choice if you are looking for a dynamic setting and you enjoy meeting people from across the globe.
If you are looking to improve your Portuguese conversational skills we recommend you our "Caminhos Talk" group course. Caminhos talk can also be complementary for an intensive group course.
If you are looking for Portuguese courses in Brazil adjusted to meet your personal needs, schedule and/or location, we recommend you take our "Caminhos Private Classes". Some people who struggle with the pace in the intensive group courses take complementary Portuguese private lessons
For those who don't want to miss a minute of the 'Cidade Maravilhosa' ('Marvellous City') and would prefer to learn Portuguese outside of a traditional classroom setting, "Portuguese Immersion Program" is the Brazilian Portuguese course for you. Our teacher-guide will show you around the city while teaching you Brazilian Portuguese.
For those who are coming to Rio de Janeiro in a group, we offer special group packages that can be designed entirely to suit your group's needs.
We also offer a number of accommodation options, including 'homestay', a popular option which enables you to stay with a local Brazilian family. And for your peace of mind, Edson, our driver, can pick you up from the airport and take you directly to your accommodation.
If you are still unsure which Brazilian Portuguese course is right for you, feel free to contact us for more information.