Besides all the free activities we offer, there are a few paid activities in Rio de Janeiro which Caminhos offers too. The fees go directly to the people in the local community who organise these activities. Caminhos organises the Educational Favela Tour Rio, the Tia Maria Cooking Class and, occasionally, we organise special events.
Educational Favela Tour Rio
This is the best favela tour in Rio: we wanted to make sure all of our students have the opportunity to learn a bit about how a favela operates and provide them with some idea of what it's like to live in a favela. We place a huge emphasis on this tour being 'educational', rather than 'exploitative'. Edson is our tour guide and he will take you into the community of Dona Marta (the favela which Michael Jackson made famous when he filmed the music clip 'They Don't Really Care About Us.'). He will guide you through the community and explain many important things like how the residents receive their mail, how to buy and sell houses in the favela, how to make local announcements, how and why the favelas came about in the first place, and more. He will also take you to a few social projects we work closely with and you will get to meet the people and children Caminhos support.
Details
When: Check the Caminhos Activity Calendar on the right for our next 'Educational Favela Tour Rio'
Meet: At Caminhos and we'll go to Botafogo together
Check the actual times in our Caminhos Activity Calendar.
Brazilian Cooking Class in Rio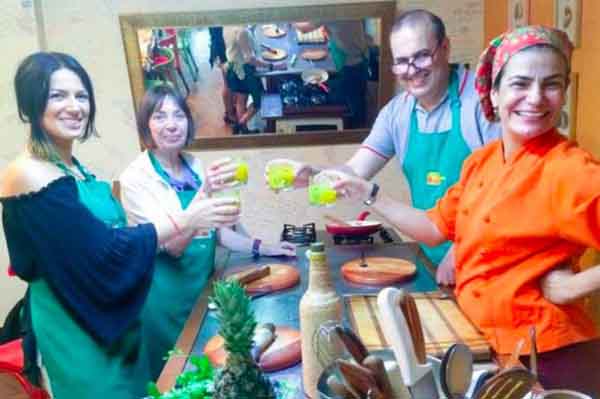 Learn how to cook the best Brazilian dishes with professional Brazilian chef Simone! Caminhos Cooking Class is one of the most fun and dynamic activities we have.
Simone, a professional Carioca chef, invites you into her kitchen, where you will learn to make a series of traditional Brazilian appetisers; the famous Caipirinha – the traditional drink of Brazil -; and Moqueca – the delicious seafood dish from Bahia. She will teach you about Brazilian food and the history of certain dishes and where to purchase your ingredients from. This class is more than a cooking class – you will love having complete 'hands on' experience in cooking the dishes, learning about the history of the foods, practising your Portuguese and at the end, sitting down to a delicious meal. Simone gives all participants a recipe to take home and you are welcome to take photos during the class.
Details
When: Check the Caminhos Activity Calendar on the right for our next 'Brazilian Cooking Class'
Meet: At Caminhos and walk together to Simone's place