Portuguese Language School in Ipanema
Caminhos Language Centre is located in Ipanema, the most popular and lively part of Rio de Janeiro. The school is situated just four blocks from the famous Ipanema Beach, which means you can come to school wearing your shorts and Havaianas! Ipanema's metro station, 'General Osório', is only five minutes' walk from the school. We are in very close proximity to Ipanema's vibrant scene, including all kinds of cool cafes, bars and restaurants.
Our school has a great three-storey, ten-classroom building. The school is air-conditioned and we offer free coffee, filtered water and WiFi so you can relax and recharge in our student lounge, enjoying our facilities while you wait for your class or free activities. Our classrooms are equipped with video and audio technology to help you to study brazilian Portuguese. Furthermore, we have a helpful reception, a computer access area, staff room, a kitchen and seven bathrooms.
Many students head to Ipanema Beach straight after class. Our free volleyball at Ipanema Beach on Mondays is very popular. Our reception is open Monday to Friday, 7:30 – 21:00 and Saturday, 8:00 – 16:00. Our staff are always happy to help you with any questions regarding your course or your stay in the city. We can also help you with Homestay in Rio de Janeiro and other types of accommodation. Make sure you 'Like' us on Facebook to keep updated about our free activities and special events.
Our building offers: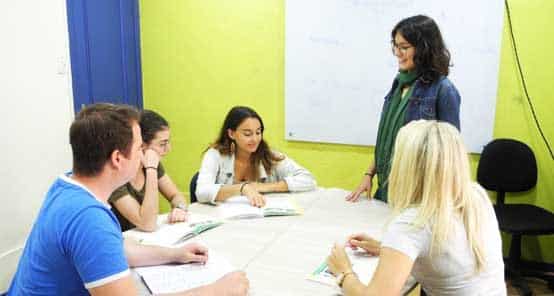 Three-storey and ten-classroom building – excellent location and great vibe
Classrooms equipped with video and audio technology to study Brazilian Portuguese
Comfortable bathrooms on every floor
Comfortable reception and lounge
Ipanema Beach just 4 blocks away
Metro station around the corner
Air conditioning
Free WiFi
Free PC access for students
Free coffee and filtered water