Caminhos Language Centre offers more than just Portuguese classes: we are famous for our range of activities and for supporting good causes through our social programme, Mais Caminhos. Caminhos Language Centre offers three types of activities:
Free activities in Rio de Janeiro
Paid activities in Rio de Janeiro
Volunteer activities in Rio de Janeiro
Check Our Activity Calendar
Learn More About Our Free Activities in Rio
Free Activities in Rio de Janeiro
As well as offering Portuguese classes Caminhos Language Centre offers the complete Rio de Janeiro experience. Every day we offer 100% free and fun activities in Rio de Janeiro for students to socialise and practise their developing Portuguese skills. We like to think of ourselves as 'one big family' and the wide-ranging activities and excursions we offer enable our students to get to know each other better.
Most of our activities in Rio de Janeiro are completely free. If there are transport or food costs involved details are always provided. We don't try to squeeze extra money out of our students for extracurricular activities - we regard these activities as part of the Caminhos experience. Click on the activity icons in the weekly schedule above for more information on each individual activity.
Free Activities in Rio de Janeiro Explained
Monday
Monday afternoon
Every Monday afternoon we organise an orientation session for new students, during which we provide useful information about Rio de Janeiro, the school and Ipanema.
Monday evening
Every Monday evening we organise a free game of volleyball on Ipanema beach! All skill levels are welcome. This is an opportunity for you to meet other Portuguese students and make friends while staying in Brazil.
Tuesday
Tuesday afternoon
Every Tuesday afternoon we organise a 'bate-papo' session for students who like to practise their developing Portuguese conversation skills in a fun way. A Portuguese teacher will use topics, music and games to help stimulate the conversation, better enabling students to talk and think in Portuguese.
Tuesday evening
Every Tuesday evening we show a Brazilian movie with Portuguese subtitles at the school (we have a projector and a sound system). Great for deepening your understanding of Brazilian culture and improving your Portuguese. Popcorn is provided!
Wednesday
Wednesday afternoon

Every Wednesday afternoon we organise a support hour hosted by one of our Portuguese teachers for students who have questions related to the classes they are attending.
Wednesday evening

On Wednesday evenings we offer Brazil's famous Samba classes with Bruno. Bruno is our fantastic professional samba teacher from Lapa! We guarantee that Bruno will get your hips moving and shaking.
Thursday
Thursday afternoon

On Thursday afternoons there are capoeira classes at Lagoa with our capoeira teacher, Davi Porfirio Afonso!
Thursday evening

Every Thursday evening there is free game of football at Lagoa! All skill levels welcome.
Friday
Friday afternoon

On Friday afternoons we run our popular city tour in Rio de Janeiro, led by our tour guide, Davi. We run 16 different tours, ranging from beautiful hikes in the mountains with incredible views of Rio, to trips around historical parts of the city, bicycle tours and visits to special markets.
Friday evening

Every six weeks in front of the school we hold our 'Caipi-Sexta' event: a friendly welcome party where our new students are welcomed with a free caipirinha and have the chance to mingle with fellow students and the Caminhos team.
So book your Portuguese course now and participate in all these activities in Rio de Janeiro for free! For actual activity times check the Caminhos Activity Calendar top right.
Paid Activities in Rio de Janeiro
Tia Maria Cooking Class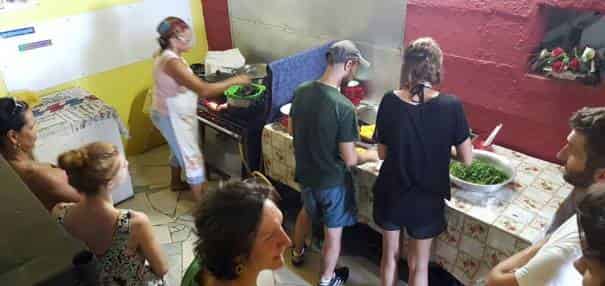 Tia Maria is famous in Rio: she adopted 27 children (they are all adults now) and has cooked for football players in the World Cup and for other important athletes. She is a strong supporter of social projects and likes to help the community she lives in. She will teach a group of you how to make some traditional Brazilian food and then you can all sit together and enjoy what you have cooked. Check the Caminhos Activity Calendar top right for actual dates and times.
Educational Favela Tour in Rio de Janeiro
This is the best favela tour in Rio: we wanted to make sure all of our students have the opportunity to learn a bit about how a favela operates and provide them with some idea of what it's like to live in a favela. We place a huge emphasis on this tour being 'educational', rather than 'exploitative'. Agatha is our tour guide and a third of her family live in the nearby Cantagalo favela. She will take you through the community and explain all manner of things to you, such as how the residents receive their mail, how to buy and sell houses in the favela, how to make local announcements, how and why the favelas came about in the first place, and more. Agatha also takes you to the 'Solar Meninos de Luz' charitable organisation and some other organisations we work closely with. Great photo opportunity at Jardim do Céu - a garden created from recycled materials with the best view of Ipanema!
Volunteer Day Activities in Rio de Janeiro
Caminhos In Action (C.I.A.)
Caminhos In Action is a day held once a month in which students can participate in different social projects, helping nearby communities and people in need. Each month we organise a C.I.A. day such as painting houses, street cleaning or helping to build houses and gardens in a local community. Around Christmas and Easter time we also provide special events for children who live in the communities we help.
Caminhos Community Time (Saturday)
Caminhos Community Time is a day when we take students into the nearby community of Caranguejo and spend some time with the children who live there. We help to clean up the area, read stories, play games and draw with the children, and provide them with food and drink. It is a day for showing these children in the community that we care. The community times are organised in cooperation with our partner organisation, Solar Meninos de Luz.
Caminhos Playtime (Wednesday)
Caminhos Playtime is a great opportunity for our language school students to connect with our Mais Caminhos children. Students can spend time with the children at the school every second Wednesday and participate in several fun games with them.
There is no need to apply in advance for these short-term volunteer opportunities. The only condition for participating is to study at the Caminhos Language Centre or be a former student. Once you are at the school you can ask for more information or sign up to the next volunteer opportunity at our front desk.
So book your Portuguese course now and participate in all these activities in Rio de Janeiro! For actual activity times check the Caminhos Activity Calendar top right.