The Communicative Approach
Caminhos offers a diverse and enriching learning curriculum using the communicative approach. The communicative approach – or 'communicative language teaching' (CLT) – is an approach to Portuguese language teaching that places emphasis on interaction. Caminhos steps away from the traditional one-way communication from teacher to student. Teachers will speak the Portuguese language as much as possible during the entire course. Besides the fact that research has proven that this method has better results, it is simply more fun than one-way communication.
Our native Brazilian teachers are all highly qualified, trained, experienced and passionate about students' Portuguese language learning, and are therefore focussed on maximising their students' potential. Small group classes facilitate the opportunity for teachers to focus on students' needs and create an opportunity for the student to interact.
Our teachers also use experiences of daily life to teach Portuguese lessons, helping students grasp the Brazilian street talk known as 'gíria', important when learning to navigate the streets of Rio.
 Check out an overview of all the courses we offer 
Level Structure & Level Test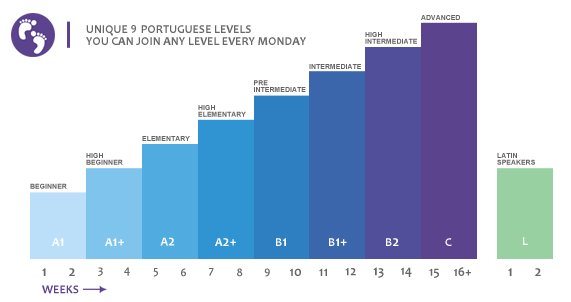 Our group courses are divided in 9 different levels from Basic (A1) to Advanced (C), which correspond to the Common European Framework of Reference for Languages. We are the only language school in Rio de Janeiro that instruct Portuguese for Foreigners on 9 different levels – which is a very important factor –, so there is healthy level differentiation between you and your classmates. With Caminhos you can start classes every Monday of the year on any level.
If you are not a complete beginner, we require for you to do a level test so our teacher coordinator can place you in the correct level. Sometimes an oral test is necessary, but you will be asked to come in earlier to do this on the first day of your class.
Download the level test here and send it to us. We will advise you within 24 hours which level you should join.