The Caminhos Student House is located 5 minutes walking distance to Caminhos Language Centre.
It is in the most exclusive and safest part of Rio and within five minutes walk to the famous Ipanema Beach. The house is two levels and comprises of 5 bedrooms, 2 bathrooms, a big kitchen, laundry, living/dining area and outdoor sitting area with a balcony.
The Caminhos Student House is fully equipped and the price you pay includes everything (all bills, wifi, taxes, condominium, bed linen, towels, appliances etc). The house is designed to bring students together and create a further 'Caminhos Community' out of the school. Students can live together and make friends to enjoy the best Rio has to offer! It is also a great opportunity to learn Brazilian Portuguese while living with other people who also want to practice the language.
Request more information about Student House in Rio de Janeiro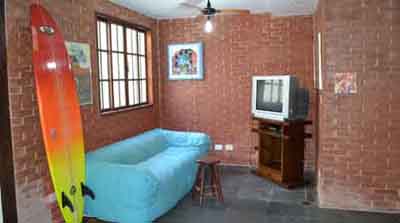 Caminhos Student House Location
5 minutes walk from Caminhos Language Centre
5 minutes walk to the famous Ipanema Beach
10 minutes walk to the famous Copacabana Beach
2 minutes walk to General Osório main subway station and bus terminals (easy access to all parts of Rio)
5 mins walk to Smart Fit Gym
Close to all cool bars and restaurants
House Facilities
Gated entrance – safe and secure
Wifi
Cooking facility
Washing facility
Shared fridge
TV
2 bathrooms
Common areas – living and dining area, balcony and hammock area

Room Facilities
Double Bed (4 rooms), Single Bed (1 room)
Wifi
Bed linen
Fan
Natural light
Request more information about Student House in Rio de Janeiro