Brazilian Pizza: Common Toppings and Fun Facts
Thursday September 16th, 2021

Posted by:

Amanda Ennes

Category:

Brazil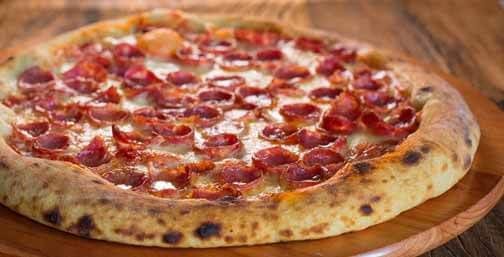 Many foreigners might wonder what is the difference between American or Italian-style pizza and Brazilian pizza. Well, even though pizza is a famous dish all over the planet, the way of preparation and toppings used in Brazil are fairly different from other countries.
History and Types of Pizza in Brazil
Pizza got to Brazil with the Italian immigrants who massively came here from 1880 to 1930. Until 1950, pizza was only popular among the Italian people and their descendants. However, later in history, the love for pizza spread around the country. Today, there are over 40 thousand pizzerias in the country according to the United Pizzerias Association of Brazil.
Of course, nowadays you can easily find all kinds of pizza around Brazil. Thin or thick-crust pizza, stuffed crust, different toppings, even pizza with no cheese at all… But in general, Brazilian pizzas usually offer a thin and crunchy crust, a small amount of tomato sauce, and lots of cheese.
Furthermore, it is also common for all pizzerias in Brazil to offer half-and-half pizzas. People can choose different toppings for each half of their pizza, increasing flavor possibilities.
Brazilian Pizza: Common Toppings
The most common types of Brazilian pizza are probably muçarela, calabresa, frango com catupiry, and portuguesa. Check out the most popular toppings of pizza in Brazil:
Muçarela: tomato sauce and mozzarella cheese.
Calabresa: tomato sauce, mozzarella cheese, and Calabresa sausage.
Frango com Catupiry: tomato sauce, mozzarella cheese, shredded chicken, and Brazilian cream cheese.
Portuguesa: tomato sauce, mozzarella cheese, tomato, bell peppers, onions, Calabresa sausage, ham, boiled eggs, and olives. Some places might add corn, pea and/or bacon to it as well.
Quatro Queijos: tomato sauce and a mix of four types of cheese — usually mozzarella, parmesan, blue cheese, and Brazilian cream cheese.
Margherita: tomato sauce, mozzarella cheese, tomatoes, and basil leaves. Fancier places might add fresh mozzarella to it as well.
Presunto: tomato sauce, mozzarella cheese, and ham.
Carne Seca: tomato sauce, mozzarella cheese, and dried meat.
Alho: tomato sauce, mozzarella cheese, and fried garlic.
Camarão: tomato sauce, mozzarella cheese, and grilled shrimp.
Palmito: tomato sauce, mozzarella cheese, and heart of palm.
Tomate Seco com Rúcula: tomato sauce, mozzarella cheese, sun-dried tomatoes, and arugula.
It is worth mention that most pizzerias in Brazil add oregano to all their pizza. Just ask them not to add it beforehand if you do not like it.
Weird Toppings
Some pizzerias started to get creative and added such toppings as french fries, Strogonoff, burger patties, barbecue, and garlic bread to their pizzas. However, this has not become a hit everywhere in Brazil. Nevertheless, you can still find weird toppings on pizza in a few pizza parlors around the country.

Sweet Pizza
Dessert pizza is a popular thing all around Brazil. It is also common for people to order their pizza half savory and half sweet. Check out the most common toppings for dessert pizza in Brazil:
Banana: banana, mozzarella cheese, sugar, and cinnamon
Chocolate: plain chocolate or chocolate with nuts, strawberries, and sprinkles.
Romeu e Julieta : mozzarella cheese and guava paste.
Beijinho: condensed milk and grated coconut.
Still, there are places in which the sweet pizza menu is as extensive as the regular one. You can easily find Nutella, paçoca, and Dulce de Leite pizzas in most pizzerias in Brazil.
All You Can Eat Pizza

Rodízios are very common in Brazil. From barbecue to finger food and sushi, this all-you-can-eat style of restaurant is popular all around the country.
Pizza Rodízios are very popular and most pizzerias offer them. You pay a price and can eat as many slices of pizzas as you want. They usually cost around R$30 to R$80 depending on the city and variety and quality of the pizzas. Waiters usually come to your table with different flavors of pizza every other minute and you can ask for a slice or pass on it.
Eating Pizza With Fork and Knife
Brazilians usually do not use their hands to eat food. Whether it is pizza, burgers, or finger food, they will either use a napkin to hold it or use a fork and knife to cut it. That being said, the most common way to eat pizza around Brazil is by using a fork and knife after placing your slice of pizza on a plate.
Ketchup on Pizza?
This is a topic for debate even among Brazilians. In some cities in Brazil, it is common for people to add ketchup, mayonnaise, and mustard to their pizzas.
For instance, Cariocas put ketchup on their pizza all the time and pizzerias usually leave ketchup bottles or sachets on their tables regularly.
Nevertheless, this is still a no-go option for other Brazilians. People from São Paulo, for example, think it is absolute madness to add ketchup to their pizza.
Have you ever tried adding ketchup to your pizza? How do you feel about it? Would you be willing to add ketchup to your Brazilian pizza?
Explore the Brazilian culture with Caminhos Language Centre. Learn Portuguese in Brazil while having fun in Rio de Janeiro. We offer free activities every day s0 you practice Portuguese while exploring the city.