Cantagalo and Pavão-Pavãozinho
Wednesday February 20th, 2019

Posted by:

Guest Author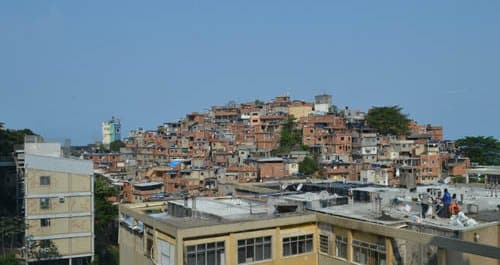 The favelas being discussed in this article are Cantagalo, which literally means "singing rooster", and Pavão -or, "Pavãozinho", which means "peacock", or "little peacock." Two endearingly named communities that were once so infamous for drug war violence that they were selected as a featured location of the popular first-person shooter video game franchise "Call of Duty".
Even so, Cantagalo and Pavão-Pavãozinho, which together home near to 5000 Brazilians, are independent from each other, although they remain geographically united by proximity. It is therefore that they share many features, such as their privileged location so close to the sea, as well as enjoying one of the best views in Rio de Janeiro. Nevertheless, these communities are still haunted by poverty and violence; a truth as ironic as it is eye-opening, taking into account their location in the South Zone of Rio de Janeiro, bordering with some of Rio's most lucrative districts; Leblon, Ipanema, and Copacabana.

Furthermore, despite both communities being pacified, I quickly learned that pacification does not necessarily equate to peace. For example, on the 23rd of April 2014, weeks before the World Cup, a violent drug war wrought havoc in the communities of Cantagalo and Pavão-Pavãozinho. On this sad day, innocent people lost their lives. Innocent people like Douglas Rafael da Silva Pereira, or "DG" as he was known, was mistaken for a drug-trafficker and killed. DG was well known, respected, as was he a dancer on the popular show "Esquenta!", making him an inspiration to the Cantagalo and Pavão-Pavãzinho people.
Nevertheless, it is important to remember that there is so much more to favelas like Cantagalo and Pavão-Pavãzinho than violence, police brutality and drug wars, and that efforts are being made to improve the lives of future generations by offering more opportunities to those who grow up in these hostile environments. For instance, NGOs and cultural projects such as Solar Meninos de Luz (whose focus is education and universal humanitarian values) and Harmonicanto (who provide art workshops, music lessons, a vegetable garden, and more), both have centers in the Cantagalo and Pavão-Pavãozinho area, and afford youngsters who live in the favelas with the tools to forge a brighter future for themselves.
At Mais Caminhos we also provide an educational program that focuses on the academic and emotional development of the youth living in the Cantagalo and Pavão-Pavãzinho communities. Our program includes English classes, social-emotional learning, as well as a ton of fun activities for everyone to enjoy such as sports and games. We also offer focused workshops, such as cinema, photography and technology so that youths may expand their skills, giving them invaluable future prospects and thereby broadening their horizons.
Watch out world. Cantagalo and Pavão-Pavãozinho talent is getting ready to be unleashed!