Mais Caminhos Summer Camp 2020
Wednesday February 5th, 2020

Posted by:

Guest Author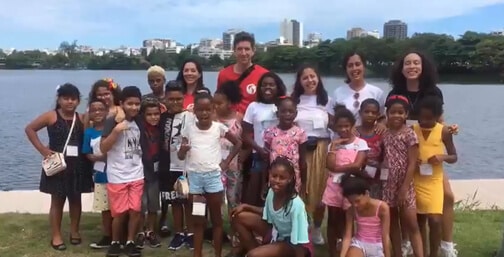 It all started back in February 2019, when Malika and I decided to help kids in need in Rio de Janeiro. As soon as we traveled back to Switzerland, we started to look for a cool program and found Mais Caminhos.
The impression of the Mais Caminhos program was good, well organized (Swiss people love organization) and we thought that there was a sense behind all this. We applied and got selected for the whole 4 weeks of summer camp.
The first meeting we had with the Mais Caminhos Team and the other volunteers was easygoing and welcoming. We sat outside and talked about rules, how to behave when something happens, how to talk to the kids and how we should just enjoy the time with them. Everything was clear and we were ready to start our journey!
Now let's talk real. We were excited but still also a bit scared of the responsibility we had for those kids. We didn't know their family background and how to handle certain situations. Especially when you don't speak the language fluently. But we had always help from the other volunteers and of course from the Mais Caminhos Team.

The day of the days came and we were nervous but happy to have this experience. At the beginning everything was a little confusing, we didn't know what we had to set up for lunch, when the food was coming and when the kids were going to be here. There was this insecurity but at the end of the day, we handled the lunch duty pretty good. After a couple of days, we knew what to do, so everything was a lot easier and we started to enjoy the time with the kids.
The kids were nice to us and also understanding because of the language barrier. We had to learn to ask them if they could explain things in a different way. Most of the time they did and were super proud of themselves. We had situations where the kids didn't respect the rules, but the Mais Caminhos Team took action the right way.

Overviewing the whole summer camp we had a good time with the kids, the volunteers and the Mais Caminhos Team. We would recommend it to everyone who loves kids, likes to play with them and also those who already speak the language. It is a great experience and a good connection to practice and learn new morals.
We would like to thank the Mais Caminhos Team for giving us this opportunity and helping us out with patience. A special thank you also goes to the kids. They treated us with respect and kindness and it was a pleasure to spend time with them. They will always have a special place in our hearts.
Malika & Elisa
Learn more about Mais Caminhos and how to volunteer in Rio de Janeiro.