Brazilian Literature: The Best Brazilian Authors of All Time
Thursday December 17th, 2020

Posted by:

Amanda Ennes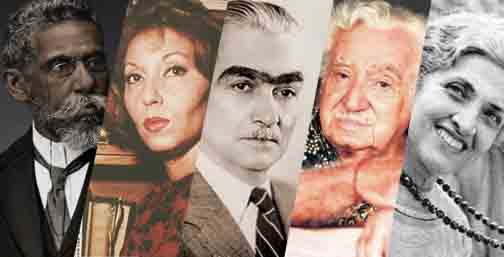 Brazil is home to a rich mix of cultures, races, customs, and religious traditions. Our whole history is based on absorbing cultural influences and creating our own vibrant and unique features. And that surely affects the Brazilian literature as well. With classic works, some Brazilian authors are mandatory reading for all generations. Their work praises national beauty, society, and people.
Above all, Brazil has produced an incredible number of authors that have influenced literature and art in the country. This list includes great Brazilian novelists, poets, chroniclers, and writers. Check it out!
Machado de Assis
A founding figure of Brazilian literature, Machado de Assis is widely regarded as the greatest writer of Brazilian literature. He was the first president of the Brazilian Academy of Letters, the most important non-profit literary society in Brazil. Machado de Assis wrote poetry, short stories, and novels. He was also a journalist, playwright, theater critic, and literary critic.
Born in a poor community in Rio de Janeiro, Machado de Assis struggled with the challenges of growing up in a mixed-race family in 1839. Largely self-taught, he strove to rise socially. His work deals with various aspects of human life. It usually presents great irony and a sense of humor, even when addressing important subjects.
As one of the best Brazilian authors of all time, his works still have a great influence on Brazilian literature until these days.
Machado de Assis – Notable Works
Memórias Póstumas de Brás Cubas (Epitaph of a Small Winner)
Quincas Borba (Philosopher or Dog?)
Dom Casmurro
O Alienista (The Alienist)

Clarice Lispector
Even though Clarice Lispector was born in Ukraine, she moved to Brazil with her family as an infant. She grew up in Recife and Rio de Janeiro. While attending law school, she began writing journalistic articles and short stories, catapulting to fame at the age of 23. She was the first Brazilian ever to have her work published by the prestigious book series Penguin Classics.
Later, Clarice would become one of the most celebrated Brazilian authors of Modernism, frequently associated with Virginia Woolf. She wrote novels, short stories, chronicles, and children's literature. In her works, Clarice Lispector likes to immerse herself in the minds of her characters, probing complex psychological mechanisms.
Clarice Lispector – Notable Works
Perto do Coração Selvagem (Near to the Wild Heart)
Laços de Família (Family Ties)
A Paixão Segundo G.H. (The Passion According to G.H.)
Água Viva
A Hora da Estrela (Hour of the Star)

Jorge Amado
Jorge Amado is probably the most popular Brazilian author in the country. He is known for praising the people and customs of Bahia, the Northeast Region of Brazil. Having written 49 books, Jorge Amado's writing career spanned nearly seven decades. His work has been adapted to films, plays, and television and also translated into over 40 languages around the globe.
His work is marked by religious syncretism, a cheerful and optimistic tone, and deep social and economic thoughts. During his lifetime, Jorge Amado was able to accomplish both critical acclaim and popular appeal.
Jorge Amado – Notable Works
Dona Flor e Seus Dois Maridos (Dona Flor and Her Two Husbands)
Capitães da Areia (Captains of the Sands)
Tieta do Agreste (Tieta)
Gabriela, Cravo e Canela (Gabriela, Clove and Cinnamon)

Monteiro Lobato
Monteiro Lobato was one of the most influential Brazilian writers of all time. He is best known for his children's book series, Sítio do Picapau Amarelo. However, he had also been a journalist, fiction author, translator, and art critic. Monteiro Lobato is the founder of Brazil's first publishing house, Companhia Editora Nacional.
His works usually depict life in humble villages and coffee farms, standing out in fairy tale and fable genres.
After researching public health in Rio de Janeiro, Monteiro Lobato and his character Jeca Tatu became an important asset for basic sanitation awareness in Brazil. In fact, the writer managed to raise public debates about the matter and pressured the elite to provide sanitation services to the people.
Monteiro Lobato – Notable Works
Urupês
O Picapau Amarelo (The Yellow Woodpecker Farm)
Reinações de Narizinho (Adventures of Lucia Little Nose)
O Saci (The Saci)

Cecília Meireles
Cecília Meireles was the first female Brazilian writer to reach public acclamation in literature. Moreover, she was the first woman to be awarded by the Brazilian Academy of Letters. She wrote children's books, novels, and articles, However, she is best known for her work in poetry.
The writer made her debut at the age of 18 and wrote over 50 books until her death. She studied literature, folklore, and educational theory. Furthermore, Cecília Meireles was a professor at Universidade Federal do Rio de Janeiro and The University of Texas.
Her poems frequently mention classical elements, such as the wind, the water, the sea, the air, time, and space. She valued musicality and the use of short verses. As particular characteristics of Cecília Meireles' poetry, it is possible to point out a melancholic tone, escape from reality, and messages of love, loneliness, religion, and death.
Cecília Meireles – Notable Works
Espectros
Viagem (Voyage)
Romanceiro da Inconfidência
Motivo
Explicação
Retrato

Carlos Drummond de Andrade
Carlos Drummond de Andrade is one of the most respected Brazilian poets. He has begun his literary career at 20 years old, while still working in the Ministry of Education.
Drummond also wrote narrative texts, chronicles, and short stories, but became one of the two greatest Brazilian authors of all times writing poetry. His work displays linguistic freedom and free verses. According to essay writer Affonso Romano de Sant'Anna, Drummond's works can be divided into three fields: ironic, social, and metaphysical poetry.
Carlos Drummond de Andrade – Notable Works
A Rosa do Povo (The People's Rose)
Canção Amiga
A Máquina do Mundo
Claro Enigma
Sentimento do Mundo

Now that you learned about some of the best Brazilian authors of all time, you can start reading their work. This will not only help you with the process of learning Portuguese but will also immerse yourself in the Brazilian culture through art and literature.
If you want to learn other interesting aspects of Brazil, sign up for Portuguese classes at Caminhos Language Centre. We offer our students a variety of activities inside and outside the classroom in order to maximize your experience and immersion into the Brazilian culture. Study Portuguese in Rio de Janeiro with Caminhos Language Centre.