Caminhos News 4: Brave Kids 2015 travelling to Poland soon
Tuesday May 26th, 2015

Posted by:

Diana Nijboer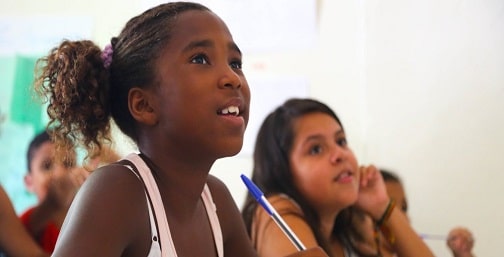 In this newsletter you can read all about the developments of the Mais Caminhos programmes. Mais Caminhos has three programmes: On-Site Educational Programme; Mais Caminhos Exchange & Scholarship; and Mais Caminhos Family. We offer educational and cultural programmes for motivated underprivileged Brazilian children and youngsters to encourage them to live their DREAMS.
Read all about the progress of our students: they have achieved incredible results.
Thank you for all your help and support – thanks to you we have been able to get one step closer to making our students' dreams come true. https://caminhoslanguages.com/
Mais Caminhos On-Site Educational Programme
We host after-school classes four days per week for children between the ages of eight and twelve from the nearby favelas Cantagalo and Pavãozinho. The classes take place at Caminhos Language Centre in Ipanema and vary every day, offering a range of activities that fit within the strong structure we have created for them.
Four afternoons per week, the Mais Caminhos volunteers pick up the children from a pre-arranged location in Pavãozinho. We walk with them to Ipanema, and during this walk we chit-chat informally with them, we count in English, we create a positive vibe for them for their arrival at the school. Once we arrive, we sit with the children on two beautiful benches in the school, where we reflect on the walk to the school, discussing how the walk went and enabling the children go over the Mais Caminhos-created guidelines with us. In the school, the children take something to drink, wash their hands and sit together in a circle. Before we start any activities we agree the programme for the day and tasks are divided in a democratic way. At this point they are almost ready for the day ahead, which will provide them with new learning and a range of activities. To put the children in a good mood for learning we sit together and they speak about how they are feeling and why, we talk about something in general and we finish the conversation with a stretching activity.
English
Three times per week they have fun with learning English. It always starts with high speed oral activities; once the children grasp the pronunciation they do some alphabetizing, writing and drawing exercises. We close the English activities with an interactive game in which the children are thrown English language-related questions that they have to answer. The children come with different levels of reading and writing skills, and we soon discovered that some of them are easily discouraged by the writing and reading exercises. After researching for a pedagogy designed for children and young people with cognitive and emotional blocks, due to constant exposure to violence and unsafe situations, we came across a method called UERÊ-MELLO Pedagogy which we have since adopted into Mais Caminhos' On-Site Educational Programme.
Social Emotional Learning

These are our dreams we hold for the children
We have embraced Positive Discipline as a methodology to support these children in their development. With this method we teach our students to become responsible, respectful and resourceful members of our programme and of their communities. Once a week we hold classroom meetings to this aim. In these classroom meetings the children and the volunteers are encouraged to bring in stories of anything that has bothered them or happened during the week, and they are encouraged to brainstorm and choose solutions. We brainstorm about trips they want to take and consider together how to go about the planning of such trips. On other days we practice a wide range of social emotional exercises such as listening skills, problem-solving and creating solutions. The children continue to grow every single day, and we can tell you with great pride and pleasure that we have been seeing all sorts of small and big changes within all the Mais Caminhos youngsters. We are so proud of them.
Physical Activities
Once a week we go with the children to the beach where we swim and play. They adore going to the beach – they have a great deal of fun, and particularly love it when Mais Caminhos volunteers swim and dive with them. The weather is currently very changeable as Rio is shifting from summer to "winter", and we rely on the weather to determine some of our activities. If we can't go to the beach a popular alternative is to participate in Davi's Capoeira classes. Another alternative that the children thoroughly enjoy is to simply go to the local playground. It´s a delight to see how our Mais Caminhos children are developing in all these activities. Over time we have seen them changing: they have improved – and continue to improve – their collaboration, cooperation and organisation skills.

Theatre classes
Every week Créo Kellab, a Brazilian actor and theatre teacher who is well-known for 'Assalto o Banco' (2011) and some soap operas here in Brazil, comes to the Caminhos Language Centre where he offers the children theatre classes. The theatre class is one of the highlights of the week for them. They love to be exposed to all kinds of creative and performance activities such as dance, mime-acting, creating their own dances on self-chosen music, and more. They have also created and performed in several small plays.
We want to offer a good, balanced programme in which the main focus is on the children's social and emotional development in combination with academic development, creative and physical activities. We believe that social and emotional development in combination with education is the key to a promising future. We now have a small group of seven children and have established a great programme to suit their needs with the Mais Caminhos On-Site Educational Programme. The results are already visible. One of our students, Gabriel, was given a 10 out of 10 for his English exam and his mother told us that his behaviour has improved incredibly. Follow the progress of Mais Caminhos on the blog https://caminhoslanguages.com/
Mais Caminhos Exchange & Scholarship
Lucas Souza (16) is a former resident from Casa do Caminho Orphanage who now lives in Renascer, a governmental shelter in Duques de Caxias. Lucas is one of the students on our Scholarship Programme. We offer him weekly English classes at the Language Centre, which requires him to travel to the city of Rio on a regular basis. The first time was a big step for him, but now he is an experienced traveller and he knows how to plan and organise his trip with ease. He hasn´t failed or arrived late to any class. His teacher, Steph Kempker ,is from the US and she is very proud of him. Lucas has shown great dedication and is a quick learner. He has also demonstrated a great responsibility in communication, organising and taking his homework seriously. We hope you continue like this, Lucas! We are very proud of you.
Our other student in the Scholarship programme is Luciano Porfirio (15), Davi´s brother. Luciano lives in the same governmental shelter as Lucas. Luciano attended a private school, 'the Sesi', last year. We were so lucky to have found a private sponsor for Luciano who agreed to sponsor 100% of his first year at High School at the Sesi. The Sesi is a recognised and highly appreciated school in Brazil which was set up by the Social Service of the Industry. Luciano started at the Sesi in February, and despite some early disciplinary issues we're pleased to report that some interventions and assistance have led to great improvements. Luciano has received very good first feedback from the school.
Brave Kids 2015

'Brave Kids' is an annual project in Poland. In 2009 the project was launched with just 15 participants. This year in 2015 there will be 125 children representing 25 different countries. It is an educational project, with a main priority on supporting young and vulnerable people in a wide range of available ways. This year it will be the second time that Brazilian youngsters will participate in this project. Living within a never-imagined environment for three weeks, everything will be different – not least the language: food, (hot) showers, the way of organizing the trips, different weather, Polish families, getting to know many different people from all over the world, being on a large stage and performing their brilliant act to the local community. This year six teenagers from the nearby favela Pavãozinho will participate in an intercultural project in Poland. We have selected teenagers from our On-Site Educational Programme, and together with students from Solar Meninos de Luz, we have completed a group of teenagers ranging in age from 10 to 14. At the moment they are under the guidance of Brazilian actor Créo Kellab, working on a performance that they will put on for an audience in Poland. They will travel to Poland approximately on 18th June and return to Rio on 13th July.
For more information visit our website: https://caminhoslanguages.com/
Mais Caminhos Family
Our Family Programme focusses on identifying motivated children and youngsters within our Mais Caminhos programmes whose home situations are precarious. We carefully analyse each of their home situations and offer support where needed.
An example is the Porfirio family, in which there are four children. Davi, the oldest sibling, grew up in the Casa do Caminho Orphanage and is now a respected employee of the Caminhos Language Centre. His dream was to unite his family and become an engineer. Mais Caminhos decided to support the family financially, offering support and guidance wherever possible. Davi is a very conscientious and warm character, and in the face of family strife and adversity he dedicated himself to his dream, overcoming all sorts of obstacles. He is currently studying Electrical Engineering at a university in Rio de Janeiro. In addition, since February Davi has lived in his own house and the judge has permitted his siblings to visit him regularly. The process for adoption is ongoing and Thiago and Luciano have been brought under his protection since 5th May.
We also like to thank our partner and main sponsor Casa do Caminho Language Centre which supports these programmes and makes all this possible. Please visit the Caminhos Language Centre Facebook page for more information for more information about the language school. https://www.facebook.com/caminhos.language.centre/ and to make all this possible.
We have set up a PayPal Donation system on our webpage where you can give a donation (it is completely up to you how much you donate) and you can specify the project you wish to support.
We need your help to support the children?
You can find us everywhere and we would really appreciate it if you could spread the word! Like us on Facebook, give us a 5 stars on Google +, Tweet us on Twitter, start a discussion on LinkedIn or contact us on our Webpage: we are all ears! Do you want to become a volunteer? Do you want to become a partner? Do you have new ideas for projects or fundraising campaigns? Do not hesitate and do it.  You will be one step closer to making our students' dreams come true.
We would like to thank all donors and sponsors. Special thanks go to our Partner and Head Sponsor the Caminhos Language Centre – the Portuguese language school for foreigners in Rio de Janeiro. Their support has made so many dreams come true.