Casa do Caminho Language Centre Sends Five Children to Poland
Tuesday July 1st, 2014

Posted by:

admincasa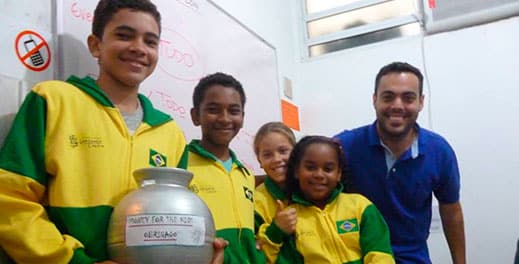 [dropcap]C[/dropcap]asa do Caminho Language Centre (CDC) and Living your Dream are proud to present to our students, volunteers and supporters, our latest success story: 'Brave Kids.'

As you are aware, our organization seeks to provide unique opportunities to motivated Brazilian children and teenagers whose access to education has been denied or limited. The goal is to help stimulate and provide better hope for the future of the children, their families, and the entire community.

Our latest adventure takes us to Poland where five of our sponsored children are currently on a cultural exchange program with children from all over the world. Carlos, Evelin, Mike, Lemon, and Larson have been away since June 30thsharing their Brazilian culture and plan to stay until 13th of July. The children worked hard to prepare a Play with elements of Brazilian Capoeira, incorporating English. They will present their work with young people from different countries and backgrounds to nurture cross-cultural understanding amongst the next generation.

On June 11th, CDC had the chance to experience the wonderful Play the kids had prepared. The 'Brave Kids' came to the school from Xerem and presented their work in front of students and teachers. Their Play was a story about the history and foundations of Capoeira. The crowd was impressed by their moves, energy, and positivity. We know that they will be great in representing Brazil and Latin America in Europe.
We want to thank you for your support. This amazing opportunity would not have been possible without your help. Thanks for slowly helping transform, the dreams of these kids into a reality!
For more information on Brave Kids visit their website at www.bravekids.eu.
Regards,
CDC