"Please don't take the children home as there is shooting going on…"
Friday June 12th, 2015

Posted by:

Diana Nijboer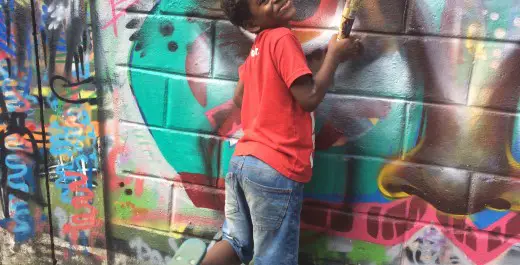 I received this message at 16:50 just 5 minutes after Pedro had said goodbye to go to his home which is exactly where the shooting was happening.  It is near the highest and poorest area on the hilltop of Pavaozinho, a favela (shantytown) near Copacabana. This part of the favela has more wooden shacks rather than the concrete houses that make up the lower areas. He lives there… in that area.
You can only arrive at his home (after taking the tram to the highest station) by taking all the stairs up and passing through small alleys.  You really need to know your way. It is such a maze.  It is very difficult to indicate where the shooting is exactly when you are in one of these small alleys. It really scared me of knowing he was out there and in the meantime receiving more messages of the ongoing shooting.
Pedro (10) lives in a little two room house from brick and cement. He lives with his mum (34), two sisters (16 and 14) and his nephew of one month. He has one older brother who lives on his own just a bit lower on the hill.
We had to take care of one more child, Emille. She lives near to the second last station. We couldn't reach her mum. While waiting for Emille to arrive and making a plan to ensure we would all be safe, I heard the shootings. It is weird, you hear it and still you doubt if it is really true. Of course, it wasn't the first time I was confronted with hearing the shootings, but being in the favela is another situation compared to hearing the shooting while you're safe in Copacabana. Emille was accompanied by her aunt to go home.

Emille (11) lives in a little two room house from brick and cement. She lives with her mum and her little brother of five months.
As I waited to hear back from Pedro's Mom, my stomach turned and a deep sense of sadness came over me.
With the drug trafficking presence and the ongoing shootings, it is very difficult to grow up and turn into a responsible, resourceful and peaceful citizen.  Working with these children means unpredictable behaviour and they come with a lot of agitation and uncontrolled behaviour.  Mais Caminhos created a programme suited for these young children living in this environment including attention for academic skills as well as communication and social skills.
Finally, I received the messages that Pedro and Emille had arrived safely at home.
Moments like these remind our Mais Caminhos volunteer team of the current realities of these kids as well as the importance of having dreams for their future.  Coming from this environment has an immense impact on these kids and it's our hope that this programme has an impact as well and can give them the tools to help them create a brighter future for themselves.  Thanks to our main sponsor Caminhos Language Centre we can give these children at least a couple of hours a week a safe environment.
Follow us on facebook and like our page.