Prepare for Celpe-Bras in Rio de Janeiro
What is the Celpe-Bras Exam?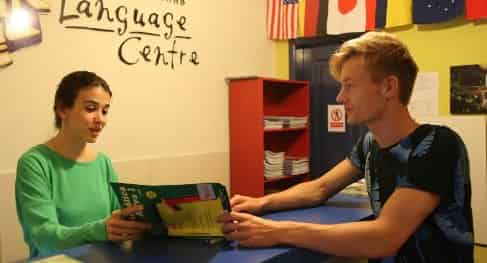 Organised by the Ministry of Education (MEC), the Celpe-Bras exam is the only official proficiency certificate in Brazilian Portuguese as a foreign language that is recognized by the Brazilian government.
Celpe-Bras is a respected exam that is made up of four parts - writing, reading, listening and speaking. Businesses and educational institutions worldwide use Celpe-Bras as a formal certification of a person's level in the Portuguese language. It is also mandatory to be completed by international students in order to enroll in a Brazilian university.
After sitting the exam, you will be placed in one of four range brackets, depending on your combined results from each section of the exam. The four levels of certification are: Intermediate, Higher Intermediate, Advanced and Higher Advanced.
The levels of certification are evaluated as the following:
Group Courses

type

description

hours per week

weekly price
discounted weekly price 4+ weeks
Caminhos Intensive

Portuguese

A1/A1+/A2/
A2+/B1/B1+/B2/C

*

20

EUR 150,00

EUR 113,00*

Book Now
Caminhos Talk

Portuguese T1/T2

*

7,5

EUR 88,00

EUR 75,00*

Book Now
Caminhos Latin Group

Portuguese L

20




EUR 150,00

EUR 113,00*

Book Now
The same mark range applies for both the oral and written tests. However, if you score higher in either the oral or written test, your certification will be based on your lowest mark.
Caminhos Language Centre has teachers that have been specifically trained to prepare students for the Celpe-Bras exam. Read more about Celpe-Bras in Rio de Janeiro on our blog.
How Does Celpe-Bras Work?
The Celpe-Bras exam consists of two main parts: written and oral.
The writing part has a total duration of three hours in which you will have to complete four components: video, audio and two essays. In this part, your Portuguese oral and writing skills will be evaluated, as well as your comprehension skills and understanding of the audio.
The oral section will consist of a 20-minute interview-style exam with two evaluators. Some of the topics that could be discussed and evaluated include personal interests and current Brazilian affairs.
The Celpe-Bras exam is held twice per year in April and October. Our head teacher, Sonia will create a personalized study plan (according to the timeframe) for the student in order to be prepared for one of the two exam dates. In order to register, you must do it online either in February, March, August and September.
The Caminhos staff will be more than happy to assist with your application process. We can also help you with accommodation in Rio de Janeiro and Brazil student visa.
Contact us for more information
Celpe-Bras Highlights
Private course to obtain the Celpe-Bras certification, the Certificate of Proficiency in Portuguese for Foreigners (recognised by the Brazilian Ministry of Education)
The Celpe-Bras certificate is a requirement for admission to Brazilian universities
Celpe-Bras certificate enriches your CV for the Brazilian job market
You choose the date, time, location and number of hours to suit your availability
Free after-class activities every day
All of our teachers are native Brazilian speakers and university language graduates
Your fee supports Mais Caminhos, our on-site social programme
Free WiFi, coffee and filtered water
Invitations for Caminhos events
Friendly team
Check out our latest prices here
Suggested Economic Approach to Obtain Celpe-Bras
Certification
If your budget can't stretch to a full course of private Celpe-Bras classes, it may be possible for you to combine group courses with private classes in order to reach the required level of proficiency for the Celpe-Bras exam. You could attend our Caminhos Intensive group courses and after completing level C (Advanced) take a limited number of our Celpe-Bras private classes to be fully prepared for the Celpe-Bras exam.