The Communicative Approach
Caminhos offers a diverse and enriching learning curriculum using the communicative approach. The communicative approach - or 'communicative language teaching' (CLT) - is an approach to Portuguese language teaching that places emphasis on interaction. Caminhos steps away from the traditional one-way communication from teacher to student. Teachers will speak the Portuguese language as much as possible during the entire course. Besides the fact that research has proven that this method has better results, it is simply more fun than one-way communication.
Our native Brazilian teachers are all highly qualified, trained, experienced and passionate about students' Portuguese language learning, and are therefore focussed on maximising their students' potential. Small group classes facilitate the opportunity for teachers to focus on students' needs and create an opportunity for the student to interact.
Our teachers also use experiences of daily life to teach Portuguese lessons, helping students grasp the Brazilian street talk known as 'gíria', important when learning to navigate the streets of Rio.
Check out an overview of all the courses we offer
Level Structure & Level Test
Our group courses are divided in 9 different levels from Basic (A1) to Advanced (C) ,which correspond to the Common European Framework of Reference for Languages. We are the only language school in Rio de Janeiro that instruct Portuguese for Foreigners on 9 different levels – which is a very important factor –, so there is healthy level differentiation between you and your classmates. With Caminhos you can start classes every Monday of the year on any level.
If you are not a complete beginner, we require for you to do a level test so our teacher coordinator can place you in the correct level. Sometimes an oral test is necessary, but you will be asked to come in earlier to do this on the first day of your class.
Download the level test here and send it to us. We will advise you within 24 hours which level you should join.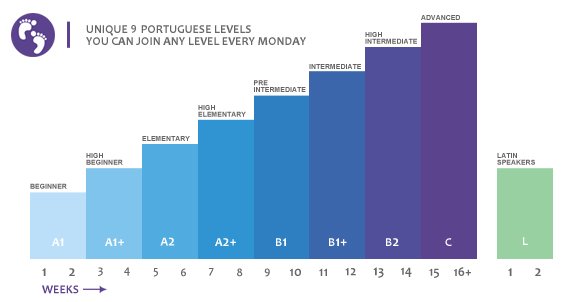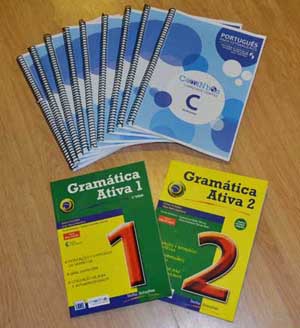 Teaching Material
We offer unique Portuguese language course material. Our course books (9 levels A1 - C) have been designed and developed by our teacher team. We also use the industry-acknowledged and accredited "Gramática Ativa" series. The combination of our own created materials and the accredited Gramática Ativa books highlights our excellence and distinguishes us from other language schools. We use our material in a way that gives students more opportunity to listen and speak, debate and brainstorm, while another part of the lesson focusses on reading and writing.
In-Class Activities
At Caminhos Language Centre we understand that effective Portuguese language learning doesn't only happen in in a traditional classroom-based environment, particularly as our group courses run for 4 hours per day, 5 days per week. Therefore, our teachers incorporate a number of Brazilian cultural and social activities into their lessons. Some of these are in the classroom; others are elsewhere.
Such activities include:
cooking lessons: for example, making 'brigadeiros'; (see picture)
tours to various parts of the city of Rio; and
audio, music, and video lessons to immerse students in - and increase their understanding of - Brazilian culture and Portuguese language.
With all these activities, studying portuguese in Brazil at Caminhos Language Centre will be much more fun!
These in-class activities are different to the daily free after-class activities (like beach volleyball and samba classes) organised by Caminhos for the afternoons. At Caminhos we make sure your course is exciting from the first day until the last day!