The Most Popular Brazilian Soap Operas of All Time
Thursday January 7th, 2021

Posted by:

Amanda Ennes

Category:

Brazil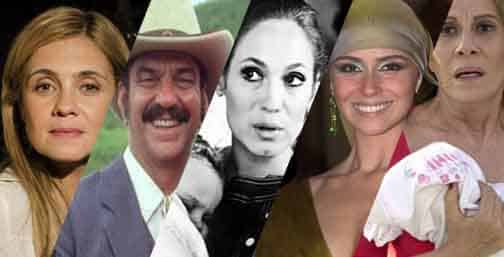 If there is something Brazilians are absolutely crazy about besides samba, football, and beer, it has to be soap operas (or telenovelas). It does not matter your gender, age, or social status. Everyone in Brazil has already been addicted to watching a few Brazilian soap operas at some point in their lives. Brazilian celebrities in soap operas also reach fame much quicker than any other artist in Brazil. That is the power of telenovelas in Brazil.
Some soap operas were so popular in Brazil that some of its best episodes even impacted social behaviors. For example, when the last episode of telenovela Avenida Brazil aired, Rio de Janeiro suffered a major impact in traffic. Most people came home earlier to watch it and the usually-busy streets and avenues had impressive good traffic by then.
Brazilian telenovelas are also famous throughout the world. In Europe, Latin America, and Africa, Brazilian soap operas are also part of people's daily routine.
If you already like Brazilian movies, you might like Brazilian telenovelas as well. Check a few of the most popular Brazilian soap operas of all time:
Anjo Mau

This 1976 telenovela follows the life of an ambitious young woman unhappy with her life in her low-income neighborhood. She gets a job as a nanny for a wealthy family and seduces her employer's brother to ultimately become the mansion's owner. No one perceives her evil plan as she pretends to be a sweet and innocent girl.
With a total of 175 episodes, Anjo Mau aired between February and August of 1976, still in black and white. Over 20 countries bought the rights for this telenovela, including France, Nicaragua, and Russia. An unofficial source states the last episode reached 90% of the total rating of the time slot.
Avenida Brasil

Among other plots, this Brazilian telenovela follows the story of a woman who had her life ruined as a child by her ambitious stepmother. She returns as an adult under a new identity seeking revenge. Her stepmother is now in a relationship with a former football star, who also deals with issues in his family.
Avenida Brasil is one of the most popular Brazilian soap operas in recent years.  Originally produced in 2012, the 2020 rerun also reached amazing rating numbers for the network. Avenida Brazil quickly became a popular subject on social media and one of the favorite topics of conversation among groups of friends.
Its final episode reached the number 1 position on Twitter's trending topics worldwide. According to the Brazilian Institute of Public Opinion and Statistics, 80 million people have watched it.
Avenida Brasil became Rede Globo's most exported soap opera of all time. It was sold to 140 countries and dubbed in 19 languages.
Caminhos das Índias

This Brazilian soap opera tells the story of Indian families and their struggles with Western and Eastern values. It also depicts the caste system in India and the prejudice with people belonging to the lowest caste, the Dalits. Some of the main plots for this soap opera include forbidden love, moral values, traditions, the difference between cultures, and more.
Brazil and India served as the main locations for this telenovela, which also had some scenes in Dubai.
Caminhos das Índias is among Brazil's highest-rated telenovelas, with the average audience share for an episode reaching 61%. Caminho das Índias won as Best Telenovela in the 2009 International Emmy Awards.
O Clone

Produced in 2001, O Clone's main plot revolves around a geneticist who secretly creates a human clone of his godson. The clone and the man eventually meet, creating a love triangle and raising moral and ethical questions. This soap opera also explores the Muslim world around the main female protagonist. However, the portrayal of Arab-Muslim cultures has brought a mixed critical response from different sources worldwide.
O Clone reached international success, being sold to over 90 countries. In Brazil, O Clone registered an average viewership rating of 47 points. The episode where the male protagonist and his clone first meet registered 73% of the audience share.
Roque Santeiro

Roque Santeiro became so popular in Brazil that it stayed in production for 8 months. It reached an audience of 60 million viewers. Produced in 1985, it remains the most-watched show in the history of Brazilian television as of today. The main scene for the last episode of the telenovela reached 100 points of rating, a historical index in Brazil.
Political satire, social criticism, and religious mysticism are the main plots in this telenovela, which is also very comical. The author does a great job writing about small towns in the Northeast of Brazil, their costumes, local authorities, and way of life.
Senhora do Destino

First of all, we must say Senhora do Destino gifted the world with one of the best memes the internet has ever seen: the confused math lady meme. That woman is Nazaré, the main villain of the telenovela, and one of the funniest TV characters in Brazilian television.
That being said, the plot of this soap opera revolves around the life of an underprivileged mother of five who has her baby daughter kidnapped. As time goes by, she rises to a better life as she still looks for her missing daughter.
The telenovela reached its highest audience in the penultimate episode: 65 points. Senhora do Destino became a huge success among viewers, being the subject of discussion in many social gatherings. Brazilians developed a love-hate relationship with the main antagonist, being one of the most famous TV characters of all time.
Study Portuguese in Brazil at Caminhos Language Centre and learn more about the Brazilian culture. We can also help you with Student Visas for Brazil. Contact us for more information.