New Year's Eve in Brazil: Tips, Traditions, and Famous Destinations
Thursday December 31st, 2020

Posted by:

Amanda Ennes

Category:

Brazil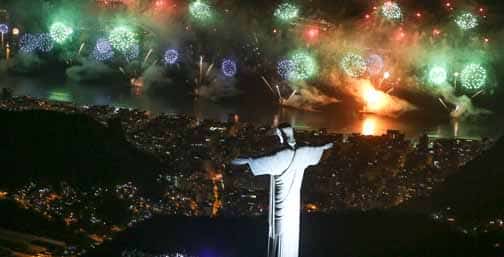 New Year's Eve is popularly called Réveillon in Brazil. People dress up, gather with family and friends, watch fireworks, and celebrate the beginning of a new year. But that's not all! New Year's Eve in Brazil is a huge celebration, in which people make plans way ahead to party all week long. Not to mention following all the amazing unique traditions listed below. Check it out!
New Year's Eve in Brazil
While Christmas is seen as a family holiday in Brazil, New Year's Eve is when people gather with their friends to party. It is very common for groups of friends to rent a big house someplace nice to celebrate the new year together. Favorite destinations are anywhere on the coast, where people usually go to the beach close to midnight to watch fireworks.
Even though people like to dress up and buy new clothes, the New Year's Eve celebrations in Brazil are usually very informal, with Brazilians wearing their flip flops, beachwear, and light clothes.
Traditions are very important for Brazilians this time of the year. It might seem like a lot of things to do and follow. However, Brazilians are so used to those traditions that it seems the most natural thing to do on New Year's Eve.
Traditions
Colors

It is common for EVERYONE to wear white on New Year's Eve in Brazil. We are not kidding. Just Google pictures of New Year's Eve celebrations in Brazil and you will see what we are talking about.
However, Brazilians also believe the color of the clothes you wear on New Year's Eve will dictate the following year. Because of that, some people may choose an accessory or other piece of clothing with a pop of color as well. And they choose their outfit for this celebration very carefully.
It is also common for people to always wear brand new clothes and underwear. After all, you should start the new year fresh! Speaking of underwear, some Brazilians believe that choosing the right color for your panties or briefs is even more important than the color of the outfit itself.
Spending New Year's Eve in black is a no-go!
What each color means on New Year's Eve in Brazil:
White: Peace
Yellow: Money
Pink: Love
Red: Passion
Green: Hope and good health
Orange: Happiness
Blue: Serenity
Offerings to Iemanjá
Iemanjá is the goddess of the sea according to Candomblé and Umbanda, Afro-Brazilian religions. However, even some people that do not necessarily follow these religions still make offerings to Iemanjá on New Year's Eve.
These offerings include throwing white flowers on the ocean and having small wooden boats with gifts pushed toward the sea. Gifts include perfumes, pearls, jewelry, mirrors, candles, etc.
You should make those offers while asking for protection and peace for the upcoming year.
Jumping seven waves
Jumping seven waves is one of the most popular New Year traditions in Brazil. Brazilians believe this brings them luck and strength to face the year ahead of them. For each wave you jump, you are allowed one wish.
Eating food for good luck
Brazilians believe there are a few things you should eat on New Year's Eve to bring you good luck for the following year. Lentils, pomegranates, and grapes are just a few of them.
Toasting with sparkling wine
Everyone should have a glass of sparkling wine ready to toast the new year when the clock strikes midnight! It is very common to see people carrying their bottles of sparkling wine through the streets of Brazil on their way to the beach close to midnight.
Famous Destinations
Rio de Janeiro

Rio de Janeiro is probably the most famous destination to spend New Year's Eve in Brazil. Copacabana is known for its big party with a massive firework display. Ten platforms placed at the sea are responsible for 15 minutes of non-stop fireworks, creating an amazing show in the sky.
The celebration also includes exclusive free concerts at the beach with the hottest Brazilian singers and bands. It is a huge event that reunites over 2,5 million people in Copacabana. Several screens are spread throughout the beach, making it possible for everyone to enjoy the event.
Jurerê
Jurerê Beach in Florianópolis is a famous destination to spend New Year's Eve in Brazil. The neighborhood is known for its A-level parties and clubs, much sought-after during the summer season in Brazil.
Fernando de Noronha
Fernando de Noronha is a secluded and preserved island in Pernambuco. It is an expensive destination, but also a popular one among Brazilian celebrities. With amazing paradisiac beaches and beautiful landscapes, most hotels in Fernando de Noronha organize unforgettable New Year's Eve parties.
Trancoso
Trancoso is a tiny beach town in Bahia and has become one of the most popular destinations to spend New Year's Eve over the last few years. This town attracts some of Brazil's wealthiest crowds with its rustic vibe and turquoise water beaches. Hotels and clubs host amazing exclusive New Year's Eve parties over there.
Porto Seguro
If Copacabana is the most famous destination for New Year's Eve in Brazil, then Porto Seguro comes second. Parties will have you all excited due to the axé music and you will want to celebrate the new year for days or maybe weeks to come. Axé Moi party has been one of the most famous New Year's Eve parties in Brazil for years.
The city also hosts free celebrations at Passarela do Álcool, which also organizes a firework display lasting around 15 minutes straight.
Tips for New Year's Eve in Brazil
Safety
Aside from pickpockets, the New Year's Eve celebration in Brazil is a generally peaceful event, with large police reinforcement to patrol the parties. Nevertheless, it is important to be careful, as these celebrations usually bring together a large number of people to the same place. Be aware of your surroundings, be careful with your phone or valuable objects, and stay away from fights that might occur.
Set up a meeting point with your friends in case you get lost and always seek help if needed.
Transportation
Traffic is always a big problem in big cities in Brazil, especially during the New Year's Eve celebrations. Try to use public transportation as often as you can. In Rio de Janeiro, use the subway system. But be aware this will also be very crowded. Be patient! If possible, leave the party a little earlier or stay a little later to avoid rush hours.
Parties

As important as choosing your destination for New Year's Eve is choosing the party you are going to attend.
Some people just rent a nice house with friends and organize their own parties. However, New Year's Eve parties in Brazil are the best! Yes, they are expensive, we must say. But if you have some money to spare, they absolutely worth every penny.
With open bar and food, these parties offer you an exclusive service, amazing live concerts, beautiful venues, and, sometimes, amazing views of the fireworks. Just ask around, search the internet, and find the best party for you!
Watch the sunrise
The New Year's Eve celebrations do not end after midnight in Brazil. In fact, partying only really starts after the fireworks. In Brazil, people celebrate the new year all night long and only leave the beach or the parties they went after the first sunrise of the year.
Caminhos Language Centre is the largest and most exciting Portuguese school in Rio de Janeiro, Brazil. Our team consists of over 20 experienced Brazilian teachers and friendly multilingual support staff. We are the only school in Brazil able to offer Portuguese group courses throughout the year on 10 different levels. Since we opened in 2009, we have continuously evaluated and developed our curriculum and services and have become the leading Portuguese school in Brazil. Our main goal is not only to teach Portuguese but also to offer a complete cultural experience in Brazil.