Brazilian Speed Dating Event at Pura Vida Hostel
Wednesday May 17th, 2017

Posted by:

Guest Author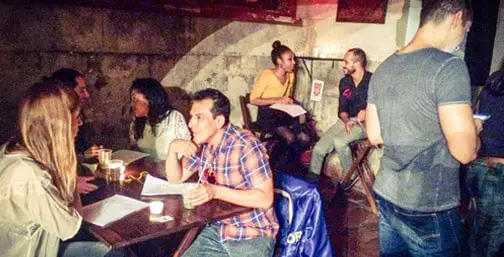 by Demi Lammers
On the 28th of April it was time for one of our most rewarding events; it was time for the second edition of the Brazilian Speed Dating at the Pura Vida Hostel in Copacabana. Caminhos is famous for bringing foreigners and Brazilians together. We really love to organize this kind of events because we think that there is no nicer thing than connecting people.
Bringing People Together

There are a lot of tourists in Rio e Janeiro – as well as Brazilians, of course. Therefore, we thought it would be nice to bring them all together and mix them during the Speed Dating. The event was the chance to easily meet a lot of people and was the perfect opportunity for those who are normally shyer to approach someone. People from all over the world attended the event, so there was enough to talk about since there were so many different cultures around! Over a hundred people showed up – the participants were a mix of students of Caminhos, local Brazilians, people staying at the Pura Vida Hostel and other friends.
What is Speed Dating?
For everyone who doesn't know exactly what speed dating is, here a brief explanation. Speed dating is a match making process with the purpose to encourage people to meet a large number of new people. During our event, all participants were talking 5 minutes with each other. Every time the bell rang it was time to switch to the next person. The participants received a paper which showed all the names of the people they were going to see. Everyone had to mark the ones they liked, so in the end of the day, when everyone handed in the papers to us, we could check who liked each other so we could match them later.
My own experience with Speed Dating
I attended the event myself and I have to say that I am not so good with

dating; and in the beginning I was a little bit nervous about what to expect. To be honest, my first date was a little bit awkward – the guy and I were didn't really know what to talk about but we did like each other. With the speed dating thing, you have to get the hang of it to make the best of your 5 minutes.
After a few drinks, the talking becomes a lot easier and it was really nice and fun! I met a lot of interesting new people of which I am still in contact with.
The party continues

The speed dating was followed by a party upstairs at the hostel. The music and atmosphere were really good. Everyone was ordering a lot of cocktails and laughing a lot. Even though it started raining later in the night, it couldn't ruin our night – everyone was still dancing in the rain and having a great time!
I know – from my own experience and from the stories of my friends – that the match making process was successful. The crazy thing is that even though my first date was kind of awkward, in the end of the event he was the person I liked the most. We talked more at the party and we had a good connection. We are still texting, so I think I could say it is a success! My friends who joined the event are also still in touch with their matches. So, who knows where this might lead? After all Brazil, with its hot temperatures and beautiful sunsets, is the perfect place to have a little romance! Let's see what the future brings us!
Caminhos Language Centre usually organizes many different and fun events in Rio so foreigners can connect with native Brazilians while practicing their Portuguese. Learn more about our language school in Rio de Janeiro, Brazil, by visiting our website.