Learn the name of the colors in Portuguese | Lesson 10
Wednesday June 16th, 2021

Posted by:

Nnamdi Okezie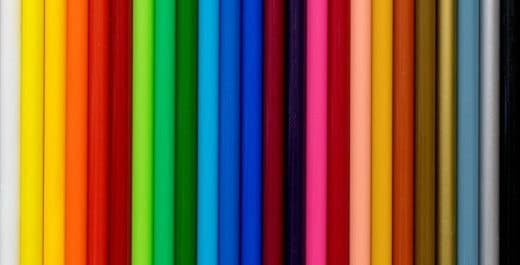 If you started to learn Brazilian Portuguese recently, you are probably still building your basic vocabulary and general knowledge of the language. At Caminhos' blog, you will find a range of lessons that can help you with basic grammar, vocabulary, and other tips to guide you through your journey. Check our Learn the Portuguese Language and Portuguese Grammar category for more lessons.
Today, we are going to see how we say the colors in Brazil. In this blog post, you can also check a video one of our teachers made to teach you the right pronunciation of colors in Portuguese.
The name of the colors in Portuguese

Preto – Black
Vermelho – Red
Amarelo – Yellow
Laranja – Orange
Verde – Green
Azul – Blue
Roxo – Purple
Lilás – Lilac
Rosa – Pink
Marrom – Brown
Cinza – Grey
Branco – White
Dourado – Gold
Prateado – Silver
Bege – Beige
Here's a tip: We use the words "incolor" or "transparente" in Portuguese for something that has no color, just like the water we drink.
Another tip: You can use the words "claro" (light) or "escuro" (dark) to define the intensity of the color. For example: verde escuro, azul claro, cinza escuro, rosa claro, etc.
How to pronounce the colors in Brazilian Portuguese
Masculine and feminine forms
Most of the colors, just like any noun in Portuguese, might change in gender. So, make sure to check which noun the color is being referred to, so you assess if you need to use the feminine or masculine forms. The colors "laranja" (orange), "verde" (green), "azul" (blue), "lilás" (lilac), "rosa" (pink), "marrom" (brown), "cinza" (grey), and "bege" (beige) only present one form that can be used for both genders.
It is important to notice all colors can change in number and might be presented in their singular or plural form.
Let's check the examples below:
Por favor, quero comprar uma camisa azul. (Please, I want to buy a blue shirt.) 
Você tem uma sandália dourada? Eu tenho um tênis dourado. (Do you have golden sandals? I have golden tennis shoes.)
Quanto custa o cachecol cinza? (How much is the grey scarf?)
Marina tem olhos verdes. (Marina has green eyes.)
Os chinelos do Fernando são marrons. (Fernando's flip flops are brown.)
O cabelo da menina é vermelho. A camisa do menino é vermelha. (The girl's hair is red. The boy's shirt is red.)
O sol é amarelo. As flores são amarelas. (The sun is yellow. The flowers are yellow.)
Let's practice the colors in Brazil
1) Quais são as cores da bandeira do Brasil? (What are the colors in the Brazilian flag?)
2) Qual é a cor do cabelo do Pablo? (What color is Pablo's hair?)

3) Qual é a cor da blusa da Nathália? (What color is Nathália's top?)

4) Qual é a cor dos elefantes? (What is the color of elephants?)
5) Qual é a cor do céu? (What color is the sky?)
6) Quais são as cores usadas na logo da Caminhos? (What color are used in the Caminhos logo?)
Answers
1) A bandeira do Brasil é verde, amarela, azul e branca. (The Brazilian flag is green, yellow, blue, and white.)
2) O cabelo do Pablo é preto. (Pablo's hair is black.)
3) A blusa da Nathália é azul. (Nathália's top is blue.)
4) Os elefantes são cinzas. (The elephants are grey.)
5) O céu é azul. (The sky is blue.)
6) As cores da logo da Caminhos são roxo, azul e branco. (The colors of the Caminhos logo are purple, blue, and white.)
Learn Brazilian Portuguese in Rio de Janeiro
Caminhos Language Centre is the largest and most exciting Portuguese school in Rio de Janeiro, Brazil. We have an excellent infrastructure and over 15 experienced Brazilian teachers. We are the only school in Brazil that offers Portuguese group courses throughout the year on 10 different levels (beginner to high advanced and Spanish/Italian speakers). Since we opened in 2009, we continuously evaluate and develop our curriculum and services and have become the leading Portuguese school in Brazil following these principles: "Learn Portuguese and experience the Brazilian culture whilst supporting a good cause". At Caminhos, your fee helps our social project Mais Camimhos, helping underprivileged kids and teenagers of the Pavão-Pavãozinho and Cantagalo communities.