Coxinha in Brazil – Brazilians Favorite Deep-Fried Snack
Thursday September 30th, 2021

Posted by:

Amanda Ennes

Category:

Brazil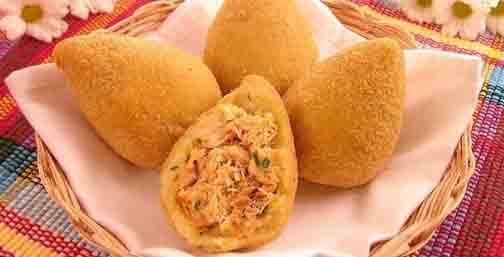 When talking about Brazilian food, we know deep down that not everyone immediately falls in love with Feijoada, Farofa, Moqueca, or even the beloved Brigadeiro. But if there is one food we can absolutely say 99% of tourists love when eating for the first time, that's Coxinha!
Coxinha – The most famous Brazilian 'salgado'
If you have a Brazilian friend, they probably already asked you if you have tried a Coxinha while in Brazil. Coxinha is one of the most popular street food in the country and you can buy it in any snack bar, bakery, or café.
Watch Teacher Josie's video about Coxinha on Caminhos Instagram.
Coxinha is a famous Brazilian snack, consisting of a deep-fried dough filled with shredded and well-seasoned chicken breasts. While wheat flour is traditionally the main ingredient for the dough, some people might use potatoes as well.

Seems simple, but it is beyond delicious! And there are many variations for the Coxinha filling. While the traditional one consists of shredded chicken seasoned with onions, parsley and scallions, pepper, and tomato paste, some recipes might add Catupiry cheese, sausage, heart of palm, and vegetables.
That is not all! You can even find places that sell this delicious snack filled with a whole chicken thigh. Bone sticking out of the dough and all. They are not that easier to find anymore, maybe in older Botecos. Nonetheless, this kind of Coxinha is still some people's favorite.
Salgados
Just like quibe, risole, bolinha de queijo, joelho and others, Coxinha is a popular type of snack Brazilians call Salgado.
Salgados are appetizers made of a deep-fried or baked dough with different kinds of stuffing. They are like croquettes but come in different shapes and sizes, textures, and flavors.
What does Coxinha mean?
Coxinha translates from Portuguese as 'little thigh', because of its shape resembling a chicken drumstick.
History of Coxinha
There is an urban legend that says Coxinha was invented because the son of Isabel, Princess Imperial of Brazil, would only eat the drumsticks and no other piece of chicken. However, according to food historians, Coxinha originated in São Paulo around the 19th century when people were looking for cheaper and more durable ways to consume chicken cuts.
Some might also say Coxinhas were inspired by Portuguese and French recipes of croquette.

Coxinha Recipe
Ingredients
3 cups of water
1 cup of chicken broth
1 tablespoon of butter
4 cups of wheat flour
1 cup of milk
2 cups of breadcrumbs
1/2 chopped onion
1 clove of garlic
1 cooked and shredded chicken breast
1 tablespoon of tomato paste
Chopped parsley, to taste
Chopped chives, to taste
Canola Oil
Salt, to taste
Black pepper, to taste
Directions
For the filling:
Heat the oil and saute some onion and garlic.
Add shredded chicken, parsley, chives, tomato paste, salt, and pepper.
Add 1/4 cup of water and let it cook until the chicken is golden brown.
Dough:
Boil the water, chicken broth, and butter.
Add the flour all at once, stirring it vigorously until the dough comes off the pan. Let cool.
Grease your hand in oil and take small portions of the dough. Fill it with one teaspoon of the chicken filling and shape it like Coxinhas.
Dip the Coxinhas in milk and then transfer them to the breadcrumbs, making sure to cover all of the dough.
Deep fry it until golden.
Explore the Brazilian culture by studying Portuguese in Rio de Janeiro with Caminhos Language Centre, the largest and most exciting Portuguese school in Brazil. Caminhos offer daily after-class free activities so you can explore Rio, meet new people, and practice Portuguese.