Craft & Art for Kids in Need by Alyssa Hervert
Thursday April 16th, 2015

Posted by:

Diana Nijboer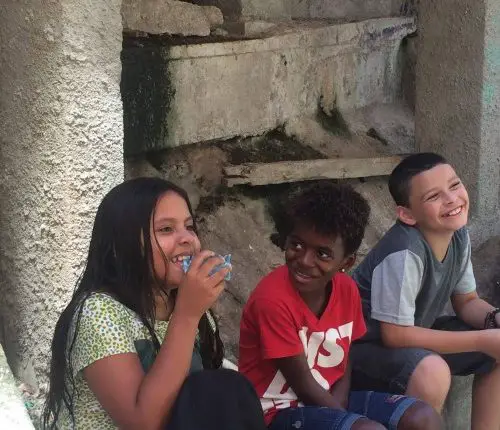 MAIS CAMINHOS
Mais Caminhos is a civil and philanthropic organisation that has been functioning since 2009. It promotes complementary education, culture, sports for underprivileged kids and teens from the Pavão-Pavãozinho and Cantagalo in Rio de Janeiro's South Zone and from other Zones from Rio de Janeiro.
Mais Caminhos On-site Educational Programme
The On-Site educational programme host four days a week after school classes for children and, eventually, teenagers from the favela Cantagalo and Pavãozinho. The classes are offered at Caminhos Language Centre in Ipanema and will vary depending on the needs of the kids.
Four days a week in the afternoon, there are classes for children between the ages of eight and twelve. The classes last three hours and are divided into English, social emotional learning (Positive Discipline) and either a creative or physical activities.  The main focus is on the social and emotional and academic development in combination with creative and physical activities. We believe that education is the way to a promising future. Follow the progress of Mais Caminhos on the blog. 
ART CLASSES
by Alyssa Hervert. Alyssa is our volunteer in the Mais Caminhos On-Site Educational Programme. In this blog she describes her observations during the art classes.
When an art activity begins, a feeling of calm and intense concentration fills the classroom.  For Mais Caminhos On-Site Educational Programme, Art is much more than a fun activity or something to bring home.  The kids start feeling a sense of significance and belonging, they are finding a different way to calm down, and they learn to share materials and work together.
For the month leading up to carnival, the kids in the program had been making different types of carnival masks.  We explored different media such as papier-mâché, paper plates, flowers, and more.  They loved sharing their creations and have achieved quite a bit in a short amount of time.  Each child has a different approach and a unique artistic eye.

As they approach a project, some kids feel discouraged.   For example, they may not have a lot of experience drawing for example.  As the projects unfold, the children build confidence and pride in their own work.  The children critique positive each other's work, learning how to give and receive compliments.  This not only makes the child who created the mask feel good, but also helps the others learn how to give feedback about what they like about other's work.  The expression of specific and thoughtful encouragement is a big part of the program in general.  According to the practice of Positive Discipline, a philosophy that we have fully adopted in the program, all people want to feel significance and belonging.  By successfully creating something and receiving compliments on the project, the students can feel a sense of significance that they may not have in every day life.
The art project isn't all about the end result.  The process of creating art can be relaxing and even therapeutic.  For children, as well as people of all ages, it is important to be able to calm down when feeling negative emotions.  Once they experience the calming effects of working on a project, they can return to this when they are feeling angry, sad, or scared.  Learning how to be resilient and regulate behaviors when things go wrong is an invaluable skill for life for these kids from underprivileged backgrounds.
In addition to learning how to deal with their own emotions, these kids are learning how to work with each other.  Working together and sharing materials comes with the territory for art projects.  There are only a select number of glue bottles and scissors.  The kids learn how to ask for materials and how to be patient when they have to wait.  This is an important life skill especially for these kids.  Self-regulation is difficult for all children, but even more so for children from challenging backgrounds.  Sharing politely can be difficult when there is a limited amount of time, but they are making great improvements at regulating themselves and being aware of time. 

The kids bring home a fun mask for carnival, but they have discovered significance, a way to calm down, and skills to work with other people.  These skills will last far longer than the mask!