Rio de Janeiro Ferris wheel – The largest Ferris wheel in Latin America
Wednesday February 10th, 2021

Posted by:

Amanda Ennes

Category:

Rio de Janeiro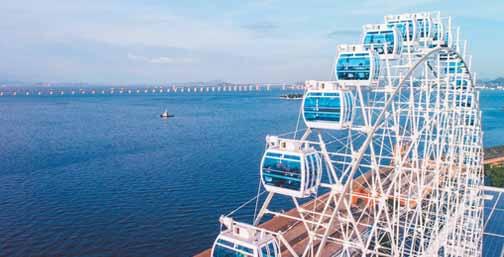 Rio de Janeiro is home to Rio Star, the largest Ferris wheel in Latin America. Open to the public in December 2019, the attraction was being built since the end of 2018. Located in the docks area of Rio de Janeiro, near AquaRio, it is also fairly close to Museu do Amanhã.
Rio Star is among the 30 tallest Ferris wheels in the world, just after the Eurowheel in Italy and the Aurora Wheel in Japan. It is also the largest in Latin America.
Rio Star – The largest Ferris wheel in Latin America

Measuring 88 meters in height, Rio Star has 54 cabins with a capacity for eight passengers each. The full ride takes from 15 to 18 minutes.
From the top, you can see the Sugarloaf Mountain, the Christ the Redeemer statue, Rio's city center, the Rio-Niterói bridge, and other sights in Rio. All cabins are equipped with air conditioning for a better experience during the summer days in Rio.
The Rio de Janeiro Ferris wheel is open every day of the week, from 10 am to 6 pm. 
Tickets
You can get a discount if you buy tickets online beforehand. The price for the ride is R$59 buying tickets online or R$70 buying it at the ticket office.
People older than 60 years old, students, children up to 11 years old, and people with disabilities⁠ pay half the price, R$35. Residents of the state of Rio the Janeiro also have a discount, paying only R$49 for the ticket. 
How to get to Rio de Janeiro Ferris wheel

The easiest way to get to Rio Star by public transport is by taking the subway and VLT train.
Take the subway to Cinelândia station and then take the VLT (Rio's light rail vehicle system) Line 1 to Cidade do Samba station.
Of course, you can also take an Uber or taxi to get there easily.
Learn more about the Rio de Janeiro Ferris wheel on their official website riostar.tur.br.
Have fun!
Learn Portuguese in Rio with Caminhos Language Centre. Private classes and intensive group courses in Brazil and free after-classes activities every weekday. Visit our website to learn more about our special courses, find the one that better suits you and start learning Portuguese!