The Best Cultural Tours in Rio de Janeiro
Thursday February 20th, 2020

Posted by:

Amanda Ennes

Category:

Rio de Janeiro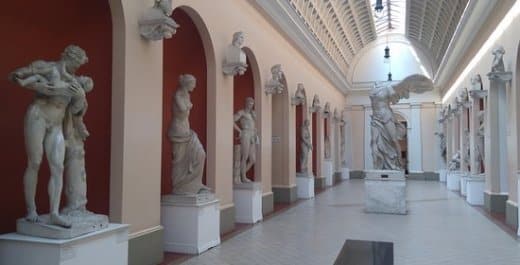 Rio de Janeiro has great sights and attractions. Most tourists, when coming to Rio for the first time, want to go to the famous ones, such as the Sugarloaf Mountain, Christ the Redeemer statue, and the Maracanã stadium. However, there are also amazing cultural tours in Rio de Janeiro. From museums to churches and neighborhoods, Rio packed with culture everywhere.
Feira de São Cristóvão

The Centro Luiz Gonzaga de Tradições Nordestinas, also called the São Cristóvão Fair (Feira de São Cristóvão), is a big place that promotes the Brazilian northeast's culture in Rio de Janeiro. Inside the fair, there are restaurants with traditional northeastern food, karaoke bars, a stage for live concerts, dance presentations and more. Also in the fair, there are lots of different stores selling traditional northeastern products, such as fruits, nuts, musical instruments, special spices, hammocks, clothes, leather shoes, and jewelry. If you are looking for cultural tours in Rio de Janeiro, this is a great one. You can have fun while learning about the different cultures in Brazil.
Where: Campo de São Cristóvão — São Cristóvão.
Open: Tuesday to Sunday, from 10 am.
Entrance Price: R$8.
Museu do Amanhã

The Museum of Tomorrow is located at Praça Mauá in Centro. It is a science museum that mixes the human race, the planet Earth and the future through digital experiments and experiences. The museum also connects science and technology with the importance of sustainability. Sustainability itself is one of the guidelines for the Museum of Tomorrow. The museum uses the water from the Guanabara Bay in the air conditioning system and captures solar energy through photovoltaic panels installed on the roof of the building. Everyone loves to visit Museu do Amanhã — kids and adults — as it is one of the greatest cultural tours in Rio de Janeiro.
Where: Praça Mauá, 1 – Centro.
Open: Tuesday to Sunday, from 10 am to 6 pm.
Entrance Price: R$30.
Museu Nacional de Belas Artes

The National Museum of Fine Arts was inaugurated in 1938 and it is the most important museum for Brazilian art. Nowadays, the museum has a collection of 20 thousand pieces. Among the permanent exhibitions are works by Pedro Américo, Zeferino da Costa, Jean-Baptiste Debret, Candido Portinari, Di Cavalcanti and Tarsila do Amaral.
Where: Avenida Rio Branco, 199 – Centro.
Open: Tuesday to Friday, from 10 am to 6 pm; weekends and holidays, from 12 pm to 5 pm.
Entrance Price: R$8 (free on Sundays).
Biblioteca Nacional do Brasil

The National Library of Brazil is the oldest Brazilian cultural institution — it is more than 200 years old — and has a heritage of approximately 9 million items. Besides books, manuscripts, cartography, newspapers and such, the library also hosts an office for copyright registration.
Where: Avenida Rio Branco, 219 – Centro.
Open: Monday to Friday, from 9 am to 7 pm; Saturday, from 10:30 am to 3 pm.
Entrance Price: Free
Santa Teresa

Santa Teresa is considered the most cultural neighborhood in Rio de Janeiro. The artists love Santa Teresa and there are many art studios and galleries there. Santa Teresa is known as a meeting point for intellectuals, academics, artists and politicians. Because of its bohemian vibe, Santa Teresa has also great hippie bars and restaurants. The famous Selarón Stairs connect Santa Teresa and Lapa, being both a touristic sight in Rio and a passageway for residents. Parque das Ruínas is also located in Santa Teresa. It is a park with an art gallery built around the ruins of a mansion. Parque das Ruínas also serves as a venue for concerts and alternative parties.
Ilha Fiscal

Ilha Fiscal (Fiscal Island) was the venue for an event known as "The Last Ball of the Empire", in 1889. Today, Ilha Fiscal houses a museum maintained by the Brazilain Navy. The tour to the island is carried out with a schooner and lasts about 10 minutes. Arriving at the castle in the middle of the island, specialized tour guides take the visiting groups in tours, showing them the halls, the turret and the permanent exhibitions they have there. The entire visit lasts about 2 hours.
Where: Boulevard Olímpico, Praça XV – Centro.
Open: Thursday to Sunday. Guided tours at 12:30 pm, 2 pm, and 3:30 pm.
Entrance Price: R$36.
Igreja de Nossa Senhora da Candelária

Candelária Church is an important historical catholic church in Rio de Janeiro. It is one of the main artistic works of the 19th century in Brazil, due to its neoclassical architecture and the exuberant decoration. It took 123 years to build the church right in the middle of Rio de Janeiro's city center. On the ceiling of Candelária, there are six panels painted by Zeferino da Costa, which tell the story of the church.
Where: Praça Pio X – Centro.
Open: Monday to Saturday, from 7:30 am to 4 pm; Sunday, from 9 am to 1 pm.
Masses: Monday to Friday at 12:15 pm; Sundays, at 10:30 am and 12 pm.
Entrance Price: Free
At Caminhos Language Center will learn how to speak Brazilian Portuguese in an effective, dynamic and fun way. We offer you a diverse learning curriculum and cultural immersion in Rio de Janeiro. Small group classes facilitate student-teacher interaction.