16 free things to do in Rio de Janeiro
Thursday August 6th, 2020

Posted by:

Amanda Ennes

Category:

Rio de Janeiro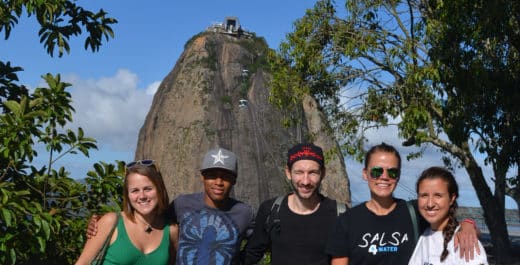 Rio de Janeiro is one of the most expensive cities in Brazil. The cost of living or even just touring the city is very high, which can make weekend activities a money drainer. Finding free things to do in Rio de Janeiro is the best option to have fun without spending too much money.
Rio de Janeiro offers lots of beautiful beaches with amazing blue waters to spend the day. But if the comfort of the sand and the hot sun is not in your plans, we may have the right tips of other inexpensive (and free!) programs to do in the Wonderful City.
1. Riding a bike through the South region
Rio de Janeiro's coastline is beautiful and very long. If you ride a bike (or even if you walk) you can go through several Rio neighborhoods while enjoying the fascinating view. From Glória to Leblon, for example, you can ride for 15km through 7 neighborhoods and many other famous sights in Rio. You will be gifted with incredible views of the Sugarloaf Mountain, Pedra da Gávea, and Morro Dois Irmãos. Besides that, there are a lot of good options if you want to stop for a snack or a good rest.
If 15km is too much for you, you can start your ride anywhere you like. If you do not own a bike, you can use Rio's bike-sharing system, called Bike Rio. The bike stations are scattered throughout every corner of Rio de Janeiro. You can also ride a bike around Lagoa Rodrigo de Freitas. The is a bike lane around the lagoon with a total length of 7.5 km, offering a very pleasant trip.
The daily use of bicycles at Bike Rio is R$8,80, but you can also choose the monthly pass, valid for 30 days, for $29,90. There are hundreds of bike rental stations around the city, running between 5 am and midnight. For more information on Bike Rio, visit their official website or read our blog post for more information about it.
2. Visit the Mirante da Paz, in Cantagalo

On the exit C of General Osório subway station in Ipanema (Barão da Torre Street), it is possible to gain access to the Mirante da Paz. From there, you can see Ipanema, Copacabana, Lagoa, Corcovado, and many other places from the top. The visit is completely free.
3. Feira do Lavradio
Feira do Lavradio (The Lavradio's Fair) occurs every first Saturday of the month, beginning at 10 am on Lavradio Street, Centro. About 400 exhibitors sell decorative objects, clothes, jewelry, and lots of antiques. Other than the fair, there are many stores and restaurants on the same street – you can make that a day-long trip. The exhibitors also promote concerts, photography exhibitions, and dance presentations at the fair. The event is free, but we are sure you will want to go shopping for a little bit…
4. Forte de Copacabana
Visiting the Copacabana Fort is not only a good option because of the breathtaking view of the ocean, but it is also a great choice for those who like museums and history. In the Army Historical Museum (Museu Histórico do Exército) there is a permanent exhibition of documents and old objects that tells the Brazilian Army's history. There are also other rooms where you can see collections of original objects from the colonization era. There are also other activities available inside the fort, such as a visit to a replica of Our Lady of Copacabana Church that used to be in that same spot years ago; cultural programs, and temporary exhibitions for each time of the year.
In the outside area, there are stores, coffee shops, and bathrooms. There is also a branch of the Confeitaria Colombo – a traditional pâtisserie from downtown Rio – where you can find a wide variety of sweets and snacks. The entrance is free every Tuesday. During the other days of the week, the ticket price is $6 reais (children, students, and elderly people older than 65 years old pay $3 reais).
5. Parque Lage
Located in Jardim Botânico, Parque Henrique Lage is a 52-hectare park founded in 1811 and the right choice for a place to spend your day. Within the area, there are activities for all ages, including a children's playground, hiking paths – one of them leads to the Christ the Redeemer statue – a fountain, an aquarium, a few picnic and rest areas, and a parking lot. Access to the park is free. Inside the park, there is also the Escola de Artes Visuais do Parque Lage (School of Visual Arts of Parque Lage), which has occupied the main Palace of the park since 1975 and exhibits students' art to the public.
6. Pista Cláudio Coutinho

For those who like walking, Pista Cláudio Coutinho, in Urca, is the right place to go. Surrounding a beautiful landscape with a view from the Sugarloaf Mountain and the charming Praia Vermelha, the lane is 1.25km long — a place where lots of athletes go running. You can access the trail to Morro da Urca from there. It is a 40-minute hike until one of the most amazing views of Rio, from where you can see almost the entire city. The entrance to Pista Claudio Coutinho is free. You also do not have to pay to enter the Morro da Urca premises as well. However, if you want to make the best of your day and go up to the Sugarloaf Mountain via cable car from Morro da Urca, you can buy a ticket for $40. The ride is optional.
Pista Cláudio Coutinho opens daily, from 6am to 6pm.
7. Lapa
Lapa is a neighborhood in the Central Zone of Rio de Janeiro. There are numerous bars, restaurants, nightclubs, and theme pubs over there, between its 13 streets. Lapa is known as the nest of carioca's bohemian life. It is also known for its architecture, starting with the Aqueduto da Carioca (Arcos da Lapa), its main reference and landmark.
Lapa's night is for anyone – there are music and gastronomy for every taste. And if you'd rather hang out on the sidewalks, drinking your own beer and enjoying the nearby music, you can do just that. Lapa's sidewalks usually welcome many groups of friends who just go over there to hang out. You don't necessarily need to sit in a restaurant or a bar for that. Just ask any carioca: Lapa is the right place to go out at night. It doesn't matter what your interests are — if you want to listen to good music, dancing or hanging out with friends. Lapa is definitely one of the best free things to do in Rio de Janeiro. You are going to love it!
8. Samba do Ouvidor
Free activity for those who like samba, Samba do Ouvidor is a samba jamming session that happens on the corner of Ouvidor and Mercado streets. It happens every other Saturday, from 5 pm to 10 pm, and usually welcomes hundreds of people. If you want to know more about their schedule, visit their blog.
9. Centro Cultural Banco do Brasil
CCBB RJ has an area of 15.046 m² with multiple spaces for different cultural attractions, such as music, theatre, cinema, and exhibitions. There is also a library and a video library open to the public, as well as the Arquivo Histórico and the Museu Banco do Brasil, which offers historical exhibitions for documents and other historical objects. Admission is free for exhibitions and educational programs, with standby tickets handed out 1 hour before the events. Address: Rua Primeiro de Março, 66 – Centro.
10. Museu Nacional de Belas Artes
Opened in 1938, it is the most important museum of Brazilian art. Currently, it has a collection of 20 thousand pieces. Among the permanent exhibitions are works by Pedro Américo, Zeferino da Costa, Jean-Baptiste Debret, Candido Portinari, Di Cavalcanti and Tarsila do Amaral. It is located in Rio's City Center. The ticket price costs R$8. However, visits are free on Sundays. Make sure to add that to your schedule and don't spend any money!
11. Floresta da Tijuca (Parque Nacional da Tijuca)
You can access the park from the South, West, and North Zones of Rio de Janeiro. The Tijuca National Park (Parque Nacional da Tijuca) protects the biggest man-made urban forest in the world, with a 3.953ha extension of Rainforest. It receives more than three million visitors a year, including Brazilians and foreigners of all ages.
Divided into three visiting sectors – Forest, Serra da Carioca e Pedra Bonita/Pedra da Gávea – the park offers activities options for everyone: from picnic and barbecue areas to hang-gliding, rock climbing, hiking, and other activities. There is also a waterfall and a few creeks where you can refresh yourself. You can enter the park for free.
12. Real Gabinete Português de Leitura
Real Gabinete Português de Leitura (The Royal Portuguese Cabinet of Reading) is a library with the largest collection of Portuguese literature outside Portugal. It was elected by Time Magazine as the 4th most beautiful library in the world. Founded in 1837, it was first introduced in Rio de Janeiro after the Portuguese royal family came to live in Brazil. Today, the library houses more than 300,000 books. The visit is free and you are allowed to take pictures of its interior.
13. Mercado Municipal do Rio
The Municipal Market of Rio de Janeiro (Mercado Municipal do Rio de Janeiro), also known as CADEG, offers a wide variety of services and products to meet the needs of the public. Located in Benfica, it is the best place to buy flowers, fruits, beverages, pastries, cereals, and even clothes. It also offers services such as banks, restaurants, pharmacies, craft stores, and much more. The Municipal Market is a large shopping area where you can find almost anything – a great variety of products at a very good price. The hours of operation depend on each store.
14. Escadaria Selarón

Escadaria Selarón is one of the most famous free things to do in Rio de Janeiro. The staircase is located between Joaquim Silva Street in Lapa and Pinto Martins Street, in the Santa Teresa neighborhood. It is just a 5-minute walk away from Arcos da Lapa. The staircase, decorated with numerous colored tiles, is the work of Chilean artist Jorge Selarón. It is a well-known tourist spot in Rio, visited by many people who like pictures.
15. Parque das Ruínas
Parque das Ruínas is a cultural center that features an auditorium, exhibition hall, and a cafeteria. It is used for concerts, happy hour gatherings, and readings. There is a 360-degree observation deck on top of the old house with an admirable view of Rio de Janeiro. In outdoor areas, there are special programs for children on the weekends. The park runs from Tuesday to Sunday from 8 am to 8 pm. Admission is free.
16. Pedra do Sal
Every Monday, there's a very famous roda de samba in Saúde, a neighborhood near Centro. It is a street party where musicians come together to play samba. Everybody gets around them for drinks, dancing, and hanging out. It is a very carioca thing to do and everybody loves it. It is free as all street parties in Rio. Pedra do Sal itself is a rock on Morro da Conceição, the place where the event happens. Get there around 9 pm and enjoy the fun for free. Address: Rua Argemiro Bulcão – Saúde.
Free things to do in Rio de Janeiro
Now there is no excuse for lack of money. You already have places to go for the next few weekends. Oh, and another tip: take your own snacks and drinks with you so you spend even less. Also, remember that this is only a short list. You can find many other options for free things to do in Rio de Janeiro, including museums, parks, cultural activities, and other events. You just have to look around or ask!
If you want to learn Portuguese in a relaxed atmosphere in the heart of Ipanema, visit Caminhos Language Centre.