How to rent and use a bike-share system in Rio de Janeiro
Monday August 5th, 2019

Posted by:

Amanda Ennes

Category:

Rio de Janeiro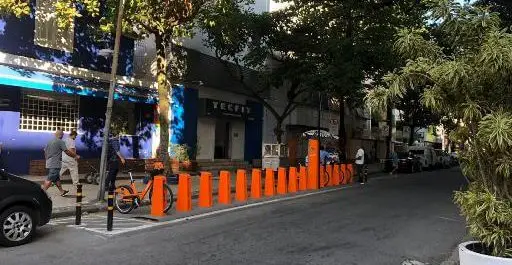 If you have ever come to Rio de Janeiro, you must have seen that orange bikes are everywhere. Those are bikes from a bike-share system called Bike Rio (or Bike Itaú, as Itaú bank sponsors this program). Bike Rio is a very easy and cheap way to rent a bike in Rio de Janeiro. Especially with the chaotic traffic jam in Rio, cycling to places seems a great alternative. And if you agree Rio is one of the most beautiful cities in the world, cycling around the city is also great for the eye.
About the bike-share system
Most big cities in the world are using the bike-share system nowadays. And they all work in a very similar way. A big company usually sponsors this kind of service and adds many bicycle stations around the city. Anyone can use their phone to rent a bike and use it during a certain time frame. You may also return it to any other station. Shanghai, London, New York City, Barcelona, and hundreds of other big cities have been using this system for years now.

How does Bike Rio work?
Basically, the system works like this: you can take a bike in one station, use it for a certain period, and return it to a different station. Then, you must wait at least 15 minutes until you take another bike without any additional charges. These are the basic conditions that apply to every plan.
If you are in Rio de Janeiro and plan to rent a bike to explore the city, this is a good option for you.
There are five plans you can choose from:
Single trip: costs R$3.00 (15-minute trip each)
48-hour plan: costs R$20.00 (2-hour trip each, unlimited trips)
Usual plan: costs R$12.90 a week (2-hour trip, 4 trips a day)
Basic plan: costs R$29.90 a month (45-minute trip each, 4 trips a day)
Complete plan: costs R$39.90 a month (60-minute trip each, 4 trips a day)
How to pay and how to release the bike from the station?
Download the app Bike Itaú and register your credit card. Then, choose the plan that better suits you. When you are ready to rent a bike, choose one of the stations nearby, check the app to see if there are any bikes available on that station, and click "unlock." The app will provide you a 5-digit code valid for 5 minutes. Go to the station, choose a bike (make sure to check the bike before releasing it from the station – check flat tires, broken breaks, etc), and enter the password on the panel you will find at the station. The bike will be unlocked and you can now use it.
When registering into Bike Itaú app or website, you can also ask for a user card to be delivered to you. That way, you do not need to use your phone when renting the bike. Just insert your user card into the self-service station and choose a bike. You can have the user card to be sent to your homestay, apartment, or even to Caminhos Language Centre, if you are a student here. 
Bike Itaú is now partnering with another company called Magalize Luiza. So, do not worry if you rent a blue bike instead of an orange one.
Bike Itaú is also offering electric bikes now for the same price as regular ones.
Returning the bike
As easy as it sounds, just find another Bike Rio station wherever you are, check if there are any available docks on it, and return the bike. There's no need to use the app for returning the bike.
What if you use the bike for longer?
An additional charge of R$2.00 per 15 minutes will be charged to your credit card. If the bike you had used was an electric one, the additional charge costs R$4.00.
Tips
You need to use your strength to return the bike to the station, as it needs to properly lock itself into the machine. Just pull the bike up and forward and it should work. Do not be afraid to use a bit of force when doing it. If you cannot get it done, just ask if any local can help you. You can say: "Você pode me ajudar com a bicicleta?" (Can you help me with the bike?)
Also, if you are using the bike and need to go somewhere, make sure you keep it in a safe place, as they do not offer any locks for you to secure it.
Bike Rio near Caminhos Language Centre
There is a Bike Rio station really close to Caminhos, just around the corner of Farme de Amoedo Street and Nascimento Silva Street. You can use it to go home after class, go shopping, go to the beach, and do other things. Make sure to take advantage of that and move easily around the city!

Learn Portuguese in Rio de Janeiro, Brazil with the best native teachers in town. Our teachers are all university graduates and we have our own study material. At Caminhos you will learn Portuguese while having fun with our after-class activities and communicative approach.