Learning Portuguese at Casa do Caminho in Rio de Janeiro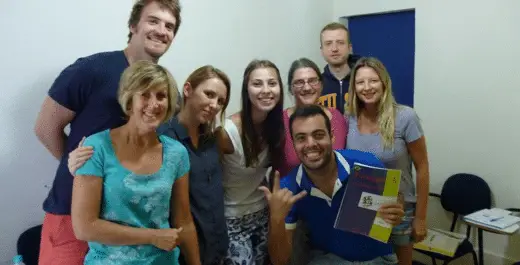 [dropcap]R[/dropcap]IO DE JANEIRO, BRAZIL – An increasing amount of foreigners are travelling to Brazil for work, attracted by its growing economy and rising middle class. Tourism is booming and a string of upcoming international events and a world-famous Carnival will ensure that this trend continues. Arriving for the first time, however, many visitors to Rio notice two things they may not have expected; the high price of accommodation, and the lack of English spoken (Rio Times). Learning Portuguese to travel Brazil is a necessity.  There are a number of options in Rio de Janeiro to learn Portuguese. Foremost is Casa do Caminho Language Centre, situated less than three hundred meters from the famous Ipanema beach and in the stylish Ipanema neighborhood. 

The school's professional teachers are from all over Brazil and teach both group and private classes for beginners to advanced level students. "We have a relaxed atmosphere in the school that tends to set us apart from the more corporate based set-ups," says Jascha Lewkowitz, a Dutch expatriate who runs the non-profit language school. "We also provide activities, it's a holistic experience." The activities include Samba classes, Brazilian music lessons, beach volleyball and a Brazilian film night. There are also some weekend activities including treks to some of Rio's many peaks.


The school also provides a homestay program in Rio, offering affordable accommodationand a chance to gain closer insight into the daily lives of Cariocas (a nickname given to the locals of Rio) As part of the Homestay Program, students can select to live with a family, students or a retired couple, depending on preference and availability. "The students get to live in a Brazilian family, practice their Portuguese and have a complete cultural experience," says Lewkowitz. "On the whole, they tend to love it." Established four years ago (Rio Times) as a means of raising funds for an Orphanage in Xerem (a town 1.5 hours north of Rio), student tuition fees at the Language School also helps fund a Cultural Center and an Environmental Training Program in the same area.

Thanks to the Cultural Center, Xerem residents from the wider community, have access to a range of different activities at a fraction of their normal cost. Activities include, yoga, ballet and music classes. Situated on a hectare of rural land just outside Xerem, the 'Comunidade Verde' project includes an organic garden and a house where the kids from the Orphanage can spend their weekends under the supervision of volunteers. The aim is to use the space, originally bought by a group of Brazilian idealists in the 1980s, as a model of sustainable living and an alternative way to treat the land. An organic garden on the site provides vegetables for the Orphanage and a means for the children to earn some money. To connect the two sides, students at the Language School have the opportunity to visit Xerem and meet  the Children during 'Working Bees', where they can help out with various activities.  


For those interested in learning Portuguese and gaining a closer insight into Brazil and its people, Casa do Caminho is an excellent Language School which also supports a good cause caminhoslanguages.com.