Mais Caminhos Brave Kids In Globo
Tuesday July 14th, 2015

Posted by:

Diana Nijboer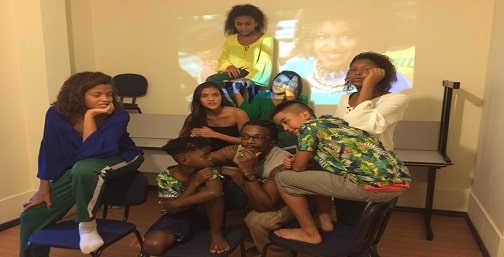 On 18th June, one day before their take-off, BARBARA MARCOLINI (reporter) and ANTONIO SCORZA (photographer) from leading Rio de Janeiro news outlet, O Globo, interviewed Mais Caminhos programme manager, Diana Nijboer, and group leaders Créo Kellab and Virginia Martins.
Since the beginning of April, when students were selected for the group from the Mais Caminhos On-Site Educational Programme and Solar Meninos de Luz, the students were in training for their performance.  The first stage of training was blending the group and creating an acceptance of each and everyone within it.  The children were exposed to a wide range of fun exercises, in which they discovered more about each other and learnt a lot more about themselves.  It was an important step in discovering each group member's strengths, their individual and collective preferences and everything they needed to learn about the dances which they would eventually perform.  It was a great, adventurous journey to reach the point when the choreography was in place, at which stage things got more serious: the element of fun continued to be important, but a lot of time was dedicated to rehearsing for their final performance in Poland.

At first, our children were not aware of what was about to happen, but when Antonio Scorza came in with the camera it soon became clear….
It was an exciting day.  The children posed in their beautiful outfits, and loads of pictures were taken. Not only was it good fun, it was an important exercise in boosting their confidence.
Here you can find the article: O Globo