Movie Time: Waste Land ('Lixo Extraordinário')
Wednesday April 16th, 2014

Posted by:

admincasa

Category:

Brazil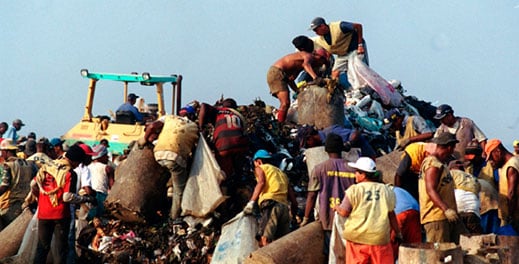 [dropcap]R[/dropcap]IO DE JANEIRO, BRAZIL – With the long-awaited arrival of the 2014 World Cup and the 2016 Rio Olympic Games looming ever closer you'd be forgiven for thinking that you've seen just about every Brazil-related documentary going.  Whether it be on gangs, policing, poverty, mass protest movements, deforestation, water pollution, plastic surgery or even sport – you name it, it's pretty much been covered.  Whatever it may be, you've probably heard about it and you've maybe seen it too.  However, there's one topic that may just have passed you by until now: household waste.
And it's more gripping than it sounds.
Waste Land ('Lixo Extraordinário')* is a feature documentary directed by Lucy Walker about an ambitious project led by world-renowned Brazilian artist and photographer Vik Muniz, who has lived and worked in the US for more than 30 years.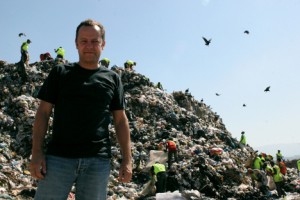 For this project he returned to his homeland and paid a visit to the world's biggest landfill site, Jardim Gramacho**, which sits fragrantly on the outskirts of Rio de Janeiro.  There, Muniz watched the gruelling work of the catadores – recycling pickers – and selected a group of them to collaborate with him for his latest vision: to transform the grubby materials they worked with every day into contemporary art, changing the recycling pickers' lives in the process.
The fruits of their labour culminated in their 'Portraits of Waste' ('Retratos de Lixo') being displayed in prestigious London auction house, Phillips.  Successful sales of the artwork enabled the founder and leader of the workers' association, Sebastião Carlos Dos Santos, himself one of the portrait subjects, to fulfil his dream of improving life for his community through the co-operative he had established.***
I'll let you find out the rest for yourselves.  For me, the sad undertones of Waste Land gave way to a beautifully uplifting story, and the film was a great surprise.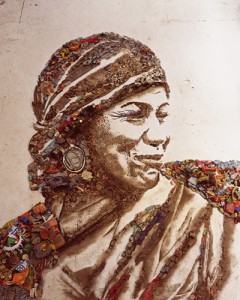 I shouldn't be that surprised that Waste Land is such a good film.  What I should be surprised about, however, is that it took me so long to hear about it. At its premiere at the 2010 Sundance Film Festival, Waste Land received critical acclaim and won the World Cinema Audience Award (Documentary).  It went on to win more than 50 other awards, including the Amnesty International Film Award at the Berlin Film Festival 2010 and awards at the Vancouver International Film Festival, São Paulo Internacional Film Festival, the London Film Awards, to name but a few.  It also received an Oscar nomination for Best Documentary Feature at the 83rd Annual Academy Awards 2011.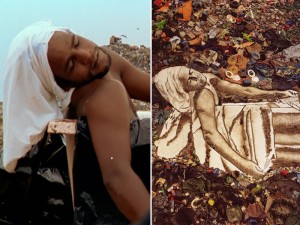 It's hard for me to believe I hadn't seen Waste Land sooner, or even heard of it for that matter.  The fact that it was off my radar since its release in 2010 has made me realise that there are still some inspiring and thought-provoking films about Brazil out there that cover topics I haven't already heard about a million times.
I really think everyone who has an interest in Rio de Janeiro and all things Brazilian should watch Waste Land.  I also think everyone living in Rio – a wonderful, yet in many ways tragic, city – must watch it to gain a new perspective on such an important but rarely considered function in the place they live.
See here for the official trailer for Waste Land…
Footnotes *  The Portuguese language title, 'Lixo Extraordinário' (pronounced, more or less: 'LEE-shoo Ess-troh-din-AR-io) literally translates as "extraordinary waste" – as in rubbish / garbage. ** 'Jardim Gramacho' translates as 'Gramacho Garden'.  Garden: exactly what I think of when I picture the largest landfill site in the world.  Interestingly, Jardim Gramacho closed down in 2012. ***  The recycling pickers' co-operative is called ACAMJG – the Association of Pickers of Jardim Gramacho.   Sarah is a student at the Casa do Caminho Language School and a writer for Encounter Brazil.'Movie Time: Waste Land ('Lixo Extraordinário')' and all of Sarah's other blog posts are reprinted with the permission of Encounter Brazil. Discover more about Brazil: the path less travelled, delicious local food, breathtaking scenery, alluring landmarks and locations, an abundance of events and festivities…  And some of Sarah's day-to-day experiences of living in Rio de Janeiro.