Fauna and Flora of Rio de Janeiro: Explore Rio's Nature
Thursday September 24th, 2020

Posted by:

Amanda Ennes

Category:

Rio de Janeiro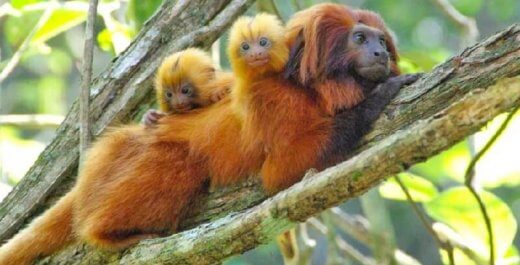 The Atlantic Forest (Mata Atlântica in Portuguese) is responsible for the majority of Rio's nature. It is one of the richest biomes in the world in terms of biodiversity. Among the ecosystems present in Rio de Janeiro are tropical moist forests, mangroves, highland fields, and a large set of forest formations. 
Even though animal and plant life has been greatly altered by human occupation in Rio de Janeiro, sections of the Atlantic Forest and mangrove remain untouched. According to the Brazilian Forestry Institute, the Atlantic Forest corresponds to 13.04% of the national territory along the coast, extending from Rio Grande do Norte to Rio Grande do Sul. In Rio de Janeiro, studies indicate that in the 16th century, the forest used to cover 97% of the territory of the city.

While the Atlantic Forest is spread all over the city, the mangroves thrive in regions where river water mixes with the sea, such as along the Guanabara bay. The animal life of mangroves includes crabs, charru mussels, oysters, and different kinds of fish.
A wide variety of species cover the predominant vegetation in Rio de Janeiro, such as purple glory trees, tabebuia trees, palms trees, jequitibas, cecropia trees, orchids, and bromeliads.
Furthermore, among the animals common in the region are the capuchin monkeys, wild pigs, sloths, ferrets, crab-eating foxes, agoutis, different species of bats, black-billed toucans, hawks, parrots, jararacas, and boa snakes.
Where to explore Rio's nature
Trails
Rio de Janeiro is a beautiful place where the big city and nature integrate really well. With breathtaking views, many trails in Rio de Janeiro lead you to wonderful lookout points, mountains, and hills. It is the perfect opportunity to adventure yourself in the urban jungle of Rio de Janeiro. 
In fact, hiking in Rio de Janeiro gives you the chance to explore Rio's nature, immersing yourself in the Atlantic forest. While in the middle of the forest, you will more often than not encounter some wild animals, such as monkeys, parrots, lizards, squirrels, and more. You will also see a vast range of plants and trees within the city.
Parque Nacional da Tijuca
The Tijuca National Park (Parque Nacional da Tijuca) protects the biggest man-made urban forest in the world, with a 3.953ha extension of Rainforest. The park is home to 328 species of animals, including amphibians, birds, and mammals, some of which are in danger of extinction. Researchers also indicate that there are 1619 species of plants at the Tijuca National Park.
Furthermore, the park offers activities options for everyone: from picnic and barbecue areas to hang-gliding, rock climbing, hiking, and other activities. There is also a waterfall and a few creeks where you can refresh yourself.
The Botanical Garden
The Botanical Garden of Rio de Janeiro is an ecological sanctuary. It houses rare species of plants of Brazilian flora and it is one of the best places for birdwatching. King John VI of Portugal founded The Botanical Garden in 1808. Today, it has around 6,500 species of flora distributed throughout an area of 54 hectares. Besides that, capuchin monkeys and tufted-eared marmosets are also frequently seen in the Botanical Gardens.
Rio Zoo
Closed since 2019, one of the oldest city zoos in Brazil is being rebuilt to better accommodate animals and visitors. The animals will now have more space and will no longer be in cages. The zoo is being projected to be a biological park,  where animals' environment will resemble their natural habitat as much as possible. The new zoo will focus on environmental education, research, and conservation.
The inauguration of the new Rio Zoo, called BioParque do Rio, had to be postponed because of the coronavirus pandemic. Keep an eye on BioParque do Rio's official website for more information.
Examples of fauna found in Rio de Janeiro:
Biguá
Cutia (Agoutis)
Gambá (Opossums)
Garça (Heron)
Jacu (Guans)
Macaco-prego (Capuchins)
Maritaca (Scaly-headed parrots)
Mico-leão-dourado (Golden lion tamarins)
Quati (Coatis)
Sabiá-laranjeira (Rufous-bellied thrush)
Sagui (Marmosets)
Tatu (Armadillos)
Tucano-de-peito-amarelo (Toucans)
Urubu-de-cabeça-preta (Black vultures)
Examples of flora found in Rio de Janeiro:
Bromélias (Bromeliads)
Embaúba (Cecropia trees)
Ipê (Tabebuia trees)
Jequitibá 
Orquídeas (Orchids)
Paineiras
Palmeiras (Palm trees)
Quaresmeira (Purple glory tree)
Study Brazilian Portuguese in Rio de Janeiro with Caminhos Language Centre. We offer group and private Portuguese classes taught by qualified native Brazilian teachers.