For the Lovebirds: 7 Romantic Tours in Rio de Janeiro
Thursday April 1st, 2021

Posted by:

Amanda Ennes

Category:

Rio de Janeiro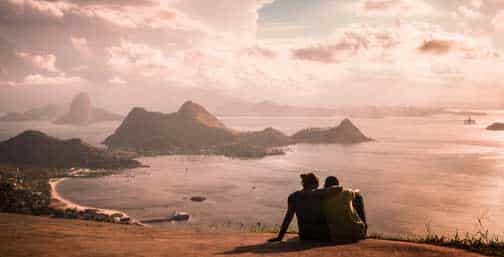 Do you need an idea for a date? Are you looking for a special place to take your significant other? Don't know what else can you go to in Rio? Don't worry! We are here to help you with 7 ideas for romantic tours in Rio de Janeiro.
Just make sure to plan your day — make reservations, buy a nice wine if that's the case, and put a big smile on your face! Rio de Janeiro is a beautiful city and we are sure will you find the best activity for you and your loved one.
Breakfast at Forte de Copacabana
Confeitaria Colombo is a traditional bakery in Centro. However, their branch at Forte de Copacabana is the favorite spot for couples to have a nice breakfast while enjoying a beautiful morning in Rio de Janeiro. The bakery offers a nice variety of breakfast buffets and a vast menu to choose from.
The place has a pleasant view of Copacabana and the Atlantic ocean as well. 
Sunset on the rooftop

There are a few great hotels in Rio de Janeiro with amazing rooftop bars and restaurants where you can go to enjoy a lovely evening. Try to get there early to see the sunset and make the most of your date.
But do not forget to make a reservation beforehand — we are talking about a few days earlier. Those places are highly sought-after and you will rarely get a table without a reservation.
Yoo2 Hotel has a great rooftop bar overseeing Botafogo and the Sugarloaf Mountain. Another good option is the Isabel Lounge, at Hilton Copacabana — their rooftop is 39 floors above the street level, which means a breathtaking view of Rio. You can also try Fasano Hotel, one of the best rooftop pool bars in the world, according to The Rooftop Guide website.
Of course, there are other options. Just look around and you will find amazing rooftop bars in Rio de Janeiro for a perfect date night.
Paddle Boats at Lagoa
Lagoa is always chosen by couples when they are looking for romantic tours in Rio de Janeiro. The scenery is nice, there is plenty of space to sit, lay on the grass, walk… But how about making your date extra special by renting a paddle boat to enjoy the view right from the middle of the lagoon?
The swan-shaped paddle boats are a classic attraction in Rio and you should definitely try it with your significant other.
Sailing to Cagarras Island

If you are searching for romantic tours for a date in Rio e Janeiro, what about sailing through the Guanabara Bay? We are sure your companion will feel special with a unique private tour to the Cagarras Island.
This is the perfect activity in a city embraced by water and blessed by natural beauty such as Rio de Janeiro. Enjoy the breeze and peace of the ocean while sailing through the sunset!
Marie Dupuy, our partner, can help you to make this experience extra special by preparing nice drinks and snacks for you and your loved one. Tell her about your date and she might even fix you some candles and flowers on her boat. Marie is the coordinator for Caminhos Language Centre's social program, Mais Caminhos. She is also an avid sailor and organizes sailing tours all around the coast of Rio de Janeiro.
You can contact Maria on WhatsApp: +55 21 98061-1879.
Romantic dinner 
Rio is not famous for its restaurants, that is true. If you are looking for a gastronomic trip, you should definitely visit São Paulo, where the best restaurants in Brazil are located.
However, if you are looking for a romantic restaurant for a date in Rio de Janeiro, Flor do Céu between Leblon and Vidigal is a great option. The view is amazing, the restaurant itself is lovely, and has a super romantic vibe to it. You can check some reviews on TripAdvisor before making a reservation.
Picnic at Parque Lage
Located in Jardim Botânico, Parque Henrique Lage is a 52-hectare park founded in 1811 and the right choice for a place to spend your day.
Yes, a picnic might be a cliche idea for a date. But you should do it at least once while in Rio. It is a classic. 
Buy some good bread, a nice wine, and some fruits, and bring your picnic basket to the Parque Lage's lawn. Enjoy the day!
Helicopter ride
Get fancy and book a helicopter ride for you and our date. We are sure they will never forget this tour.
There are a few companies to choose from, but they basically offer the same service. Fly through the Christ the Redeemer statue, the Sugarloaf Mountain, check Ipanema and Copacabana from up above, and have a 360º special view of the amazing scenery only Rio de Janeiro is able to offer!
Bonus

If you are feeling romantic and have a bit more time to explore Rio with your loved one, there are great small towns near Rio de Janeiro where romance rules. Places like Penedo in the city of Itatiaia city, Nova Friburgo, and the Itaipava district offer lovely cabins and bed and breakfasts for couples and a wonderful atmosphere for lovebirds. These towns are all about romance, with theme restaurants, waterfalls, parks, and hotels prepared to host couples on the weekends. Penedo, especially, is often chosen by Cariocas as a venue for their honeymoon.
So, if you are looking for romantic tours in Rio de Janeiro and want to surprise your soulmate, give those places a chance and book a hotel for a weekend getaway.
Learn Portuguese in Brazil with Caminhos Language Centre.