7 Tips on Shopping in Rio de Janeiro – Online and In-Store Shopping
Thursday April 23rd, 2020

Posted by:

Amanda Ennes

Category:

Rio de Janeiro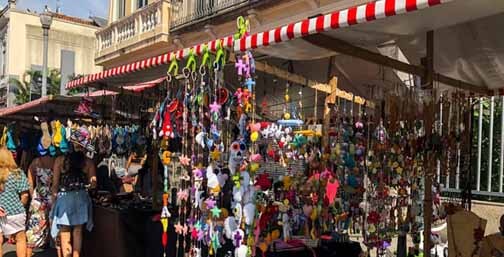 If you are an expat living in Brazil or even a tourist in need to buy something specific, you might feel lost on where to go shopping in Rio de Janeiro. What are the best stores to buy clothes, shoes, groceries, home decor?
Caminhos has a few tips on shopping in Rio de Janeiro for you! Check it out!
1. Online Shopping 

It is so easy to buy products online nowadays that few people like to go shopping outside their homes. Why go hunting for a specific product if you can order it online? Here are a few stores that make your life easier when shopping in Rio de Janeiro. 
Just be aware: shipping is not so efficient in Brazil. It is rare to find an online store that promises to deliver your order in a day or two. Common shipping time flows between 4 to10 days.
Clothes
All major department stores have online shopping on their website. So look for Renner, C&A, Marisa, and Riachuelo. If you are looking for fancier brands, try Privalia, Dafiti, or Zattini.
Shoes
You can buy shoes in the stores mentioned above, but Netshoes is specialized in selling shoes. Furthermore, the brand has expanded and they now sell clothes and accessories as well.
Sports Gear
There are two great stores for buying sports gear in Rio de Janeiro, Centauro and Decathlon. They are also the best physical stores to buy those things.
Groceries
All major supermarkets in Rio de Janeiro offer online shopping: Pão de Açúcar, Zona Sul, Super Prix, and Hortifruti. For special products such as nuts, grains, spices, and imported products, try Casa Pedro. You can also download an app called Rappi for grocery delivery.
General Utilities
Americanas.com is the right website when you are looking for absolutely anything. From home decor and electronics to home appliances and groceries. Americanas not only sells everything you can imagine but it also works as a sales platform for smaller stores to sell their products as well. Buy furniture, school supplies, toys, tools, and more. Americanas.com is basically the Brazilian Amazon. You can also buy things on Mercado Livre, which is equivalent to eBay in Brazil — just keep an eye on seller's ratings.
2. Shopping Malls in Rio de Janeiro

There are several shopping malls in Rio de Janeiro. Some are bigger, some are smaller, some are fancier, some are popular. If you are living/staying in Zona Sul, the best shopping mall for shopping in Rio de Janeiro is Rio Sul in Botafogo. Rio Sul is big, with 7 floors and around 400 stores.
Barra Shopping is another huge shopping mall in Rio — the mall is 120m² (1290 ft²) and has almost 700 stores. It is located in Barra da Tijuca with easy access by subway and bus lines.
If you are looking for designer clothes and luxury items, visit Shopping Leblon in Leblon or Village Mall in Barra da Tijuca. 
Bossa Nova Mall is the newest shopping mall in Rio de Janeiro. It's located inside Santos Dumont airport, which is a great option for last-minute shopping before leaving Rio de Janeiro.
3. Department Stores
If you are looking for home decor, kitchen utensils, home appliances, school supplies, toys, and much more, the best options in Rio de Janeiro are Lojas Americanas and Casa & Vídeo stores. They are huge retail chains in Brazil and it is easy to find one in every corner. There is at least one of them in each neighborhood in Rio. 
4. Saara and Uruguaiana
Rio's city center is great for shopping. The Saara market covers a few blocks in Centro and is a shopping complex where you can buy cheap products — clothes, toys, costumes, party items, and much more. More than 120 stores are spread into these four main streets: Rua da Alfândega, Rua Uruguaiana, Rua Buenos Aires, and Rua Senhora dos Passos.
Uruguaiana is another shopping complex in Centro. The difference between Saara and Uruguaiana is that Uruguaiana is not an open market consisting of several streets, but it is more like a huge warehouse with different shopping stands.
5. Where to buy souvenirs in Rio de Janeiro?

If you are looking for souvenirs to bring home for your family and friends, just stay away from the shopping malls — it is too expensive to buy small gifts there. Go to the City Center or visit the night market in Copacabana. 
From Monday to Saturday at Avenida Atlântica (between Rua Bolivar and Rua Sá Ferreira), there is a street market in Copacabana starting at 6 pm. Different stands sell Brazil T-shirts, hammocks, craftwork, and more.
Every newsstand in Zona Sul also sells a few cheap souvenirs, such as postcards, keychains, fridge magnets, and mini-statues of Christ the Redeemer or the Sugarloaf Mountain.
6. Farmers Markets

Brazilians love to buy fresh fruits and vegetables in farmers markets and there are lots of them around Rio de Janeiro. They usually run from 7 am until 1 pm. Check our article on Brazilian fruits and where to buy them in Rio for more information about them.
Here are the locations and days for some of them:
Mondays: Rua Gustavo Sampaio – Leme
Tuesdays: Praça General Osório – Ipanema
Wednesdays: Praça Edmundo Bittencourt – Copacabana
Thursdays: Praça São Perpétuo – Barra da Tijuca
Fridays: Praça Nossa Senhora da Paz – Ipanema
Saturdays: Praça Nelson Mandela – Botafogo
7. Feira Hippie and Feira do Lavradio

These two famous street fairs are great for shopping in Rio de Janeiro. 
Feira do Lavradio, also called Feira do Rio Antigo, takes place on the first Saturday of each month. It is the perfect place to find jewelry, craftwork, cheap and nice clothing, antique shops, and more. Feira do Lavradio is located in Rua do Lavradio in Centro.
Feira Hippie is a bit smaller than Feira do Lavradio but it is also really good. It happens every Sunday, from 7 am to 7 pm at Praça General Osório. Feira Hippie is a great place to buy art, handicrafts, clothing, and even furniture.
Caminhos Language Centre is the largest Portuguese school in Rio de Janeiro. Study Brazilian Portuguese and experience the best of the Brazilian culture. Caminhos offers online Portuguese classes, student visa support, group classes, and In-Company services. Contact us for more information!