Brazilian fruits and where to buy them in Rio
Thursday October 29th, 2020

Posted by:

Amanda Ennes

Category:

Brazil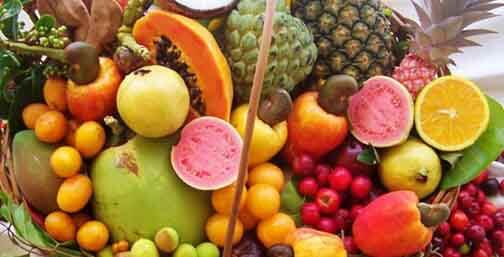 Brazil is one of the most biodiverse countries in the world. The humid tropical climate is perfect for the cultivation of fruits and vegetables. That is why we have so many native fruits around here. So, how many Brazilian fruits do you know?
Studies indicate that there are over 300 native fruits in Brazil. Some of them are already well known around the world, such as the pineapple, the açaí berry, and the passion fruit. However, there is still a range of other Brazilian fruits that many foreigners are unaware of. And you will be amazed when you try them for the first time!
Food is a big deal in Brazil, as well as fruits! Here is a list of some Brazilian fruits from the Cerrado and the Atlantic Forest that you need to try when you visit Brasil:

Abiu
Abiu is a  Brazilian fruit that contains latex. It can also be used to make glue. Abiu has a yellow peel and fleshy sweet pulp. It is rich in Vitamins B1, B2, B5, and C. Its peel releases a white, viscous milk that sticks to the lips like glue.
Açaí (Açaí berry)
The açaí berry is a native fruit from the Amazon forest. In the North of Brazil, the fruit is pureed and served with manioc flour and fish. However, in the southern regions, it is much more common to see people eating this fruit as a sweet paste, mixed with syrup and other fruits.
Araçá
The araçá tastes and looks like a guava fruit, but smaller and sour. It is a small round fruit, with small seeds and rich in vitamins A, B, and C. It is a small yellow fruit that has a fine velvety fur on the skin. Its pulp is sweet and juicy.

Cabeludinha
Cabeludinha is a single-seeded fruit with juicy sweet pulp, rich in Vitamin C. The peel of the fruit is covered by a velvet skin.
Cajá
Cajá is a sour and bittersweet fruit. It is a great source of vitamins, being also high in fiber, phosphorus, iron, and calcium. Its pulp is used in the production of jellies, juices, and desserts.
Caju (Cashew)
This Brazilian fruit is composed of two parts: the cashew nut and the floral peduncle. The nut is roasted and exported worldwide. The pulp is fleshy, used to make juices, desserts, liqueurs, and more. The pulp can be yellow, red, or pink, depending on the species. Cashew is high in Vitamin C and iron. 

Castanha do Pará (Brazil nut)
High in healthy fat, minerals and has great nutritional value.
Cupuaçu
Very tasty and strong-flavored fruit, it is used to make juices, sweets, ice cream, and chocolate candy. It is also possible to use cupuaçu to make butter, which is used for cosmetics.
Goiaba (Guava)
It can be green, yellow, or purple on the outside and pink or white on the inside. It contains many seeds that are safe for humans to swallow. Guavas are low in fat and sugar, perfect for weight loss diets.

Guaraná
As a dietary supplement, the guaraná seed is an effective stimulant, having twice the amount of caffeine found in coffee seeds. The fruit is also popular in Brazil as the main ingredient for a national soft drink with the same name. Even though the fruit is fairly common in the Amazon, it is not common to find the raw fruit in supermarkets.
Jabuticaba (Brazilian grape)
A thick-skinned single-seeded berry with gelatinous flesh. The Brazilian grape grows directly on the trunk of the tree. They are mainly consumed raw but are also great to make jelly, liqueur, and wine.
Maracujá (Passion fruit)
The passion fruit grows in a vine. It might be purple or yellow on the outside. Most passion fruits in Brazil are very sour, but there are some types of sweet ones. It is low in fat and a great source of dietary fiber. In Brazil, passion fruit mousse is a very popular dessert. Passion fruit juice is also popular.

Pinhão (Pinion fruit)
Pinhão is the seed of a tree called Araucaria, traditional of Paraná. The pinion is a great source of important fibers, proteins, carbohydrates, and minerals. It is traditionally consumed roasted or boiled and can be eaten as a sweet or savory snack.
Pitanga
It is red and sour. Although very popular among Brazilians, it is not usually commercialized because it is very sensitive to transportation. It is a great antioxidant and it is high on many vitamins and minerals.
Seriguela (Red mombin)
Even though it is not common to find Seriguela in the southern regions of Brazil, it is fairly easy to find it at street markets from December to February. Seriguelas are oval fruits with a juicy sweet pulp. They might be eaten raw or used to make jellies, desserts, and juice.
Umbu (Brazil plum)
An aromatic fruit with juicy pulp, the umbu is very refreshing. It has lots of vitamin C – more than oranges, actually. It also contains Vitamin A, iron, calcium, and phosphorus.
Where to buy Brazilian fruits in Rio de Janeiro
Hortifruti
The Hortifruti supermarket usually offers a great variety of Brazilian fruits. You can also buy exotic imported fruits that are not easy to find in other supermarkets.
Addresses:
Copacabana: Rua Dias da Rocha Street, 45
Copacabana: Rua Siqueira Campos, 74
Ipanema: Rua Visconde de Pirajá, 22
Botafogo: Rua Voluntários da Pátria, 323
Leblon: Rua Dias Ferreira, 57
Mercado Municipal
The Municipal Market (also known as CADEG) is a large shopping area where you can find almost anything: fruits, clothes, flowers, cereals, spices, and much more. It is the right place to find a great variety of products with very good price.
Address: Rua Capitão Felix, 110 – Benfica.
Street Market
In Brazil, it is very common for people to buy fruits and vegetables at street markets. They take place in many parts of the city — each one of them has its exact day and place. The best thing is to visit the street markets very early in the morning to choose the freshest fruits. However, at the end of he day it is common to get better prices for the remaining products. They usually run from 7 am until 1 pm.
A few addresses:
Mondays: Rua Gustavo Sampaio – Leme
Tuesdays: Praça General Osório – Ipanema
Wednesdays: Praça Edmundo Bittencourt – Copacabana
Thursdays: Praça Nossa Senhora Auxiliadora – Leblon
Fridays: Praça Nossa Senhora da Paz – Ipanema
Saturdays: Praça Nelson Mandela – Botafogo
Sundays: Praça Tenente Gil Guilherme – Urca
To learn more about the Brazilian culture, study Portuguese at Caminhos Language Centre. Learn more about our Portuguese courses for foreigners and what our language school in Rio de Janeiro has to offer.