Carioca menu: 5 must-try food in Rio de Janeiro
Thursday September 17th, 2020

Posted by:

Amanda Ennes

Category:

Rio de Janeiro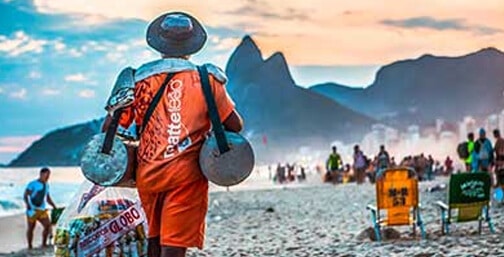 Being a tourist city, Rio de Janeiro brings together several cultures from all over Brazil. Part of the population of Rio de Janeiro has its origins in other states. Many people who came here to work and study helped to build what the city is today. Therefore, much of the traditional food from Rio de Janeiro has influences from other cultures. The Northeast of Brazil and also Portugal have a great influence on the food in Rio de Janeiro.
Now that you have already read about the traditional food of Brazil, let's check a few popular dishes from Rio de Janeiro the Cariocas absolutely love.
Biscoito Globo & Chá Mate

The ring-shaped cassava starch biscuit and the iced yerba mate tea are the most traditional snack on the beaches of Rio de Janeiro. The Biscoito Globo brand was founded in 1964 and became the most famous cassava starch biscuit in the city. The combination of this biscuit and the tea is so popular in Rio that the government listed them as a cultural heritage of Rio de Janeiro in 2012.
Even though the savory version of Biscoito Globo is the most popular one, there is also the sweet version. Biscoito Globo is sold in paper bags, and its logo became a popular design for many products, such as beach towels, T-shirts, and flipflops.
Beach vendors sell this combination at carioca beaches all over the year in Rio. Cassava starch biscuit is a very popular food in Rio de Janeiro. It is also possible to buy this treat at any grocery store around the state. Cariocas also use to make yerba mate tea at home to drink during meals.
Filé à Oswaldo Aranha

Oswaldo Aranha was a Brazilian politician, diplomat, and lawyer. During the '30s He used to go to the same restaurant in Lapa every week and order a steak with garlic, potatoes, and farofa. People who also went to the same restaurant started ordering the same thing and it quickly became a popular dish around the city.
The key to this dish is having lots of garlic to seasoning the steak, farofa made with eggs, and crispy Portuguese-style potato chips as a side dish.
Sopa Leão Veloso

The name of the soup pays homage to diplomat Paulo Leão Veloso. Somewhere during the '30s, Leão Veloso went to France and tasted the Bouillabaisse dish. When he was back in Brazil, he brought the idea to his favorite restaurant, Restaurante Rio Minho, in Centro. The restaurant, then, came up with a Brazilian version of the dish.
Restaurante Rio Minho is a traditional seafood restaurant in Rio de Janeiro, founded in 1884 and opened as of today. 
The main ingredients of the Leão Veloso soup are fish, shrimp, octopus, squid, mussels, bell peppers, and tomato. Seasoning is also very important in the recipe, such as coriander, garlic, and parsley.
Cachorro-quente (hot dog)

Hot dog is a famous food all over the world. However, every place has a unique way of eating it. In the United States, traditional hot dogs are just sausages in a bun with ketchup and mustard. People from São Paulo like to top mashed potatoes into theirs. In João Pessoa, grounded beef is a must-have on hot dogs.
In Rio de Janeiro, however, hot dogs are as filling as a complete meal. Street vendors have all kinds of toppings for your hot dogs. Starting with grated parmesan cheese, olives, peas, corn, and crispy shoestring potatoes, followed by hardboiled quail eggs, raisins, and tomato sauce. 
Most food stands in Rio let you serve the toppings yourself, giving you the chance to add as many delicious treats as you wish into your hot dog.
Chuvisco

Traditional from the city of Campos dos Goytacazes, in the North of Rio de Janeiro state, Chuvisco is a delicious dessert. Its main ingredients are eggs yolks and sugar. It may be served as a crystallized candy or as a compote. Chuvisco is also known as Pingo de Ouro and has its origins in Portugal.
Study Brazilian Portuguese with Caminhos Language Centre. Immerse yourself in the Brazilian culture and experience Rio de Janeiro.