Traditional Festa Junina Food in Brazil
Thursday June 25th, 2020

Posted by:

Amanda Ennes

Category:

Brazil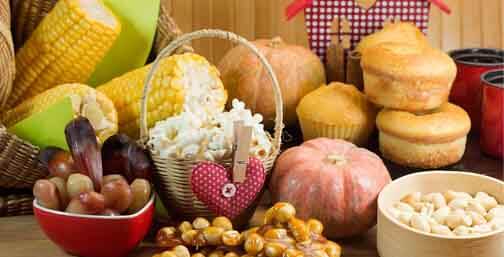 It's June, it's Festa Junina season in Brazil. And one of the things we like the most about this time of the year is the delicious Festa Junina food, with all the tasty dishes.
But first of all, if you are not familiarised with Festa Junina yet, you can check our past articles "Festa Junina" at Caminhos Language Centre: fun and cultural learning, Festa Junina…another Rio Carnival, and Top 5: Main traditional Brazilian festivals. 
Basically, Festa Junina is a traditional party that occurs during wintertime in Brazil. It is a big part of the Brazilian culture, which celebrates the harvest season and also Saints John the Baptist, Peter, and Antony. The party is known for its traditional clothes, colors, decorations, games, and, of course, the food!
Most of the dishes we eat during this party are made out of corn. Some are sweet, some are savory.
Let's check a few of the most traditional Festa Junina food in Brazil:
Aipim e Batata Doce com Melado (Steamed Cassava and Sweet Potato with Molasses)
An easy and simple recipe made during the Festa Junina season and loved by those people who like bittersweet food. Just steam those roots with a pinch of salt and top them with of molasses. Bon appetit!
Bolo de Fubá (Sweet Corn Cake)
Delicious cake made with cornflour.
Cachorro-quente (Hot Dog)
Just a hot dog — you might be thinking. However, hot dogs in Brazil are pretty different from the rest of the world. First of all, we cook the sausages in a tomato sauce with garlic, onions, and green pepper. Then, we put the sausage and the sauce in a hot dog bun and stuff it will all kind of delicious toppings, such as sweet corn, shredded cheese, peas, raisins, and shoestring potato sticks. Oh, don't forget to add a hardboiled quail egg on top of it all. Classic!
Caldo Verde (Portuguese Green Soup)
A warm soup made of potatoes, collard greens, and smoked pork sausage — the famous linguiça calabresa. 
Canjica (Hominy Pudding)
This dessert always causes a bit of rivalry in Brazil during the Festa Junina season. That happens because some people know it by the name Canjica and other people call it Munguzá. It all depends on the region you are from. Here in Rio, we call it Canjica. 
Canjica is like a porridge made with white maize kernels (hominy), cooked with coconut milk, shredded coconut, sugar, cinnamon, and cloves. Whether you eat it cold or warm is up to you.
Cocada
A coconut candy made basically of coconut and sugar. Some people may add sweet condensed milk to the recipe to make the Cocada creamier and delicious!
Curau
Remember when we said Canjica is called Munguzá in some parts of Brazil? Well, for those people, Curau is actually called Canjica. Confusing, right? That's how diverse and different Brazil can be.
Here in Rio, what we call Curau is a sweet and creamy corn pudding with the key ingredients being corn, milk, and sugar.
Cuscuz de Tapioca (Tapioca Couscous)

If you ever been to any beach in Rio de Janeiro, you have probably already seen some street vendors selling tapioca couscous around the beach. It's a very popular treat in Brazil. Cuscuz is like a creamy cake made of tapioca, grated coconut, sweetened condensed milk, and regular milk.
Doce de Abóbora (Pumpkin Compote)
Pumpkin, coconut, and sugar are slowly cooked until a delicious dessert is born!
Maçã do Amor (Candy Apple)
Apples and sugar candy coating, just like in any part of the world.
Milho Cozido (Corn on the Cob)
Steamed corn on the cob. Usually served with a pinch of salt and butter.
Paçoca
A traditional Brazilian candy made with peanuts, sugar, and salt. Paçoca is extremely popular all around Brazil, all year long.
Pamonha
The grated sweet corn is wrapped in corn husk to be cooked. The key ingredients are just corn and milk. However, you can add salt for a savory dish or sugar for a dessert. Both are very common Festa Junina food in Brazil.
Pé-de-Moleque
A popular hard candy made of peanuts and brown sugar.
Popcorn
Popcorn. That's it!
Quentão
An alcoholic beverage that mixes cachaça, sugar, and spices, such as cloves, cinnamon sticks, ginger, and orange peels. This drink is boiled and served really hot. Remember Festa Junina is a winter festival, we need to keep ourselves warm. Wink, wink.
Salsichão
Just use a barbecue grill to cook a hot dog sausage. However, this kind of sausage is longer, thicker, and usually a bit spicier. Serve it with farofa and voilá!
Vinho Quente (Mulled Wine)
For some people, this is the true Quentão. Warm red wine mixed with spices, such as ginger and cinnamon, and served with chopped apples.
Brazilian culture is great! Brazilian food is the greatest! Study Portuguese and immerse in the Brazilian culture. Explore Rio de Janeiro and be part of the Caminhos family! Join our Intensive Portuguese Course and learn Portuguese within a few weeks!