Hidden Gems in Rio de Janeiro
Monday August 19th, 2019

Posted by:

Guest Author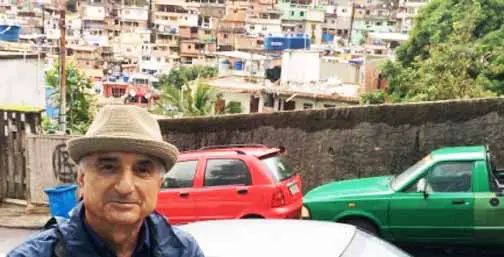 I am a retired faculty/librarian from City College of San Francisco, California. City College is one of the many community colleges in the United States. Community colleges are two-year schools that provide affordable postsecondary education as a pathway to a four-year degree. In addition, community colleges offer workforce development and skills training and a range of noncredit programs, such as English as a second language, skills retraining, community enrichment programs and cultural activities.
In the past twenty years I have been traveling around the world and have done a lot of volunteer work in Latin American Spanish-speaking countries. I speak English, French, Spanish and Persian (Farsi).
This Summer I had the opportunity to visit Rio de Janeiro. A few days after my arrival in Rio, I was very fortunate to meet Ms. Belinda Seixas in Caminhos School who invited me to join a few tours offered by the school.
One of the tours I attended was Favela Tour Rio de Janeiro organized by Caminhos. I would seriously recommend this tour to all students studying in Caminhos. Before visiting the favela in Rio I had a dark idea of favelas in Brazil. The tour was eye-opening for me. After the tour was finished, I learned that not all favelas are the same in Rio. Favelas have a vibrant culture and people work together as a community. In the southern part of Rio de Janeiro, most favelas have outstanding views of the City and the ocean. In general, the services in favelas are not great but people know how to party and create a happy community. By living in a favela we should always remember that there is no privacy. There are almost no robberies in favelas but there may be some shootings depending on the community. You will learn more about the amazing culture of the community during the enjoyable four hours tour.
The second tour that I participated in through Caminhos was hiking at the Forte Duque de Caxias. It's a relaxing and historic walking tour. The fort was built during the Portuguese Empire, 1776 – 1799. To reach the fort you can start your trip from the military base at Leme Beach. After getting an admission ticket you can start the ascent which takes about 15-20 minutes. The walk up to the fort is simply delightful and you will pass through the lush vegetation of the tropical rainforest.
During my one month visit in Rio de Janeiro, I did a lot of walking all over the city. In order to share my experience, I've created a YouTube video that you can watch it by clicking on the link below. If you like the video, please share the link with your friends and family back home.
Thank you.
Cyrus Monajemi, Berkeley, California
Email: cmonajemi@gmail.com