Separated at Birth: Ipanema and Copacabana
Friday September 16th, 2016

Posted by:

Nick Mclennan

Category:

Rio de Janeiro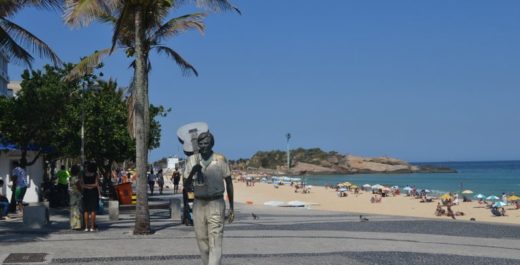 The sun is beaming down on the blue water whilst also glistening off the chiselled bodies that swiftly pass me on their afternoon runs. The music from a nearby barraca pumps and I'm yet again trying really hard not to succumb to yet another ice-cold coconut water.
It is just another beautiful day of walking along the calçada (walkway) on the iconic Ipanema beach in Rio's Zona Sul. Soaking up the Brazilian sun could not get any better than this so who in their right mind would want this to be cut short?

The Government.
The Government aka "the fun police" have once again pumped up the prevalence of "Que Isso?!" (What the heck?!) in the everyday Brazilian vocabulary.

How?
Only just by separating the walkways of two of Rio's most famous neighbouring beaches, Ipanema and Copacabana.
Just as you think you can easily beach hop along the sands of these two beaches blessed by the gods, think again.
A lot of unsuspecting walkers of the two famous walkways are brutally disappointed when their stroll is abruptly cut short at the Ipanema-Copacabana border crossing. Instead of being able to walk around the beautiful rocky coastline, they instead have to endure an abundance of petrol fumes and angry taxi drivers in order to get to the other beach.
Even I had the unfortunate occurrence of being one of the many

heartbroken pedestrians that was swiftly taken away from the sculpted abs and bicycles back into the concrete jungle that I thought I had escaped.
So the question begs – why is there still no coastal walk between Ipanema and Copacabana?
Perhaps the Forte de Copacabana (Fort Copacabana) is not to be messed with or perhaps the Pedra do Arpoador (Arpoador Rock) provides way too many great Instagram opportunities to even think about building a coastal walk around it. Whatever the reason being, and for the sake of Rio's tourism landscape, an investigation must be sought!

It would definitely be fair to say that Ipanema and Copacabana have never failed to please. I mean, who hasn't heard of Vinicius de Morais's legendary song, Garota de Ipanema? Also, If you look at other famous beaches around the globe, you will notice that most will be blessed with lengthy coastal walks for the locals and tourists to enjoy.
The iconic Bondi Beach in Sydney, Australia has its very own four-kilometre coastal walk that stretches over three of its neighbouring beaches in total. It has proven to be a massive crowd pleaser in terms of the tourism and attention it brings. So POR FAVOR, Rio!
To make matters even more baffling, I dare you to take a look at how much the Brazilian government dropped on the Olympic Games this summer. According to the Olympic Public Authority, a mere $7 billion was spent on the Olympic stadiums.
Now, after you've picked up your jaw up off of the floor, you can now s

hout to the heavens above why oh why Rio couldn't spare a couple of bucks for a nice little beachside walkway that would make everyone (especially me) a much happier Gringo/Carioca.
Anyway, after all the intense clawing and gnawing to get some answers, I finally got one.
Aside from the Polícia Militar having control over the Arpoador area and the Forte de Copacabana, the government put it quite simply:-

"The environmental protection area (APA) of Copacabana and Arpoador promontories was created by the Municipal Law to protect its rocky coast and native plant life species. The APA has the Copacabana Fort and the "Girl from Ipanema Park" as the boundaries."
So there you have it. Looks like we're going to have to write a passive aggressive letter to the government or do a cheeky little bit of Jeitinho (the "Brazilian way" of sorting out a problem in whatever way possible if you get my drift). Anyway, there are always more important issues to tackle so let's not get too carried away.
But one last POR FAVOR (please) won't hurt.


If you would like to get to know Rio's Zona Sul in a more interactive way or would just like to improve your Carioca gíria (slang), why don't you check out the Portuguese language programs at Caminhos Language Centre.
More information available at https://caminhoslanguages.com/