Teacher Appreciation Day at Caminhos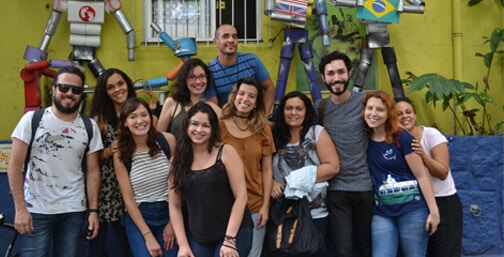 In Brazil, every October 15th we celebrate our national Teacher Appreciation Day. Usually on this day, schools do not open for classes and the teachers get a very deserved day off so they can rest and celebrate this so important job educating and teaching millions of people worldwide.
This year, the Teacher Appreciation Day was on a Saturday and as many of our beloved educators don't work on the weekends, we have anticipated our celebration at Caminhos to October 14th, a Friday before the actual day, so we could have a really special day ahead of us.
Delicious lunch at Caminhos

We started our celebration with a very tasty lunch at our school. On the menu we were graced with nachos with meat and guacamole, potato salad with nuts, eggplant salad, roast beef with mustard sauce and roasted chicken. Everything was truly delicious! We could talk, laugh, chat and hang out with our colleagues and also friends who also work at the school. For dessert we had Torta Crocante, a delicious pie made of cookies, cream, dulce de leche and caramel crisp. It was so good not a piece was left in the plate.
Mystery and fun – a escape game full of laughter
At the end of our lunch, we joined in a pleasant walk to Copacabana,

over there we went to Escape 60, which is an indoor game company that mixes mystery and intelligence in a very fun group game. Our staff was divided into two teams of 8 people and locked in a single culinary reality show-themed room. Our goal was to find hidden clues, and within 60 minutes, be able to find the way out of the room. The competitive spirit was on the loose, since it was a competition match and one team group was against the other one. Nevertheless, there were way more smiles and laughter than serious faces focusing only on winning. The sportsmanship and fun certainly had a much larger space in our escape journey.
In the end, no one could solve the ultimate mystery, although the groups came very close to unveil the last clue leading to the room's exit, but even then the energy and excitement of being part of something so cool brought the 16 participants together in the highest goal of all: bring co-workers closer, motivate the team spirit and entertain everyone.
Being carioca at the beach
To end our day, being good cariocas as we are, we went to a kiosk on the beach to drink a cold beer together and talk about the escape game. The blue sky and the fresh wind from the ocean completed our day as the icing on the cake: the perfect outcome of a special day.
One thing is for sure: this activity bought Caminhos Language Centre's employees even more together – brought us closer and intimate, much more united as a team.

The day could not be described nothing less than fun, and this is what every teacher of Caminhos deserves, after all they always succeed in teaching Portuguese to our fellow gringos with an open heart and willpower, they're always
 focused in delivering the best education that can give and they go great lengths to make their students better at what they can do. Dear Teachers, you deserve all this joy and much more! Happy Teachers' Day!
Do you want to be a part of this familiar environment and learn Portuguese in a casual and dynamic school? Meet Caminhos Language Centre: https://caminhoslanguages.com/.