Congolese refugees learn Portuguese at Caminhos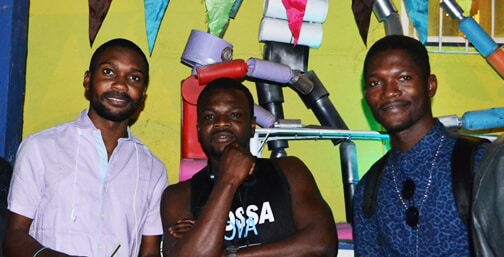 Since October, Caminhos Language Centre is welcoming five

refugee students from the Democratic Republic of Congo with scholarships to learn Portuguese. Because of the difficult political situation, the Congolese came to Brazil looking for better lives but found it very hard to get a job because they only speak French. Caminhos Language Centre is offering them free Portuguese classes in order to facilitate their integration in Brazil.
What's happening in Congo?
The Democratic Republic of Congo is a country involved in conflicts and civil wars for decades. Despite declaring themselves a democratic nation, governments have applied dictatorial regimes throughout the years, prohibiting political protests and killing rebels. Because of that, several armed groups and guerrillas have taken over the country's streets over the years, defying the government and trying to weaken its strength. Because of the conflict, the Democratic Republic of Congo suffers with deaths, kidnappings and killings on a daily basis. The country already endures a 20-year civil war – this conflict is already the largest and bloodiest war in the world after World War II.

Last Saturday, 29th of October, staff and volunteers met to renovate our school and the refugees promptly applied to help us painting our building. At this moment, we could sit down and have lunch together and get to know a little more about the Congolese culture, such as their music and joy of living, after all we could see that they are a really fun people. The Congolese just began learning Portuguese, but the language barrier did not stop them from showing their friendliness with us, they tried everything they could to ask us about ourselves and make friends.
Meet the refugees
The five refugees, all from the same family – brothers and cousins – were students in their country but as some of their relatives live in Brazil and offered to help, they decided to move in here looking for a better quality of life and job opportunities. They are here for 2 months now and are adapting very well, after all French descended from the Vulgar Latin, just like Portuguese, so learning the new language is not as big a challenge as we could imagine. According to them, the cultural shock was not a problem either, since the Democratic Republic of

Congo is also a very large tropical country and has a friendly and outgoing population just like ours.
Congo vs. Brazil
Despite the similarities, the Congolese point out that Brazil's organization and infrastructure is much better than in their country of origin, after all, they live in the midst of this economic and political chaos that has been raging for decades.
Caminhos Language Centre welcomes Congolese with arms wide open and we truly hope that they are able to learn Portuguese, improve their quality of life, have good job opportunities and build a happy life here in Brazil.

Besides being a Portuguese school, Caminhos Language Centre has always focused on helping children and young people in vulnerable situations. To learn more about our social programs and how you can help, visit our website here.