How to Say Hi/Hello in Portuguese
Thursday December 23rd, 2021

Posted by:

Amanda Ennes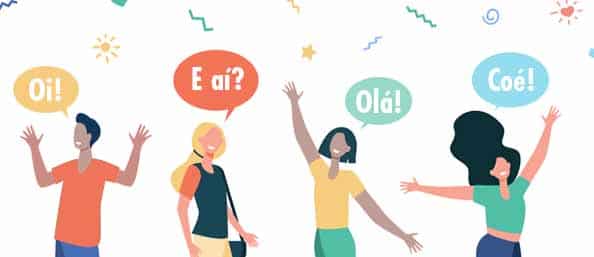 The first thing you are probably going to do once you arrive in Brazil is greet people. Learning how to say "hello" and "hi" in Portuguese will help you to make a good impression when meeting Brazilians. Or maybe your significant other wants to introduce you to their Brazilian family. You can surely make a good first impression by greeting your future in-laws in Portuguese.
We have already learned how to say "thank you" and "nice to meet you" in Portuguese. Now let's check how to greet people and say "hi/hello" in Portuguese.
How to Say Hi/Hello in Portuguese
Oi
This is the most common way to greet people. Although this lays on a more informal side of the scale, everyone uses it without a problem.
Olá
"Olá" is just another way to say "Oi".
Alô
It is also a way of greeting people, but Brazilians will mostly use this word when answering the phone.
Fala! / Fala aí! / Fala tu.
These options are an informal way to greet your friends. Therefore, it is not a good idea to use these expressions to say hi to your boss, in-laws, or business contact.
E aí?
"E aí" is also an informal way of greeting. It is a laidback option to say hello, especially when meeting a group of friends, significant other, classmates, or colleagues. "E aí" has the same meaning as "Sup?" in English.
Coé
Contraction of the expression "qual é." It is a very informal way to greet people in Portuguese.
Opa!
Even though not a lot of people use this interjection to greet people, you might experience some older people using it as an informal way to say hi in Portuguese. A situation in which people might use this interjection is, for example, when driving through a friend and yelling "Opa!" without stopping for a conversation. Just a way to greet someone you know and keep going.
Bom dia / Boa tarde / Boa noite
If you are looking for a more formal way to greet people in Portuguese, you can say "Good morning", "Good afternoon", or "Good evening".
Meet & Greet Vocabulary in Portuguese
| Portuguese | English |
| --- | --- |
| Oi | Hi |
| Olá | Hello |
| Bom dia | Good morning |
| Boa tarde | Good afternoon |
| Boa noite | Good evening / Good night |
| Qual é o seu nome? | What's your name? |
| Meu nome é… | My name is… |
| Prazer em te conhecer | Nice to meet you |
| Foi um prazer te conhecer | It was a pleasure to meet you |
| Como vai? / Tudo bem? | How are you? |
| Tchau | Bye |
| Até mais | See you later |
If you want to learn more Portuguese, follow our hashtag #CaminhosTips on social media for quick Portuguese lessons, or sign up for a Portuguese course at Caminhos Language Centre. We offer group, private, and online Portuguese classes with qualified teachers in Rio de Janeiro.