Every day a new adventure in Rio!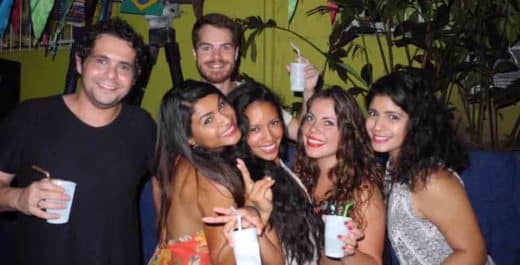 Olá Gatos e Gatas! After giving you all my first impressions of Rio and Brazil, it is time to share the next chapter of my journey with you all.
A lot of things have happened in the main time – I'm really in my element here and love to live like a true Carioca, which means eating a lot of rice and beans and going to the beach every day. The "tranquilo" element is also very important. Sometimes I find it hard to believe that I am really in Rio de Janeiro when I am chilling on the beach with my friends with a fresh coco in my hands. It is so normal that sometimes I forget how lucky I am.

Living with lots of people in Rio
To give you a better idea of what my life looks like here, I will describe how my days mostly look like.
I am living in a big apartment in Copacabana between Posto 3 and 4. The apartment has 4 floors and I am living on the 4th floor. I share this floor with 12 other international students. Of course it is a lot of fun to live with this big amount of people, but sometimes it can become very dirty, especially the kitchen. Since I come from a big family, I don't have problems with living with a big amount of people.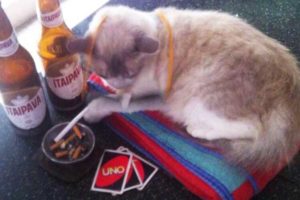 We also have a housecat which is named Farofa, but we also call him Colgate. The cat is the craziest member of the house if you ask me – he is always sleeping 24/7 and sometimes I open my closet and I find the cat there. He also walks to the other floors sometimes, he is very sweet though.
Weekend's fun
During the week every one in the apartment goes to work or goes to school and during the weekend we always have a lot of people coming over. My daily life consists of going to Caminhos Language Centre for my internship or working from home. In the weekends I love to go to the beach or visit some places, going to restaurants for dinners with friends, BBQs and

drinking in. Of course going out is also a big part of what my weekends look like here. Before coming to Rio a lot of people told me this is the best place to party and I can definitely agree with them now.
Unfortunately an old lady who is living on the 3rd floor does not appreciate this so much and calls the police for the smallest bit of noise. One time we were just watching a movie and talking and she told us she was going to call the police. It is crazy!
Experiencing Rio

Some of the nice things I have done here are paddle surfing, visiting some waterfalls, the colour run, my first Caipi-Sexta and lots of bars and clubs.
My friend did the paddle surfing before and she convinced me to do it. I thought it was going to be very difficult, but it was actually very easy. I found it very relaxing and I am thinking of taking real surfing classes now. I think I would really like it as well. Another positive part is that you get a good tan from it.
The paddle surfing is R$30 for half an hour and R$50 for 1 hour – you can do it near Posto 5! I would be tanning at the beach every day if I could but of course there is also some work that needs to be done.
The Caminhos Language Centre
My boss offered me to do an intesive Portuguese course for 4 weeks, to learn

the basics. I started in the A group but could move to B1 because of my Spanish. Antonio was my teacher – he is very good and always thinks of fun things to do in class. Everyday he brings a song and he planned a nice trip with our class to the waterfalls where we had a picnic as well. We had to go on a big hike and, as my close friends know, hiking is not really my thing. I want to change this though, since I want to be healthier.
The day we went to the waterfalls was really a great day because that night it was time for the Caipi-Sexta! I was so excited for it, it was my first Caipi-Sexta and I bought a new outfit for it the day before. I think this is a thing girls always like to do to really prepare their selves for a party. I always feel like I am not ready without a new outfit. The Caipi-Sexta was so much fun – I drank a bit too much (sorry Bel and Jascha!), but it was so good! Davi was making the Caipirinhas really strong and I blame him for it! We went to a nice bar nearby afterwards.
The next Caipi-Sexta will be on the 12th of May. I am looking forward to see you all there because for sure you cannot miss this great event!
Not everything is perfect
Even though a lot of nice things have happened, I also had my first bad experience. A lot of my friends had been robbed before, but nothing happened to me yet. I felt really safe in Rio and that's where it gets dangerous, I think. We went out for dinner with some friends in Copacabana to this amazing crepe restaurant – it was so delicious!
The restaurant was quite close to my apartment and when we finished dinner around midnight, me and my friend, who lives with me, thought we could still walk home. The others had to

go to Ipanema. We thought we could walk because most of the streets we had to pass are busy streets. It was raining this night and we both had an umbrella. I told my friend a few times: "Do you hear that? It's just as if I hear someone walking behind us, as if someone is following us". But when we looked we didn't see anything.
Then when we were literally one street away from our apartment, we were walking behind a kiosk; a guy came in front of me and said: "Dinheiro, dinheiro". At first, I thought he was just begging so I said no and wanted to walk on. Then he said: "Telefone, telefone". Then I realized he wanted to rob us. Luckily I had my umbrella, so I kept it in front of me and tried to hit him with the umbrella, which worked as he ran away. I ran away from the kiosk and told my friend to run as well, but there were already two other guys (who worked with the guy who approached me) standing with her and taking her stuff. They took her money, cards and the keys to our apartment. Her phone was broken already so she didn't have any phone with her.
After that the guys ran away too, it all happened very quickly. When my friend and I were back together, we realized what just happened and we were so in shock. My heart was bouncing like crazy and my legs were shaking a lot. For a little while I was a bit scared walking on the streets, now it is okay again. I am not bringing my phone anywhere, except for work now.
Even though Rio is amazing and a lot of nice things are happening here, I find it important to also share this experience with you all to make sure you really watch out when living here. It is important to stay focussed that things can happen!

This was what happened in the last weeks after writing my first blog post. I hope you enjoyed the blog and for the people who are having second thoughts about coming to Rio, I hope you come so you can enjoy it as much as I am. And for the people who are already here, I am looking forward to meet you.
Xoxo,
Demi
If you want to experience Rio the same way Demi is, you should come to Caminhos Language Centre and learn Brazilian Portuguese. Caminhos offers group courses and private classes and you can study Portuguese in Rio de Janeiro while having fun in a cool language school in Brazil.